Colorado Homes of the Rich and Famous
Tour the abodes of an A-List actress, Denver Bronco, former President, and more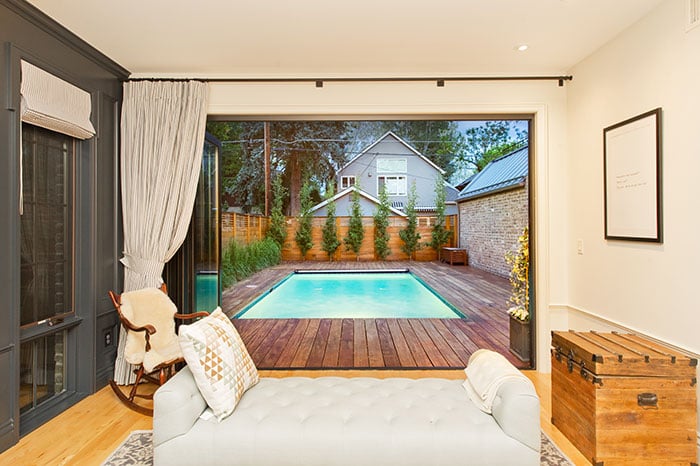 When it comes to celebrities of all sorts, Colorado is the ideal escape. The Centennial State sits between California and New York and offers both a secluded mountain getaway and an urban playground—with summit-lined backdrop in tow.
Here at Colorado Homes & Lifestyles, we've had the privilege of touring a handful of celebrity homes, from former Denver Broncos safety TJ Ward to former United States President Gerald Ford, as well as the dwellings of famous bloggers, designers, chefs, and more.
Take a look at the roundup below to get some serious A-list inspiration.

Left: Melanie's Home, photo by Michael Brands, Mountain Home Photo; Right: Melanie Griffith, photo by Featureflash Photo Agency, Shutterstock
Melanie Griffith's Beloved Aspen Home: "The minute I saw this place and walked in, I was in love." That's how actress Melanie Griffith describes her cherished Aspen, Colorado, home, where she's lived and raised a family for 15 years.
Food Blogger Tieghan Gerard's New Barn: The author of Half Baked Harvest's new, almost-5,000-square-foot Silverthorne workspace is the perfect spot for the 26-year-old to cook, create, style and shoot the photos and videos she produces for daily updates to her food blog.

From left: Ward and his mother LaNeita, photo by David Patterson
We'll Miss You, TJ: Denver Broncos safety TJ Ward may have been relocated to Tampa Bay, but we will always love his Colorado style. Here we get a sneak peek into his handsome South Denver home.
Tom Cruise's Million Dollar Mountain Estate: Legendary actor, producer, and philanthropist, Tom Cruise's legacy estate is a distinctive and unparalleled retreat, tucked away in the mountains of Telluride, Colorado.
John Denver's Remodeled Starwood Estate: The famous house is complete with fabulous mountain views, large outdoor spaces to unwind and plenty of interior space for entertaining large groups of family and friends year-round.
Tour Greg Norman's Iconic Ranch: Strategically assembled by legendary golfer, entrepreneur and outdoorsman Greg Norman, the ranch has served as a treasured family retreat for over two decades.

Photo courtesy of LIV Sotheby's International Realty
The Fray Guitarist's Wash Park Home: This lantern-inspired Denver gem belongs to musician Joe King of rock band The Fray and his wife, actress Candice Accola.

Photo by Lair Photography
Joe Cocker's Mad Dog Ranch in the Heart of the Rockies: The expansive estate of late rock singer Joe Cocker and his wife Pam includes an English Manor house, which sits on 243 acres in the heart of North Fork Valley—two hours from Aspen, Telluride and Crested Butte.

Photo by Nicole Gerulat for Joss & Main
Beyond The Bachelor Bad: Inside former Bachelor stars Ben Higgins and Lauren Bushnell's recently renovated Denver bungalow—before they parted ways.
A Tale of Two Kitchens: The Boulder-based founders of The Kitchen restaurants invite us into their own. Hugo Matheson and Kimbal Musk opened The Kitchen in Boulder in 2004, just as the farm-to-table movement hit Colorado.
President Ford's Former Beaver Creek Home: This ski chalet was once home to 38th United States President Gerald Ford and is complete with presidential seal and a claw foot fireplace with an engraved inscription by President John Adams.

Photo by Keith Bobo
Holiday with the Governor: In our November/December issue of 2015, we toured the Denver Governor's Residence—the former Boettcher mansion—which was all gussied up and glorified to celebrate the season.

Photo by David Patterson
Star Power: Celebrity interior designer Kari Whitman's Boulder home feels a little bit Hollywood, a little bit Boulder—and a whole lot fabulous.

Photo by David Patterson
Inside the Home of the Masterminds Behind Boulder's Cured: The couple behind the hip cheese and charcuterie transforms a small ranch into the most popular home in the neighborhood. See how the king and queen of entertaining live.

Photo by Gibeon Photography
A Cookbook Author's Aspen Home: Ilona Oppenheim—author of Savor, a romantically photographed volume focusing on a sustainable, healthy, family-centric style of cooking and living—shares her space with us, where she cooks for her family in the Rocky Mountains.

Photo by Kimberly Gavin
A Girl, A Blog, A Barn: Award-winning food blogger Tieghan Gerard, of Half Baked Harvest, transforms a barn in Summit County into a home for her business and herself.

Photo by Emily Minton Redfield
An Interior Designer's Cozy Cottage: Interior designer Paige Blackburn moved her family of five a few blocks down and into a home with one-third less square footage.

Photo by David Patterson
An Antique Dealer's Eclectic Home: A Cherry Hills home proves the perfect setting for Old Glory Antiques dealer Holly Kuhn's eclectic amalgam of time-worn furnishings, storied artifacts and pretty details.

Photo by JC Buck
The Sleeper House All Decked Out for the Holidays: The distinctively elliptical home on Genesee Mountain was crafted by architect Charles Deaton in 1963 and went on to be featured prominently in the 1973 Woody Allen sci-fi comedy, Sleeper. SaveSaveSaveSaveSaveSaveSaveSaveSaveSave