A Tale of Two Kitchens
The Boulder-based founders of The Kitchen restaurants invite us into their own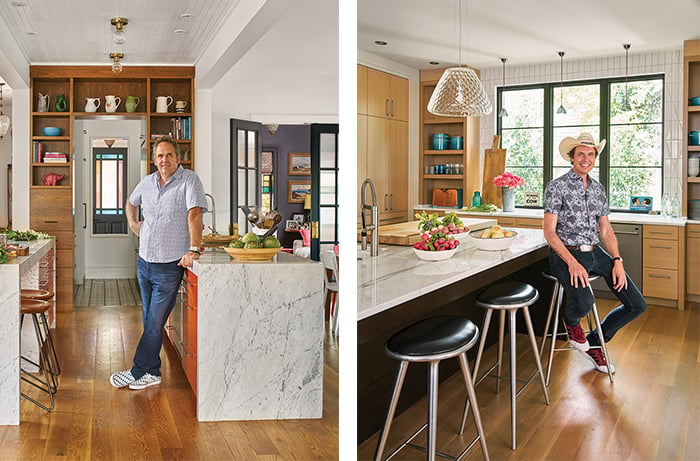 Hugo Matheson and Kimbal Musk opened The Kitchen in Boulder in 2004, just as the farm-to-table movement hit Colorado. The class of 2004 in the culinary world became iconic near and far—Rioja opened in Denver, Momofuku opened in New York City, A16 in San Francisco—and The Kitchen joined their prestigious ranks, first in Colorado, and in the last several years in places like Chicago and Memphis, as the company expanded.
A lot has changed since the England-born Matheson and South Africa-born Musk launched their bistro focused on hyper-local ingredients, but two things haven't: Both of the owners still live in Boulder with their families, and they use their home kitchens quite a lot. A close look into these personal spaces reveals a peculiar kind of yin and yang the two men bring into their business partnership. "Hugo drives the quality of the food and design. I help with getting the message out and the strategy of the business," Musk shares.
Matheson, who holds a degree in interior design, reimagined his home kitchen and covered every last detail with exacting precision. Musk bought a home in which an interior designer chose every last finish, without consulting him or considering who was to use the finished product. Matheson went with a Jenn-Air induction cooktop; Musk cooks on a Wolf gas range. Matheson cannot stand a venting hood or any cabinet or appliance above his head; an imposing hood towers over Musk's gas-powered stove. Matheson reveres cheap, basic chef's knives. Musk pampers his well-worn Japanese chef's knives. They couldn't be more opposite regarding these fundamental kitchen choices.
But while their home-kitchen choices are like oil and water, in their business relationship these differences are more like oil and vinegar, complementing one another to create a smooth whole that covers many bases. Consequently, the product they sell—restaurants centered around creating community—resonates with most people. "My goal is to bring the creative directive to the business, not to say [Musk] does not influence that strongly; but he really is the driver of the business side," Matheson explains.
The Matheson Kitchen

Matheson and his wife, Becci. "Hugo is my favorite thing in our kitchen," she says.
The Brit, who enjoys a free-spirited, relaxed style in anything from his mismatched dishes to his parenting ways, spent 14 months remodeling a kitchen that was crammed and lacked natural light. His wife, Becci, who does not cook at all, shared that their goal was to isolate clutter to a pantry-like room akin to a butler's closet, where everything from the teakettle to the fridge and dishwasher live. Feeding teenage twin sons and hosting countless dinner parties requires a kind of chaos that begs for a safe space. On a summer day, Matheson could be found getting ready to feed 50 people at a backyard barbecue, while trying to explain to his 15-year-old son Ollie how to take the bus from Boulder to Denver.

Hugo Matheson's colorful Eau d'Eden poster from the early '90s was a $200 L.A. flea-market find. Tom Dixon pendants hang above a custom walnut dining table made by a carpenter friend in Boulder.
This closet/pantry area was the answer to tidying up the cooking clutter, and much of the kitchen cookware is there. The rest of the room is open and airy, dominated by orange-glossed lower cabinets from Marc Hunter Woodworking. The space opens into a living area, dining area and patio. "Being a chef made me realize that I do not need lots of tools. I try to keep both the equipment and cooking simple and organized."
ARCHITECTURE: Steve Perce, BLDG.Collective
BUILDER: Gary Cotlar, Front Range Remodel
The Musk Kitchen

Musk and his wife, Christiana, chat beneath handblown Murano glass hanging lights by Italian manufacturer AV Mazzega. The over-the-island pendants are by Christophe Pillet. The Italian Calacatta Borghini marble for the island is from The Stone Collection in Denver and fabricated by Moros Fabrication in Boulder.
Musk bought a brand-new home in Boulder in June 2017. Designed by architect Annette Martin, the spacious, five-bedroom, contemporary farmhouse came move-in ready and outfitted with everything from light fixtures to a massive wine cooler, as well as a pool, pool house and outdoor kitchen.
There is a kind of intense discipline to the way Musk leads his life. In between a press commitment and announcing the winner of a charity contest for which his personal Tesla Model 3 is a prize, Musk will take a quiet, solo walk around his home to clear his head. A meticulously organized home is part of keeping things clean and clear for the tall, lanky entrepreneur, who struts around in a big cowboy hat.
Much like the rest of the home, there is palpable order in the kitchen. Things are lined up straight; they are labeled, and set in a way that makes them easy to retrieve. White tile, natural-wood cabinets and a marble island provide a neutral background, accented by blue pots, pans and accessories. Most of everything matches to a T, except for Musk's wife Christiana's mug collection, a fascinating assembly that gives her memory clues to places she has visited.
"We have not changed a single thing in the house since we moved here," Christiana says. The day they moved in marked the only significant but superficial change: adding a thick slab of wood to the counter to provide the 6-foot-4-inch Musk with a higher surface to prep on. From that spot, he cooks "daddy eggs," as they call them, for the kids: teenage boys and a 5-year-old girl Musk has from previous relationships, and Christiana's 15-year-old daughter. These are slow-cooked eggs that his young daughter particularly loves. "Stella can eat the same thing every single morning, and this is what she always asks for," he says. "We get our eggs from our friend Joshua Onysko, the founder of natural skin-care company Pangea Organics."

The white backsplash tile in a custom pattern above the range is from Ann Sacks' MADE Modern series.
Although Matheson and Musk demonstrate a lot of disparity in their kitchen choices, there are some similarities too. Both added an old-school mortar and pestle, plus a rubber spatula, to the list of absolute necessities when cooking, and both still wish they could adjust some things in their kitchens: Matheson would shrink the distance between the counter and the outdoor space, and Musk would move the refrigerator between the stove and the sink. After all, there is always room for improvement—a philosophy they strive to show in their business, as well as their lives.
ARCHITECTURE & DESIGN: Annette and Dennis Martin
BUILDER: Jamey Valentine Construction
The Kitchen Keeps Growing
After a 2010 accident caused Musk to examine what's really important, he committed fully to scaling his real-food concept to make it more accessible to a broader audience. Next Door American Eatery, a more casual and more affordable bistro-style restaurant, was born from that commitment. Big Green, a nonprofit that builds learning gardens in schools, and Square Roots, an urban farming company for the next generation, followed. Hedge Row, a wood-fired-cooking American bistro, with locations in Denver and Indianapolis, is the Boulder entrepreneurs' latest concept.
SEE ALSO:
Kimbal Musk's Kitchen Faves
Hugo Matheson's Kitchen Faves
Becci Matheson's Favorite Things