12 Recipes to Get You in the Mood for Fall
Tieghan Gerard, award-winning food blogger of Half Baked Harvest, shares her favorite Autumn-inspired recipes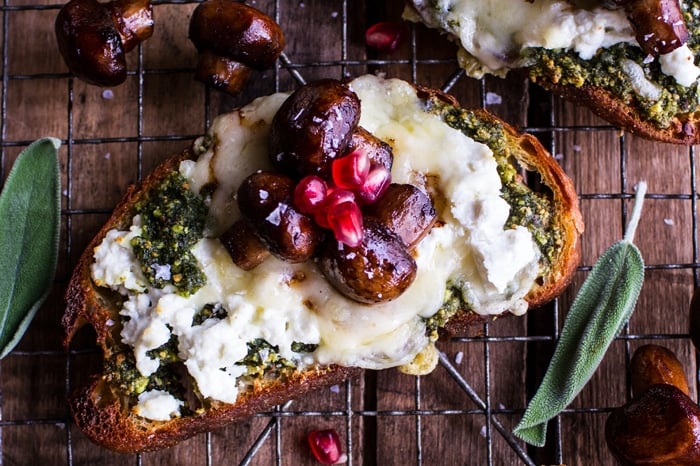 Autumn is my all time favorite season. I just love the crisp air, the vibrant yellow, red and orange leaves, apple everything, mums (mums are one of my favorite flowers!), Halloween, pumpkin everything, cozy meals, Thanksgiving and the kick-off to hot cocoa season. Simply put, I love the overall coziness that comes along with cooler weather and shorter days. This may sound cheesy, but for me, Fall is really such a special time of year with so much anticipation and excitement to come over then next few months. Clearly I truly love the season!
Fall seems to bring a return to the home. The shorter days tend to bring families together earlier in the evening, thus creating a little more time around the table to savor food and family. This is why Autumn meals are some of my favorites to prepare and eat. They are full of hearty flavors and delicious harvest fruits and veggies. Meals like roasted chicken, chili, apples, pumpkin pie, caramel, soup, butternut squash, Brussels spouts, pomegranates and fresh figs all top my list of favorites.
So today I thought it would be really fun to share twelve of my favorite Autumn-inspired recipes. The recipes below are perfect for the cooler nights ahead. Whether you're having a quiet dinner with family, entertaining guests, cheering on your favorite team or just cozying up next to the fire enjoying some relaxing time together. No matter what, these recipes are sure to quickly become some of your new favorites!
1. Moroccan Butternut Squash and Goat Cheese Soup with Coconut Ginger Cream + Pistachios (Get the recipe here.)
2. Brie + Cheddar Apple Beer Soup with Cinnamon Pecan Oat Crumble (Get the recipe here.)
​
3. One Pot Autumn Herb Roasted Chicken with Butter Toasted Wild Rice Pilaf (Get the recipe here.)
4. Taleggio Ravioli with Garlicy Butter Kale and Mushroom Sauce + Toasted Pine Nuts (Get the recipe here.)
5. Thai Peanut Chicken and Pumpkin Curry with Sticky Pomegranate Rice (Get the recipe here.)
6. Crockpot Sunday Sauce (Get the recipe here.)
7. Extra Cheesy Homemade Lasagna (Get the recipe here.)
8. Sweet 'N' Spicy Roasted Butternut Squash Pizza with Cider Caramelized Onions + Bacon (Get the recipe here.)
9. Manchego Brussels Sprouts + Prosciutto Spaghetti with Brown Butter Pistachio Pangrattato (Get the recipe here.)
10. One-Pot 45 Minute Coq Au Vin with Brown Butter Sage Mashed Potatoes (Get the recipe here.)
11. Simple Caramelized Butternut Squash and Kale Florentine Lasagna (Get the recipe here.)
12. Roasted Harvest Veggie, Curried Avocado + Coconut Rice Bowls (Get the recipe here.)
BONUS BREAKFAST: Overnight Cider Pumpkin Waffles with Toasted Pecan Butter, Cider Syrup + Spice Apples (Get the recipe here.)
BONUS APPETIZER/SNACK: Buttered Mushroom, Sage Pesto + Goat Cheese Sourdough Toast (Get the recipe here.)
BONUS DESSERT: Salted Caramel Apple Snickers Cake (Get the recipe here.)