John Denver's Remodeled Starwood Estate
A sweet Rocky Mountain paradise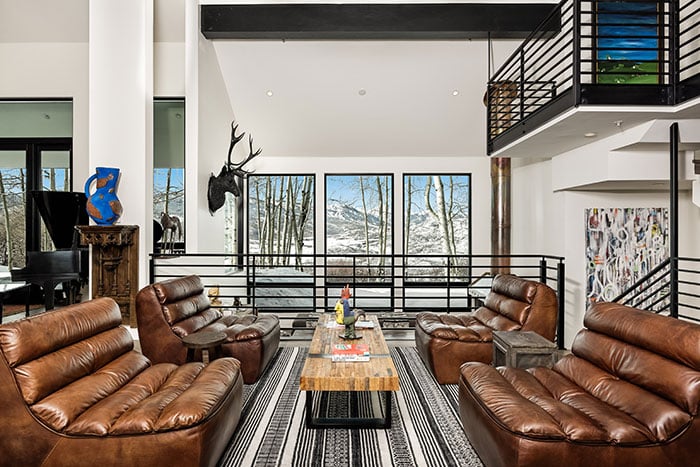 One of the most legendary estates in Aspen is up for sale. John Denver's Starwood Estate is selling for a cool $11 million after a stunning remodel by the current homeowners. The musician sang about this beloved Rocky Mountain paradise in his famous song, "Starwood in Aspen."
The home boasts a fabulous location: minutes from town and all four ski mountains plus a large wooded lot for privacy. The famous house is complete with fabulous mountain views, large outdoor spaces to unwind and plenty of interior space for entertaining large groups of family and friends year-round.
Denis & Kelly O'Donovan, the current homeowners and longtime Aspen locals, wanted to revamp the house while staying true to the original home. "The new design was really inspired by what was already here," says homeowner Kelly O'Donovan. "We kept the original four wood burning fireplaces, leaded glass cabinetry, and the walnut woodwork as well as an amazing stained glass installation. The stained glass installation inspired our color palette of soft white walls, black painted doors and window trim, and warm gray flooring."
A relaxed modern home with vintage industrial touches, the property includes 5 bedrooms, 5 baths, 2 half baths, an art studio or office, 3 wet bars, 4+ car garage, swimming pool, multiple water features, fire pit with lounge area and a viewing platform to take in the surrounding Aspen landscape.
"We both have great appreciation for John Denver's love and celebration of Aspen, nature and the mountain landscape." —Homeowner Kelly O'Donovan
The renovation was a two year, multi-million dollar endeavor. The project included updating the house to today's standards while maintaining many of the vintage elements that gave the house character.
The O'Donovan's interest in updating the home while preserving its unique details is an homage John Denver and his love of Aspen and his home. "We both have a great appreciation for John Denver's love and celebration of Aspen, nature and the mountain landscape," says Kelly.
Anita and James Bineau, the home's listing agents, are champions of the thoughtful renovation. "They married the modern with the historic features that John Denver put into the house in the 70's," says Anita.
The O'Donovans enlisted the help of contractor Dan Coleman of Coleman Construction, architect Jeffrey Hancox and Wynee Coleman to sort out selecting fixtures and finishes. Kelly says, "We focused on using materials that were not fussy, reworking existing finished where we could, adding what we felt was a nod to the original intent when it was built."
"We were careful not to over-design. We wanted to keep it simple and let the spaces and the views sing for themselves. The house feels like a retreat, it is such a peaceful and relaxing house to spend time in," she notes.
It's a place you want to kick your feet up and enjoy the view."
—Homeowner Kelly O'Donovan
See the full listing here.
DESIGN DETAILS
CONTRACTOR Dan Coleman, Coleman Construction ARCHITECT Jeffrey Hancox INTERIOR DESIGN Wynee Coleman + Homeowners