The Couple Behind Hygge Life
Meet the two who started the brand that celebrates the art of cozy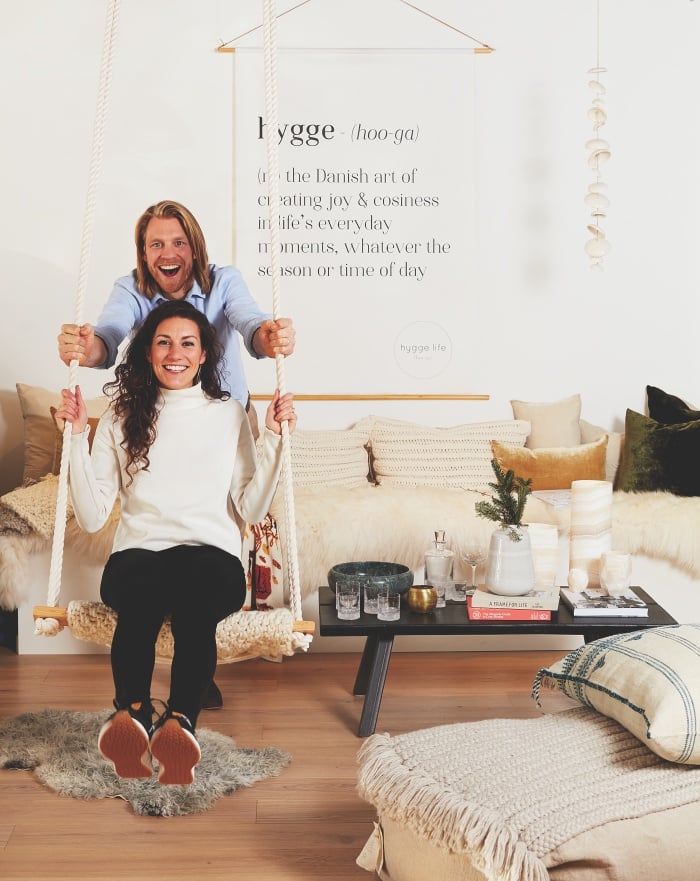 It doesn't get much cuter. Colorado native Alexandra Grove and her husband, Koen van Renswoude, first met at the 2011 Vail Ski Swap. Many chairlift rides followed. At the time, Koen was interning at The Sebastian in Vail but was still a student at Hotelschool The Hauge in Amsterdam. Alexandra had just graduated from Wake Forest University in North Carolina and was working at The Ritz-Carlton in Beaver Creek. Within a year, they were a couple living in Amsterdam.
"We wanted to stay together," says Alex. "And because he was still in school and I was more flexible, I moved there." Hygge Life started as a blog in 2013, while the duo traveled Europe in a big, blue camper van, called the Hygge Bus. The couple embraced and shared the concept of hygge (pronounced HOO-gah), the Danish word for cozy, years before it became a widespread trend in 2016.
Around that time, Alex and Koen returned stateside to reconnect with Alex's family. The couple brought Hygge Life to the flea-market circuit until opening their retail shop last fall. "After a while, it felt natural to move into a space larger than 10 feet by 10 feet and create a feeling and experience," Alex says. The shop now includes a delightful cafe, serving Huckleberry coffee (a Denver roaster), tea and Scandinavian pastries.
The origin of their romance, Vail Valley, seemed like an ideal spot for sharing hygge. "The mountains are a natural fit, especially with some many homeowners moving away from the heavy, dark, rustic mountain look toward Scandinavian cozy," says Alex. Now married, Alex and Koen have made their shop exactly what hygge promises: a warm, inviting space, scattered with a thoughtful selection of items that make you want to snuggle in and slow down for a moment.