Rauschenberg in Denver
Colorado's Museum of Outdoor Arts will host more than 50 original artworks spanning six decades of the artist's career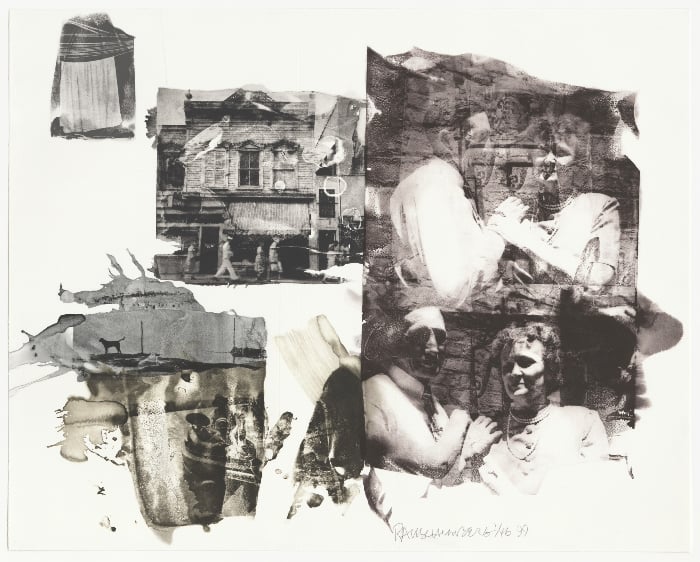 The largest solo exhibition of Robert Rauschenberg's work ever presented in Colorado is coming in 2020. From February 24 – June 13, the Museum of Outdoor Arts will feature more than 50 original artworks spanning 1962-2008, made up of major loans from private and institutional collections.
The exhibition, Rauschenberg: Reflections and Ruminations, will explore the artist Robert Rauschenberg's distinctively thoughtful process, by 
which he reproduced, transferred, multiplied and borrowed images and objects to revisit the experiences of his very full life.


Robert Rauschenberg. "Visual Autobiography," photolithograph on paper, three parts, 1968.
While connected with the broader trends of Pop art—especially in his use of images and objects from the media and consumer culture—Rauschenberg was able to infuse his works with an especially personal and intimate flavor, freely mixing content both from the wider world and from his own life.
We sat down with Cynthia Madden Leitner, MOA president, to ask her about the upcoming exhibition.
HOW WILL THIS EXHIBITION BE DISPLAYED?
Cynthia Madden Leitner: The exhibition is grouped into sections based on the themes of "Reflections and Ruminations." "Reflections" refer to Rauschenberg's highly polished stainless-steel pieces with applied silkscreen images and paint. They are interactive in that the viewer becomes a part of these pieces by seeing their reflection in the work. "Ruminations" comes from a series of photographic montages that Rauschenberg created with U.L.A.E (Universal Limited Art Editions) in the 1990s. This series was assembled as personal memoirs of people, times and places that were photographed by Rauschenberg. The exhibition also features other sections that cover distinct styles or periods of Robert Rauschenberg's works.


Robert Rauschenberg. "Accident," lithograph, 1963.
WHY IS THIS EXHIBITION IMPORTANT TO YOU? TO MOA?
CML: After meeting Robert Rauschenberg on Captiva Island, Florida in the 1980s—where he and my parents were both residents and friends—the artist, as legend, became a more personal association; and as it goes with familiarity, his work became more intimate in meaning.
The exhibition evolved the past five years through a personal contact with one of Robert Rauschenberg's major private collectors. Its importance to MOA goes beyond the obvious of being in the position to present one of the greatest American artists of our time; his work and his process, and especially his collaborative nature, have served as an example to many institutions and artists. For MOA, it informed our Design and Build education program, in which emerging artists work collaboratively to build, stage, perform and exhibit art.


Robert Rauschenberg. "Pegasits," acrylic, fire wax and chair on stainless steel, 1990. (photo William O'Connor, courtesy Madden Collection at the University of Denver)
DO YOU HAVE A FAVORITE PIECE IN THE COLLECTION?
CML: "Pegasits" is a favorite piece of mine. It was developed during Rauschenberg's ROCI period (Rauschenberg Oversees Culture Interchange). The piece incorporates many of Rauschenberg's most iconic elements, including the Americana branding of Mobile Oil, the reflective, high polish, stainless steel with silkscreen and a silver chair—indicative of his famous "combines." My parents (John and Marjorie Madden) acquired this piece (#9 of an edition of 22), and thus I've had several opportunities to interact with it.

Robert Rauschenberg. "Lotus X," from the Lotus Series, ink-jet with photogravure, 2008.
HOW LONG DID THE EXHIBITION TAKE TO PUT TOGETHER?
CML: MOA began working on this exhibition's production in 2015.


Robert Rauschenberg. "Soviet/American Array VII," photogravure, 1991.
DO YOU SEE RAUCHENBERG'S INFLUENCE IN COLORADO'S ART SCENE?
CML: March of 2020 is the "Month of Printmaking" in Colorado. Many of the methods used in today's printmaking techniques were influenced by Robert Rauschenberg's inventive and explorative processes.
WHAT ARE YOU MOST INSPIRED BY?
CML: The artistic process has always inspired and fascinated me, personally. We have often emphasized the artist process throughout many of MOA's programs and exhibitions during our 38-year history.