It's All in the Details
Seasoned designer Cathy Kincaid reveals how to design your home with a refined sensibility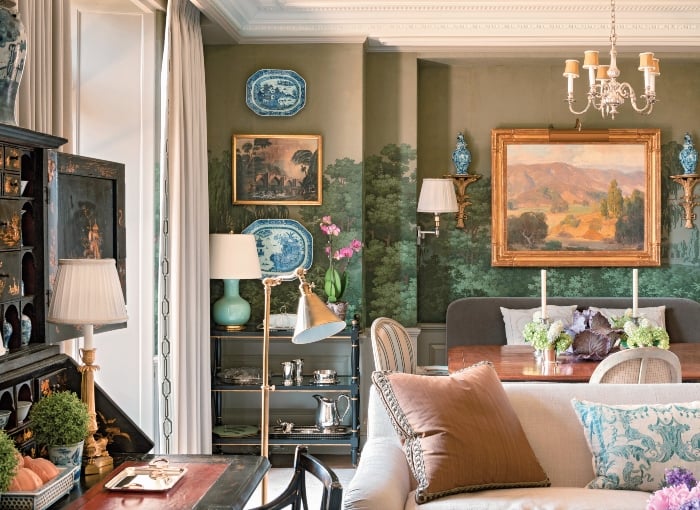 It's all in the details, or so it's known about interior designer Cathy Kincaid's work. Published internationally and one of the country's top designers, Cathy is known for her commitment to restoring old houses and filling them with traditionally stylish antiques and furnishings.

Photo by Durston Saylor
Growing up in Texas, Cathy's childhood home was filled with antiques and comfortable funishings. "I inherited a love of collecting from my mother," she says. She recalls having to wash her mother's favorite china after special occasions, a much-dreaded task at the time. "Now it's [the china] my favorite—soft gray roses with a pale robin's-egg blue and gold 'pearl-like trim.'"

Photo by Miguel Flores-Vianna
Her knack for details is what makes a home designed by Cathy Kincaid so unique. Her sophisticated taste in collecting art and furnishings, her intricate layering of patterns, and the customized details—from trelliswork to lacquered surfaces—she applies to every room are hallmarks of her style.
"Good decoration is never stagnant"
— Cathy Kincaid
In her new book, The Well Adorned Home: Making Luxury Livable (Rizzoli 2019), Cathy's most famous works are on display. Sprinkled throughout is her advice on creating a comfortable home environment.
From a ship captain's cottage and a 1920s Spanish Colonial to a bucolic farmhouse and a family house in the country, in such locations as Dallas, Connecticut, and the South of France, Cathy's divine design showcases her attention to detail and nuanced color palettes. "If pressed to describe my forte, I think of myself first and firemost as a colorist," says Cathy.

Photo by James Merrell
Her process? She and her client find a dominant color to connect the rooms, then repeat it in various ways throughout the home. Her favorite? "There is no better color palette I love more than blue and white, because it is soothing and works in any scenario."

Photo by
Photo by Miguel Flores-Vianna
In her designs, Cathy focus pays special attention to patterns. To that wallpapers, textiles, furniture and accessories blend seamlessly, Cathy focuses on applying patterns throughout because it "creates a less busy effect" and "patterns are a great way to unite contrasting textiles and to maintain cohesion," she notes.


Photo by Miguel Flores-Vianna
Cathy's work exhibits the elegance and sophistication of luxurious living. She does, though, consider livability more imporant the luxury. "Comfort and sustainability are mainstays in the rooms I design…houses are meant to be lived in and I'm insistent they feel cozy and appropriate for the clients and their lifestyle," Cathy says.
The Well Adorned Home is full of stunning imagery and homes from around the world illustrating Cathy Kincaid's expertise in creating traditionally designed yet contemporary design.
The Well Adorned Home: Making Luxury Livable (Rizzoli, 2019); $50 rizzoliusa.com