Elevate Your Outdoor Kitchen to True Luxury Status
Transform your Colorado backyard into an outdoor culinary oasis with these six leading-edge design elements.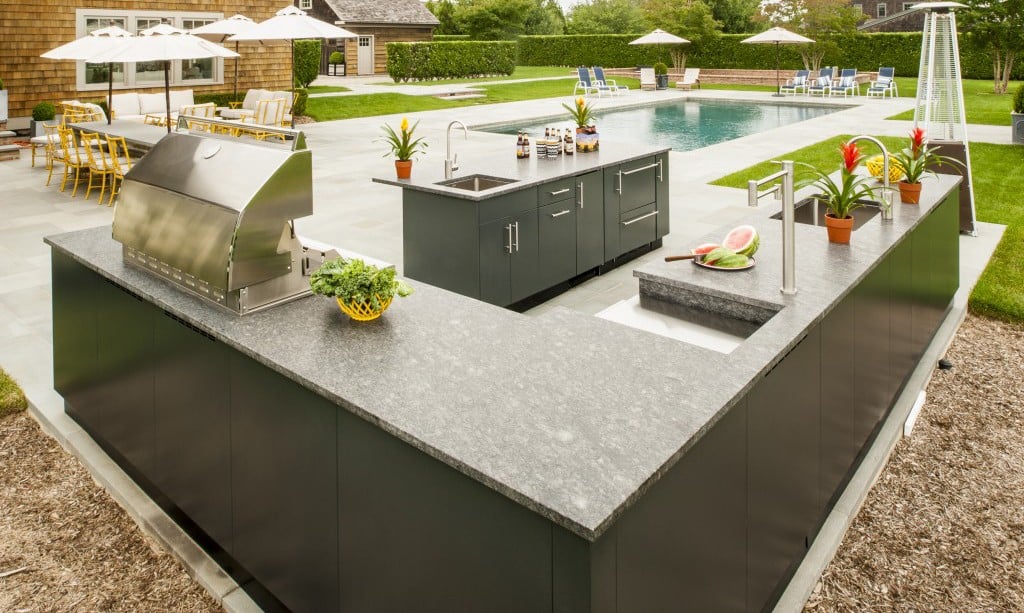 Photos courtesy of Artisan Outdoor Kitchens
Outdoor kitchens have recently been ranked at the top of national housing trend lists and homeowner remodeling plans. Upscale kitchen amenities found inside the home are now migrating to outdoor living spaces. Designers, architects, and builders alike are customizing outdoor living spaces in the same way they have traditionally done interior cabinetry. There are now countless options catering to homeowners' specific entertainment desires, including a variety of unique grilling appliances, pizza ovens, refrigeration, and bartending centers.
Investing in the beauty and function of an outdoor kitchen not only creates a perfect entertainment space to enjoy with family and friends, it also adds exceptional value to a home. Whether you are looking to extend your existing kitchen style outdoors or want to create a completely unique look to differentiate the spaces, the following items will help you get started.
Cabinetry
As traditional backyards evolve into luxurious outdoor living spaces, custom outdoor kitchens featuring powder-coated stainless-steel cabinetry are leading the way. Known for its longevity, easy maintenance, and wide array of beautiful finish options, stainless steel is an ideal material.
These cabinets are at the forefront of outdoor kitchen design for patios and decks, transitional rooms, and rooftops, and provide a real design alternative to heavy traditional stone and stucco BBQ islands. With ever-increasing numbers of door style options ranging from slab to shaker and inserts like glass and beadboard, there truly is something for everyone.
Many indoor cabinet features are making their way outside, including frameless European styling, drawers featuring double-wall construction, and full-extension undermount glides with soft-close technology. Available upper cabinets, hoods, and numerous door styles allow design freedom in outdoor kitchens like never before. Stainless cabinetry is built to fit any manufacturer's outdoor appliance: grills, smokers, side burners, sinks, bartending units, and more.
Powder Coating
Each door component is powder-coated prior to assembly, which provides a seamless and nearly maintenance-free finish. Cabinetry doors are available in an almost endless array of powder coat hues and realistic wood grain finishes, which offer the look of wood without the wear and maintenance. The growing number of powder coat options on outdoor cabinetry is providing designers and homeowners the ability to coordinate interior cabinet finishes with the outdoor spaces, creating a seamless transition from one space to another.
Appliances
One of the great benefits of a custom outdoor kitchen is the selection of cooking appliances. Whether you have a favorite grill, smoker, griddle, side burner, or even a pizza oven, your most loved appliances can be incorporated into your new outdoor kitchen. This signifies a shift in outdoor kitchen design, allowing clients to choose cabinetry specifically designed to hold a particular appliance, like a built-in EVO flat top, Big Green Egg, or Power Burner.
Beverages
Bartending systems are among the most popular features in today's outdoor entertainment spaces. The convenience of having a refrigerator integrated into your outdoor kitchen is becoming a must. Whether you want to add a kegerator, ice maker, or a complete bartending outfit, there are a growing number of options to help complete your project. Many refrigeration companies are making panel-ready outdoor appliances, allowing a matching powder-coated panel to be applied for a seamless layout.
Countertops
The two elements that set the style in a kitchen, indoors or outdoors, are the cabinets and countertops. In addition to holding up against time and climate, outdoor countertops need to complement your home and landscape. Not every countertop is built for outdoor environments. It's important to remember to select a material designed for outdoor applications. Ultra-compact surfaces are designed for exterior use, offering UV resistance for color stability, exceptional strength, and high resistance to impacts, scratches, and abrasions. Combine the wide range of countertop colors with the diverse cabinet styles to find the right look for your outdoor space.
Ventilation
The ability to design an outdoor kitchen with the same flexibility as its indoor counterpart presents the occasional challenge—such as ventilating smoke. Covered spaces are growing in popularity and are perfect for Colorado's "300 days of sunshine a year." Extra-depth hoods are perfect for lanais and the transitional "Colorado" or "Florida" rooms.
Jeff Stone is the owner of Artisan Outdoor Kitchens, a Denver-based company that is happy to help you create the custom, individualized outdoor kitchen you've always dreamed of. View their profile or contact them at 720.222.9509.
Content for this article was provided by Artisan Outdoor Kitchens.