Art at the Stock Show
National Western Stock Show announces the 2020 Artist in Residence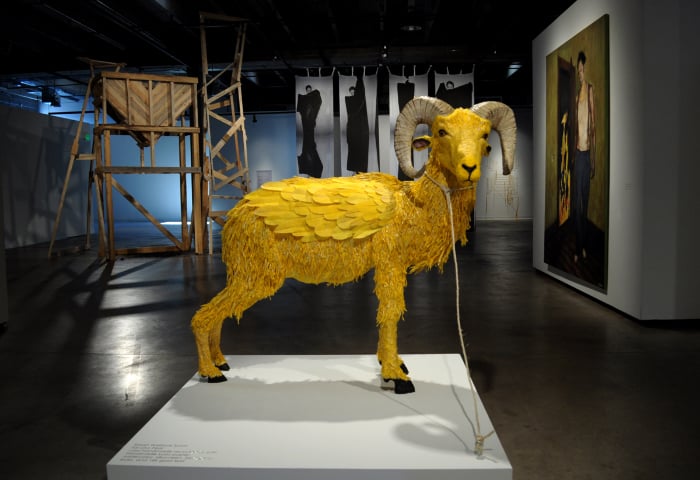 The Best 16 Days in January have arrived, welcoming cattle, horses and historic western traditions to Denver. The National Western Stock Show, a beloved Colorado institution, is the premier livestock, rodeo and horse show in the nation.

Turf
While many think of animals, mutton bustin', cowboy boots and lassos, the Stock Show also has a connection to the local arts community in Denver.
Developed to bring more art and creativity to the Stock Show, The Artist in Residence program is an opportunity for Stock Show patrons to experience art and artists while offering a once-in-a-lifetime chance for an artist to explore their creative practice within the context of this 114- year-old Denver institution.
This year, Denver artist Sarah Wallace Scott is the 2020 Stock Show Artist in Residence.
Scott is a sculptor and paper artist whose work strives to learn more about the systems and creatures that inhabit our planet, to promote a greater understanding and appreciation for the interconnectivity between all living things, and the morality of how we choose to live with others. Scott will be creating work around the grounds of the Stock Show influenced by the sights, sounds, smells, and culture of the event.
"The Stock Show Artist in Residence experience will give me the opportunity to engage with a concentrated population of people that I do not typically have the opportunity to engage with. It offers a somewhat official invitation or platform in which I may engage in conversations about regenerative agriculture, art and soil health that I don't believe I could find anywhere else. The ability to fully explore these ideas is incredibly valuable to me and my art practice," says Scott.

On Seeing Nature
During the Stock Show, Scott is working on a project that explores soil health and regenerative agriculture by way of sculpture using handmade paper, soil microbes, plant material, and manure. "I am increasingly interested in soil health as a way to capture carbon and exploring if there is a way that artists or our maker-culture can participate in a positive way," she says.
Visit Sarah Wallace Scott's "studio" space during January 11-26, 2020 on the third floor of the expo hall, top of the North lobby stairs.