Tiny Home, Big Adventure
Rock-climbing wall on the outside, smart design on the inside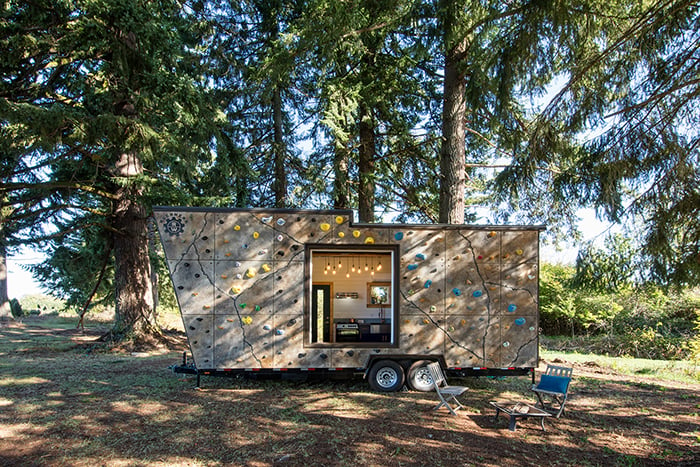 Imagine this: You're a tiny home designer, and your adventurous clients want a house on wheels that's part adrenaline-junkie, part comfy-cozy. They also want a workspace, room for guests, a full dining table, a spa-like bathroom, a walk-in closet—and, you know, a place to get their exercise—all within 250 square feet. You'd send them packing, right?
Right, except not in the way you expected.
Tiny Heirloom—a luxury tiny home company based in Portland, Oregon—sent their clients packing for the tiny home of their dreams. Downsizing doesn't mean downgrading when it comes to the tiny homes crafted by this family-run business. The designers decided that no obstacle was too large; they just had to get wildly creative, which, thankfully, is their m.o.
"We found a layout that accommodated everything they wanted and didn't sacrifice style or function," says Tiny Heirloom builder Jason Francis.
The final product? Rock-climbing wall on the outside, smart, bold design on the inside—wheels down and ready to go. (We're hoping they stop in Colorado so we can see this masterpiece in person.)
Features and materials include:
custom-molded rock wall on the exterior
jetted spa tub
walk-in closet
custom walnut timber dining table, automated to raise/lower when needed
split-level: workspace above, and dining/sleeping quarters for guests below
custom chandelier
arched sliding door
glass garage door
concrete countertops
Moroccan tile and metal accents
​​Take a tour below:
SEE ALSO:
Greg Parham's Tiny, Happy Houses
A Tiny Home Hotel
The Magic of Mobile Tiny Homes