Fire up Your Outdoor Living Scene With a Custom Pizza Oven
Still searching for the perfect Father's Day gift? Here's a great idea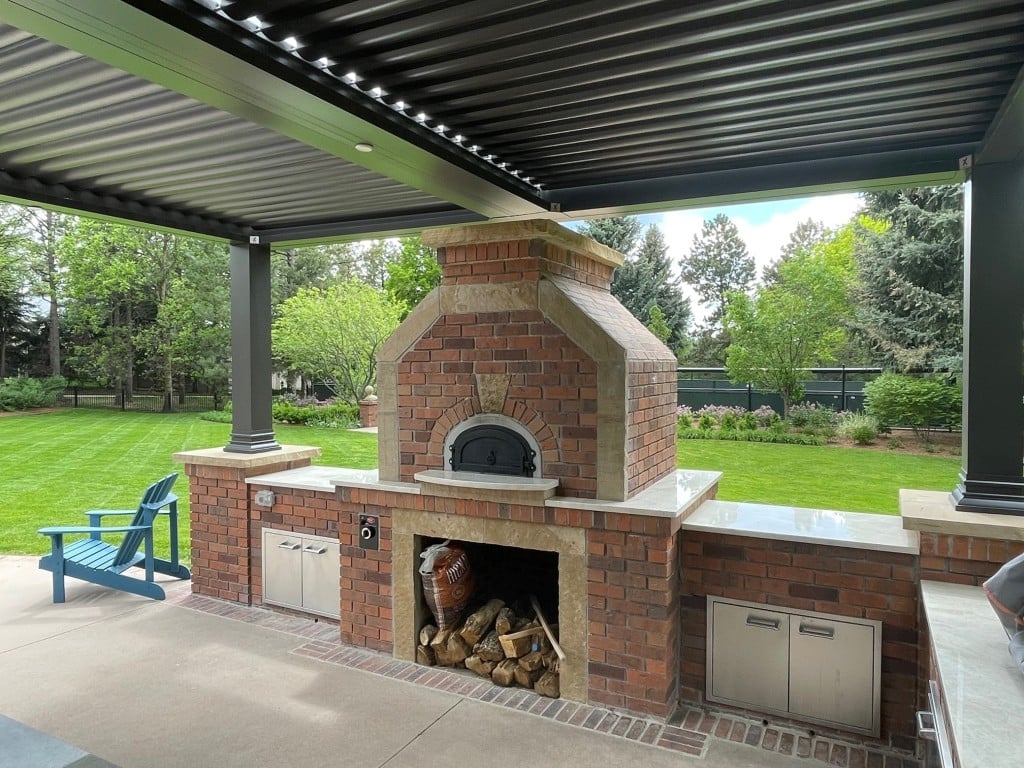 As outdoor kitchens continue to grow in popularity, pizza ovens are a new addition many of our clients are asking about. Ready-to-buy, trendy options are plentiful online and at big box retailers. Custom-designed pizza ovens offer more timeless appeal than most outdoor appliances. The style can be modern or traditional depending on the architecture of the home.
Smaller ovens can be a component of a more complex outdoor kitchen area. Larger ovens often stand alone to create a focal point for patio dining. In either case, it is critical to plan for the appropriate prep space near the oven. The key is to think about how the pizza oven will relate to the overall layout of the outdoor entertaining space.
In terms of functionality, there are many design considerations. Extreme heat inside the oven requires proper ventilation, quality materials and superior construction. Outdoor pizza ovens can rely on wood or gas for heat or a combination of both. Without the gas option, it can take 5-8 hours to heat a pizza oven. The wood helps create taste, smell and ambiance.
The structure and insulation of the design, as well as the nature of cooking with fire, make each pizza oven cook very differently. Part of the fun can be engaging with the process. Some pizzas will only take 90 seconds to cook, others longer depending on the temperature of the oven. We recommend designing the opening of the oven higher than your countertop for ease and comfort in checking on the cooking process.
In this project, we created a massive new outdoor entertaining space for clients who wanted to be able to host larger gatherings with their adult kids, grandkids and friends. We added many elements that will allow for multi-generational activity across more seasons than just summer. The pizza oven we designed and built for this project is intended to be used year-round. The style is formal and stately like the home. Yet, similar to the new swimming pool, it is all about family fun.
For their pizza oven, we added a natural gas-fired lighter inside the oven for faster heating to be used in tandem with wood. The oven is surrounded by slab countertops offering ample space for multiple meals to be created and enjoyed. The nearby island has an informal vibe meant to be used by the chef and/or the guests. The space is covered by an automated louvered pergola ensuring culinary masterpieces and memorable moments are not ruined by moody Colorado weather.
Adding a pizza oven to your alfresco living and dining area can also extend your family's outdoor enjoyment time beyond summer. Fill your backyard with warmth, flavor and fun that will inspire great gatherings and gourmet feasts!
Dan DeGrush is a Senior Landscape Architect with Lifescape Colorado. For more than 44 years, Lifescape Colorado has been Colorado's trusted source for landscape architecture, construction and property care. View their profile or contact Lifescape Colorado at 303-831-8310 or info@lifescapecolorado.com.
Content for this article provided by Lifescape Colorado.