What's Hot Right Now: Top Tips for Creating A Cooler Patio Scene
Strategic advice to help maximize your time outdoors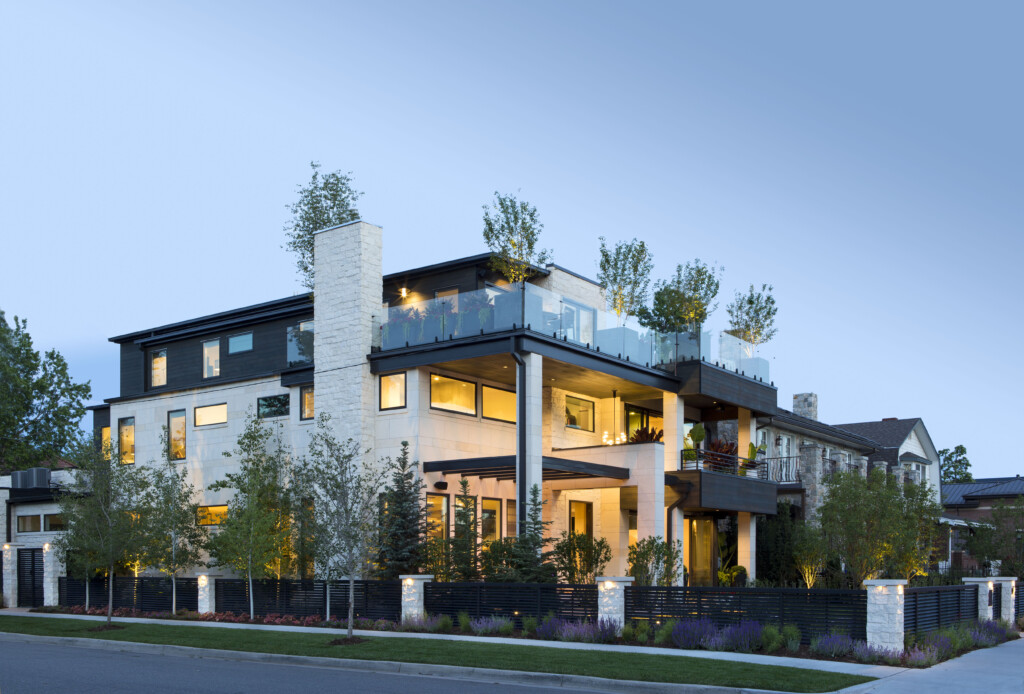 Sponsored Content
Enjoying your outdoor living spaces during the hottest weeks of the year can be challenging, even in Colorado. Luckily our dry climate allows for cooling off in the shade or as the sun goes down. At a mile-high with 300 days of sunshine a year, we often need to escape the glare and heat of the sun in Denver. When investing in solutions for cooling your outdoor living spaces quick fixes rarely stand up to Colorado's weather extremes; your best bet is to work with an expert.
Read on for a list of our favorite solutions to add shade and extend the usability of your outdoor living spaces.
Patio Umbrellas
One of the easiest ways to create instant shade is to add patio umbrellas. There are endless sizes, shapes, colors, and styles available. Cantilevered umbrellas have become more popular because they can extend over the patio area without having a base and pole in the middle of the useable space.
We recommend more substantial patio umbrellas that are designed to better manage heavy winds. Keep in mind that the quality of the fabric can greatly impact the shade the umbrella provides. It is also wise to invest in umbrellas that are portable and adjustable, that can be moved around and tilted as needed.
Pergolas
For a more permanent solution, pergolas can be designed to complement both modern and traditional homes. A popular trend now is to mix materials, using metal and wood to create the structure.
Louvered pergolas that offer the option for automated opening and closing have become very popular. In many areas, a pergola structure may require permits and inspections. In addition to blocking some or all of the sun, the right pergola can add charm and help define the space for dining or lounging. Pergolas can also offer a place to install fans, misters, heaters and/or additional lighting.
Trees
Nature can create the most effective and long-lasting source of shade for your patio and your landscape. Trees not only provide shade but also improve the air quality, reduce noise pollution and increase the value of your property. The best trees for Denver's climate and soil conditions are Honey Locust, Linden, Kentucky Coffee Tree and Spruce.
With expert guidance and additional investment, some trees can be planted at a more mature age to offer more shade sooner. Consideration of size, shape, root system, and fruit production is critical before planting trees near your home or patio. Shown above is the main image's mature landscape after just three years' growth.
Water Features
Fountains, water features, spas and pools offer additional options for beating the heat. While pools are a more substantial financial and time investment to build, they are becoming more and more popular in Colorado. Smaller plunge pools and spa/pool combinations are an option for yards with limited space. Fountains and water features can range widely in price, size and quality. Custom designs typically offer greater sound and functionality, while also better matching personal style.
Exposed water of any sort (pool, spa, fountain, etc.) adds a cooling effect through evaporation, the process of exposed water turning into vapor, which absorbs heat from the surrounding air and cools the area. Many water features also circulate air and create a breeze through the movement of water creating air currents that can help disperse the hot and stagnant air on your patio.
Custom Lighting and Fire Features
Custom lighting and fire features can also help you enjoy more outside time in the evenings during the hottest weeks of the year. The right lighting can make your outdoor spaces more inviting as the temperatures drop when the sun sets. Down lighting can create ambiance and make the space safer after dark. Fire features not only add light but also make it more comfortable to be outside at night.
Expert landscape professionals can help you create an oasis to enjoy through summer's hottest days and into the cooler temperatures of fall. No matter the size of your yard, a combination of natural and custom-built elements can be designed to work together effectively and aesthetically. The best way to manage Colorado's moody weather is to add more beauty and usability to your landscape!
Rachelle Folsom is the Director of Business Development & Marketing with Lifescape Colorado. For more than 44 years, Lifescape Colorado has been Colorado's trusted source for landscape architecture, construction and property care. View their profile or contact Lifescape Colorado at 303-831-8310 or info@lifescapecolorado.com.
Content for this article provided by Lifescape Colorado.