Thinking of Adding a Water Feature to Your Landscape Plans?
Here are the pros and cons, along with advice for choosing the right style for your home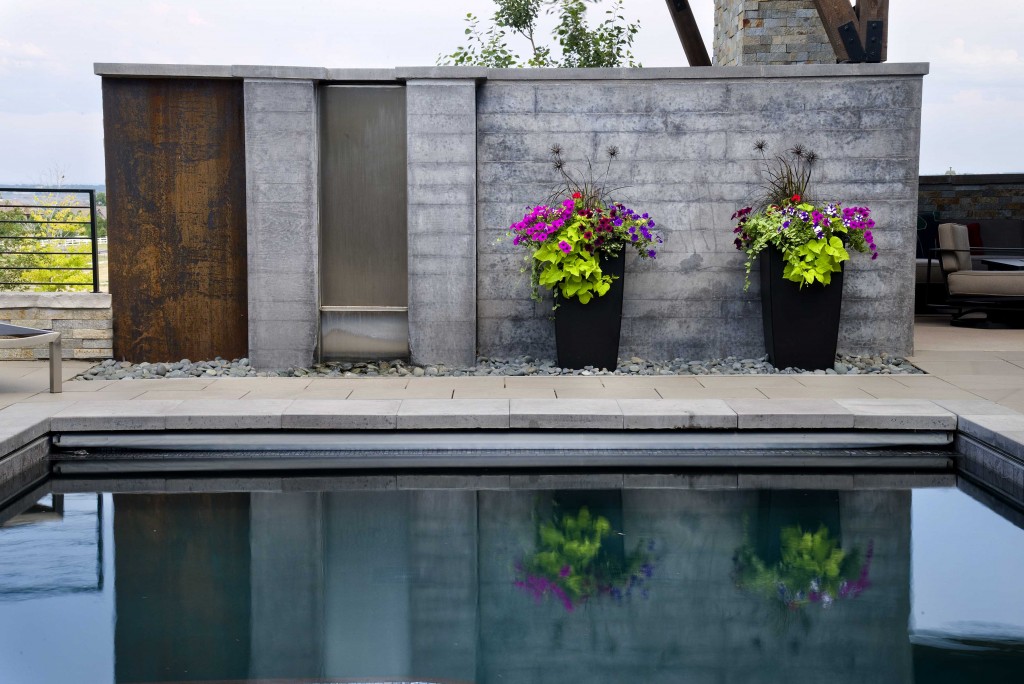 Adding a water feature to a home's outdoor space can be a wonderful addition, but it's important for homeowners to do their due diligence before adding one to their landscape plan.
There are many considerations to take into account including style, cost, and maintenance. Consulting a professional landscape company is always the best place to begin, but to get you started, here are a few pros and cons.
PROS
Ambiance: Water features add a lovely ambiance to a home's outdoor space. The visual allure of a water feature- the movement of the water in the breeze, the reflection of clouds and sunlight, the dappled surface in a rainstorm- is irresistible.
Sound: The gentle burbling of fountains and streams is a sound that soothes the human soul. And as an extra bonus, a water feature can block undesirable noises such as traffic or noisy neighbors.
Recreation: Pools and spas provide homeowners with space for exercise, relaxation and making memories with friends and family.
CONS
Cost: Water features are an investment, and often one of the higher line items in a landscape plan. Make sure the feature you are considering fits your budget.
Care and maintenance:

All water features require maintenance in order to ensure a healthy body of water, and that doesn't come without effort. Do your research in order to find out exactly how much care your feature will require and make sure it is not more than you want to take on.

Attracting unwanted visitors: Water features often attract wildlife such as birds of prey, foxes, raccoons and other critters who are tempted to sneak in for a night time drink.
Once you decide a water feature is a must-have for your outdoor space, the next question to consider is: which style? Water can take on a thousand different shapes. The trick is matching the right water feature with the right home. The architecture of your home and its natural setting will drive what type of water feature should be added. Here are a few choices:
Naturalistic Water Features
Naturalistic water features include pools, streams, falls and ponds made primarily from rocks and boulders. They blend into the natural environment and are a great fit for homes with lots of space in and near the foothills, on land surrounded by ample forestry, or in mountain resort towns. Naturalistic water features are complex, and in order to be done well require an expert builder.
Architectural Water Features
Architectural water features are more man made and deliberate, and fit well into urban landscape plans. Styles can range from a concrete, industrial look to an artistic arrangement of offset metal pipes, to a rustic stone wall with spouts emptying into a pool below, and more. The subtle, soothing sounds of bubbling water bring an ambiance of calm serenity, turning any space into a backyard oasis.
Stand Alone Fountains
Stand alone fountains are a lovely landscape addition and tend to add a more formal, classic feel to your landscape portfolio. Options range from from traditional formal urn styles to sculptural statues with curtain waterfalls to large earthen pot surrounded by natural stones.
Pools and Spas
Pools and spas are the crown jewel of all water features and we have seen the demand for them go through the roof in the past year. Because of the pandemic, many people have decided the investment is worth it to enjoy a private swimming space in their own backyard. However, pools and spas require a great deal of maintenance. It is essential to constantly monitor the ph in order to ensure a healthy body of water. Certainly there are services that tend to that, but they can be expensive.
Water features are a delightful addition to any landscape plan. Your best bet in choosing the right water feature for your home is to consult a professional landscape firm that will help you weigh the pros and cons in order to make the right decision for your family and budget.
Todd Diesburg is a Senior Landscape Architect with Lifescape Colorado. For more than 44 years, Lifescape Colorado has been Colorado's trusted source for landscape architecture, construction and property care. View their profile or contact Lifescape Colorado at 303-831-8310 or info@lifescapecolorado.com.
Content for this article provided by Lifescape Colorado.