The Evolution of Outdoor Kitchen and Dining Spaces
Homeowners are taking their outdoor entertainment spaces to the next level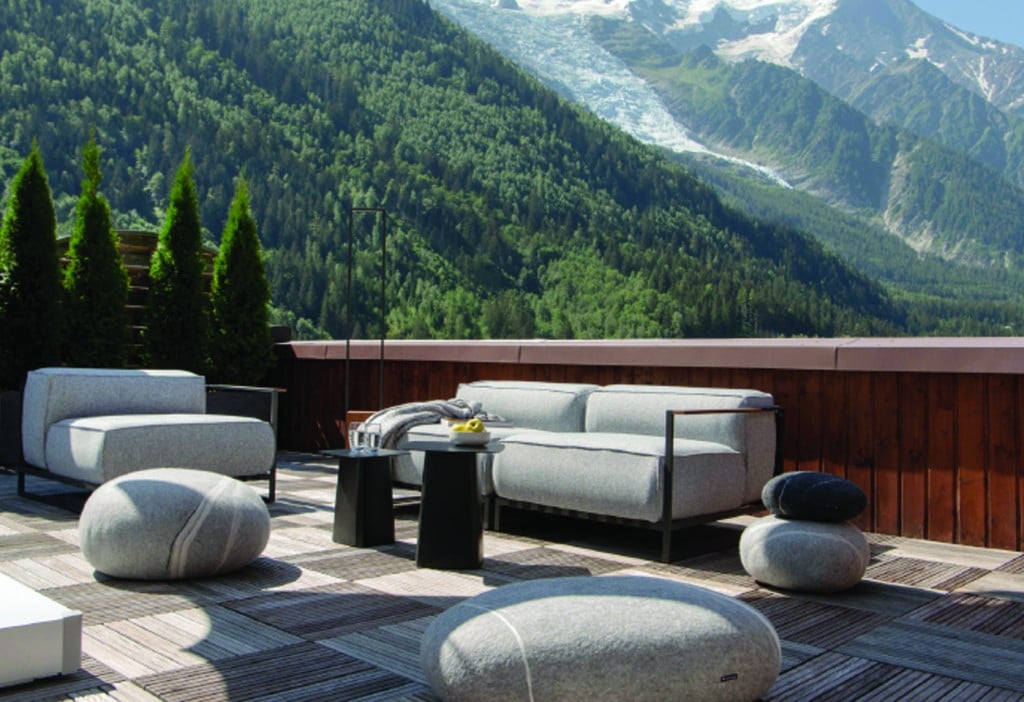 The evolution of outdoor entertainment spaces has been building momentum for quite some time. Over the last couple of years, we've seen more homeowners than ever eager to invest in luxury, innovation and unique design to create cutting-edge outdoor kitchens, functional and beautiful dining spaces and uber-comfortable lounge areas to gather with friends and family. Bold colors, alluring finishes, professional-grade appliances—these are just a few of the trends we're seeing. Read on for more, plus tips to help you plan the ultimate outdoor entertainment space for your home.
Move over, indoor kitchens
New innovations in outdoor appliances mean you can have a professional-grade cooking experience with the sun shining overhead. Much more than stainless steel grills and smokers can be built into outdoor counters and cabinets.
Enhance your setup to include a wok on your power burner, steamer/fryer in your grill or a flat-top teppanyaki style griddle, pictured above. This feature has become very popular in creating what is called "social grilling" and position them on the end of a run of cabinets so multiple people can cook what they want at the same time.
Keep everything from plates to pool towels warm in a built-in warming drawer. Indulge in a pizza oven and make your backyard home base for the neighborhood pizza party.
And for the ultimate entertainment space, add a wet bar, kegerator, ice maker and built-in fridge. Everything you need for tasty libations will be at your fingertips.
Built-in masonry outdoor kitchens are a thing of the past

For a more modern look, anchor your outdoor kitchen with commercial grade 100% stainless steel cabinetry. Finished with a high-quality durable powder coat, these cabinets not only withstand the legendary Colorado weather, they add a modern, timeless look to your space.
Go bold! With more than 60 colors and realistic wood grain finishes, as well as a wide variety of new door styles to choose from, you can truly create a one-of-a-kind entertaining space that reflects your personality.
Durable countertops are the perfect match for durable cabinets
It's essential to choose a material for your outdoor kitchen that is built to withstand the elements. Non-porous porcelain from Dekton by Cosentino or Quartzite countertops maintain their structural integrity and beauty in an outdoor environment.
Create a seamless flow
Design a cohesive space that encourages guests to be part of the meal prep process and allows them to socialize with the chef. Add bar or counter stools to the countertop for optimal mingling. Create a lounge area complete with a sofa sectional and stools directly adjacent to the kitchen with cozy chairs and a portable bar cart where guests can mix cocktails or position a bar height table and chairs close to the kitchen to make it easy for guests to be part of the action.
Maximize seating
Nothing beats dining al fresco with friends and family on a warm summer night. The size of your space and its proximity to the outdoor kitchen will help dictate the layout and seating options. With so many choices available, look for a set that is not only comfortable but adds that wow factor to your space.
Make the space your own
Make your outdoor space your happy place by adding a few personal touches. Invest in additional furniture like a sectional or lounge chairs for after-dinner socializing. Add a fountain or fire pit to boost the ambiance and add to the overall experience. Install custom art panels and colorful planters to separate and define spaces.
Micheline Stone is the owner of Creative Living, the premier source for modern outdoor patio decor. Visit their showrooms in Denver and Summit County, view their profile or contact them at 720.222.9509.
Content for this article was provided by Creative Living.