Tasty Brunch Spots in the Mile High City
Three places to satisfy your breakfast+lunch combo cravings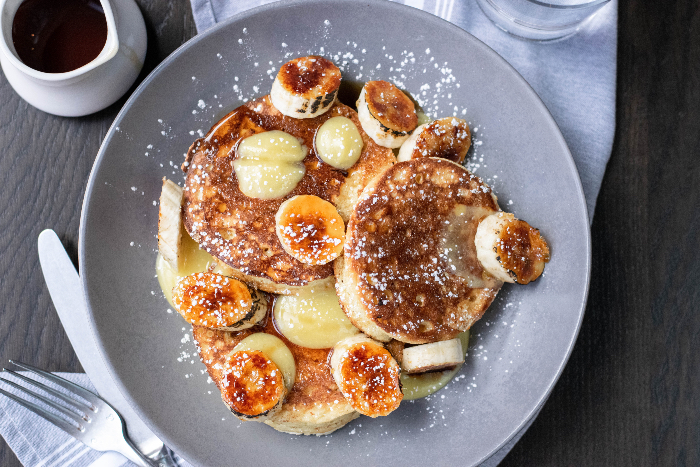 Bubbly mimosas, fluffy eggs and good company are the ingredients for the perfect brunch. This trendy meal experience is all the rage these days, with a bevvy of restaurants offering the option.
Here's our roundup of three spots that are kicking it up a notch with reimagined flavors for weekenders to indulge.

Alaskan King Crab Benedict at Woodie Fisher
This eatery in the Union Station neighborhood has made a name for itself with its technique-driven style of cooking since opening in Summer 2019. The kitchen is bringing this philosophy to brunch, featuring traditional comfort food with a twist. Expect to see crispy chicken thighs and biscuits served with mushroom gravy, herbed butter and cranberries; a breakfast-inspired fried rice with sausage, runny eggs and chili vinegar; and lavender-infused French toast with mixed berries and whipped cream.
Available Saturday and Sunday from 10 am to 3 pm

Colorado Bloody Mary at Broadway Roxy
All week long, the 1920's-inspired bar dishes out live music, cocktails and small plates for diners; but, now Broadway Roxy is opening its doors on weekend mornings for a brunch-time experience. Groove to tunes in the vintage-style spot and nosh on the Pastrami Sliders or gooey Breakfast Mac & Cheese. You can even create your own boozy beverage. Choose from six different mixes for a Bloody Mary or other tasty infused spirits to accompany your meal.
Available Saturdays and Sundays from 10 am to 3 pm
 
Soft Scramble Toast at Postino
With three Denver locations, Postino is known for an expansive wine menu, delicious charcuterie plates and cheeses. Beyond that, the new menu lineup includes fare that's sweet and savory to indulge in. Dig in to shareable small plates from ricotta fritters with apple butter, raspberry and Madagascar vanilla caramel dipping sauces to avocado toast with Calabrian chili tahini, hard-boiled egg, watermelon radish and lemon oil. Our mouths are watering already.
Available Saturday and Sunday from 9 am to 1 pm