Students Help Make Wishes Come True
All through Make-A-Wish®, Colorado's largest fundraiser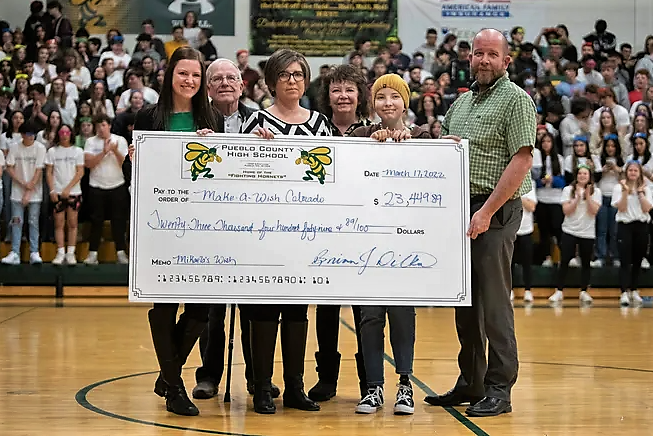 More than 20 years ago, Make-A-Wish Colorado began engaging with schools to share the organization's mission and collaborate on fundraisers. In 2012, the school fundraising program was officially named Kids For Wish Kids®. Since then, it has grown to be Make-A-Wish Colorado's largest fundraiser, generating enough revenue to fund one out of every four wishes granted by the nonprofit.
Kids For Wish Kids allows students to gain exposure to philanthropy and learn valuable leadership skills while raising funds to grant more wishes for Colorado children with critical illnesses. Schools typically host a Wish Week, which is a spirit week themed around Make-A-Wish. The Wish Week activities, which range from dances and games to fun student and teacher challenges such as hot wing eating and pie-in-the-face contests to give-back days at local eateries, are all planned and managed by the students. The schools feature a wish kid and center their fundraising activities around that child and his/her wish, including a celebration that the wish kid and family are invited to attend.
This year, approximately 175 schools all across Colorado participated in Kids For Wish Kids and hosted Wish Weeks. Some schools raised more than $100,000, while others who were new to the program or located in smaller communities, raised a few thousand dollars. Regardless of the size of the school or the fundraising goals, all who participated were uplifted by the experience. Many stated that it is one of their favorite experiences of the school year, others talked about the joy in witnessing a wish kid's excitement at a school assembly and still, others were inspired by the outpouring of support from their classmates and the community. For Sarah Grosh, Director of Community Development for Make-A-Wish Colorado, Kids For Wish Kids exemplifies the depth of care young people have for each other. "The generosity of their time and talent is just extraordinary," reports Grosh.
A few of the highlights of Make-A-Wish Colorado's 2021-2022 Kids For Wish Kids program include:
Mountain Vista High School in Highlands Ranch held its 10th annual Wish Week and again earned the position as the top Make-A-Wish school supporter in the country. The students hosted a space experience in honor of their featured wish kid, 9-year-old Walter who has cystic fibrosis.
Fossil Ridge High School in Ft. Collins celebrated with Reece, a local 11-year-old who has leukemia and wishes to go to LEGOLAND. For their sixth annual Wish Week, students planned a variety of fundraising activities including bowling and a movie night, both of which Reece attended.
Denver South High School hosted its second annual Wish Week and this year involved six other DPS partner schools. All rallied around 7-year-old Wren who has cystic fibrosis and wishes to go to Hawaii.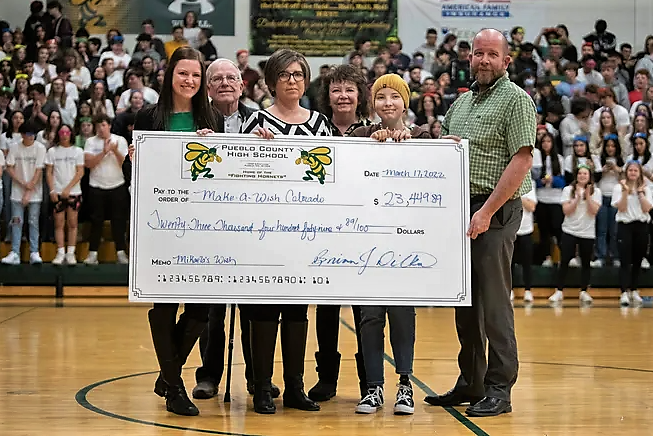 Pueblo County High School was thrilled to achieve its highest fundraising total in the four years the school has been holding Wish Weeks – and to share that joy with 12-year-old Mikaela who has cancer and wishes to go scuba diving in Florida.
Eagle Valley High School highlighted a local 11-year-old from Gypsum during their fifth Wish Week. Jose has cancer and wishes to go to Disney World.
To learn more about Kids For Wish Kids or to inquire about becoming a school partner for the 2022-23 school year, visit www.wish.org/colorado/kfwk or contact Sarah Grosh via email (sgrosh@colorado.wish.org).