Paving the Way for an Unforgettable Outdoor Space
Elevate your patio with the latest innovations in hardscape technologies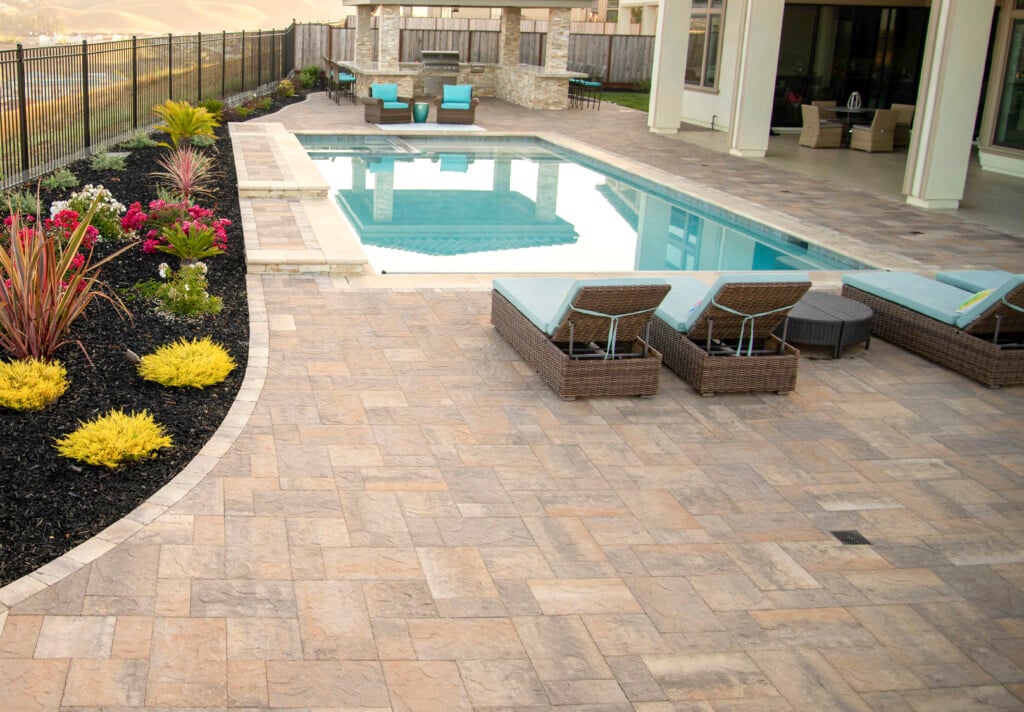 Sponsored Content
Concrete patio pavers have come a long way. No longer limited to a rectangular arrangement of 'same-as-everyone-in-your-neighborhood' squares, concrete paver manufacturers have introduced new technologies to enable landscape designers and homeowners to create beautiful, unique spaces perfect for everything from relaxing in the sunshine with a good book to throwing festive celebrations for friends and family.
Read on for more about the latest innovations in concrete patio pavers.
Face-Mix Technology
Traditionally, manufacturers have produced pavers using a thru-mix process, which is a blend of course aggregate, cement, water, and color pigment throughout the entire paver. Although this produces a quality time-tested paver, they typically lack the vibrant colors and smoother textures that are wanted for a higher aesthetic.
With the face-mix process there is a pigmented surface layer in the top 1/4″ of the paver with more expensive pigments, cement, and fine aggregate that creates a smoother, more vibrant color, and higher aesthetic finish. The remainder of the paver is made with the same mix design as thru-mix to maintain the required compressive and flexural strength, and durability properties necessary for paving applications. The end result is a premium high quality paver without absorbent raw material and manufacturing costs.
Stay-True Technology
Stay-True technology further enhances the Face-Mix paver by adding a factory-applied sealer, which provides immediate protection against stains & soiling and helps limit UV & acid rain deterioration. This is particularly appealing to homeowners as it eliminates the need for multiple visits by a contractor for cleaning and sealing.
Specialty finishes and custom options
Specialty finishes are increasingly being incorporated into upscale homeowners' exterior design plans. Shotblast is a specialty finish applied to pavers to give them a stippled, bumpy texture which provides superior anti-slip qualities for areas around pools or wet surfaces. Ground face is a specialty finish with a smooth appearance similar to terrazzo. Another popular finish for pavers is to mix in specialty aggregates such as decorative stone, pebbles, quartzite or recycled glass which are then exposed through surface grinding.
Additional custom options that further enhance a design space include infusing pavers with unique, bold colors such as purples, blues or yellows and mixing the colors in special patterns or layouts to create a truly unique look.
Textures
More than ever, textures are playing an important role in exterior design. Upgrading from the traditional "embossed stone texture", manufacturers are finding inspiration from interior design materials such as linen fabrics, abstract art and wall tiles. These unique textures raise the bar when it comes to customizing your space.
Large format sizing
As large format tile and veneer options have gained popularity in interior design, the door has opened for the exterior market to follow suit. Years ago, the standard in patio paver was the 12"x12" square. These days, large format pavers like 24"x24", 12"x18" and 4"x18", dominate the hardscape market. Placed in a symmetrical grid pattern or staggered in a step-stone look, large format pavers give your patio an updated, modern flair.
Chris Mock is a Hardscapes Sales Representative at Basalite Concrete Products, manufacturers of the highest quality pavers, wall systems, outdoor living kits and packaged concrete products in the Western United States and Canada. View their profile or contact them at 800-776-6690.
Content for this article provided by Basalite Concrete Products.