Parisian Flair Cherry Creek
Critically-acclaimed French restaurant, Le Bilboquet, makes its Denver debut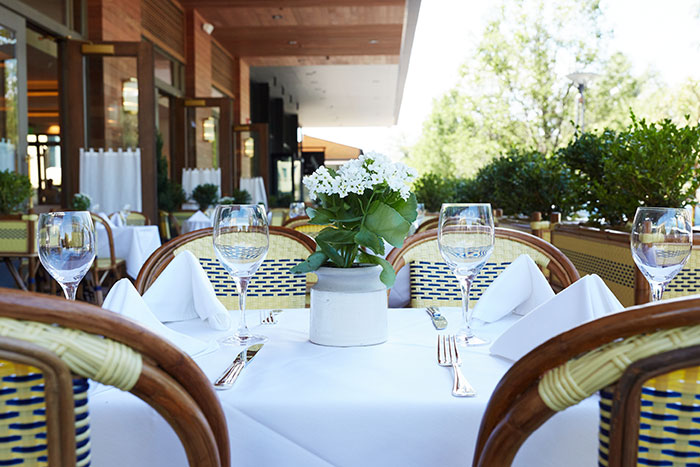 Reminiscent of a charming French bistro, Le Bilboquet Denver is located in Cherry Creek North within the St. Paul Collection. The restaurant offers a vibrant atmosphere paired with simple, classic French cooking—bringing a slice of Parisian café culture to the neighborhood.
To bring the vision for the new construct to life, restaurant partners enlisted the talent of Carolina von Humboldt of CvH Interiors in New York. The combination of von Humboldt's elegant designs and Parisian flair is a charming amalgamation of two aesthetics that "speak" to each other in an akin manner to complement its surroundings.
Though the collective design of all the locations recall the style of a charming French bistro, the final project resulted in a space illuminated with natural light, outfitted with custom blue velvet banquettes, a two-color terrazzo floor and a variety of seating options.
The first of its kind, Le Bilboquet Denver boasts a cozy lounge area with a stunning fireplace and a private dining room. The interior space will house a rotating collection of paintings and photography by locally and nationally acclaimed artists.
These artworks will adorn the main dining room, above the fireplace mantle of the lounge and pewter bar area as the restaurant is filled with fresh cut flowers and plants by Honeycomb & Co. The charming exterior patio transports guests to a Parisian sidewalk café with French bistro woven rattan chairs and tables.
"We selected Denver due to its popularity that has rapidly increased its population. We've had countless recommendations from our current customers to go to Colorado and came across an opportunity we couldn't pass up. We're excited to be part of an excellent portfolio of fine dining and award-winning eateries," said co-owner, Philippe Delgrange.
299 St. Paul Street; Open daily for lunch from 11AM to 5PM.