Extreme Outdoor Living Crafted by a Colorado-Based HGTV Star
Garth Hystad, star of the DIY Network series Mega Decks, shares 3 over-the-top projects in the Centennial State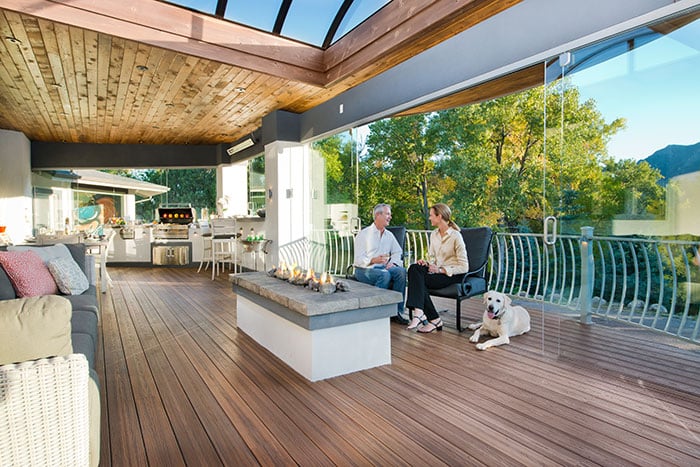 With more than three decades of experience and three showrooms along the Front Range, founder and president of Colorado Custom Decks Garth Hystad was already an outdoor-living big shot, crafting out-of-this-world decks and outdoor spaces with a price tag at least half the cost of the original home.
A few years ago, his passion for integrating the indoor-outdoor experience and the sheer scale of his projects garnered the attention of HGTV's DIY Network, and their hit show Mega Decks was born—exclusively featuring Hystad's work in Colorado (and beyond).
"There is nowhere like Colorado," Hystad says, who moved to the state when he was 18 to continue his studies in carpentry and architecture, and soon after started his custom deck business with all-season quality time in mind. "Have you ever had Christmas dinner in a blizzard," Hystad asks, "with an infrared heater on so that you're cozy and warm, and you can smell the snow and watch the deer?" His version of outdoor living goes above and beyond what most consider luxury.
Hystad's history, however, isn't as glamorous as the work he creates, and he's remarkable candid about it. As a ward of the state of Washington, Hystad's childhood was spent moving from foster home to foster home. "In one of the homes, I was locked in a room for a year and a half, and starved," Hystad recalls. "I escaped through Louis L'Amour books, which gave me a profound love for the great outdoors. I escaped through those books. Being confined to that room fueled the fire in my soul to live in a great state like Colorado and to be free." The outdoors, he says, is the ultimate freedom.
From rustic cliff-side overlooks in the Rocky Mountains to urban rooftop sanctuaries in downtown Denver, Hystad has channeled his fervor into the absolute epitome of innovative outdoor living. These three Mega Decks transformations go from your run-of-the-mill backyard patios and decks to outdoor living escapes that the homeowners can enjoy 365 days of the year.
MOUNTAINSIDE CITY ESCAPE
BEFORE:

BEFORE:

This home in the Broadmoor Bluffs was featured on the first-ever episode of Mega Decks. "The homeowners are a retired couple and were thinking about downsizing," says Hystad. Instead of moving, they decided to stay put and hire Garth to help build the missing piece.
The original deck was too small, and they didn't want stairs, as bears frequented the property (and were caught on camera while filming the show!). Hystad designed a maintenance-free deck for all types of weather, as well as a half-wall crafted of stone to block visual distractions from the ground and focus the homeowners' glance to the mountain views above.
AFTER:

Photo: Daniel Lemon
Operable glass "picture-frames" the mountains and allows flexibility during each season, as they can completely enclose heat within or open up to let air flow through. "This is something I do with all of my spaces—the materials are maintenance-free so that the space can withstand the Colorado extremes, and the operable glass maintains the view without sacrificing heat or air-conditioning, whatever the case may be."

Photo: Daniel Lemon

Photo: Daniel Lemon

Photo: Daniel Lemon
A floor-to-ceiling, 20-foot-tall fireplace takes center stage next to a customized outdoor kitchen so that the couple can cozy up with a meal and watch television outdoors.
"We opened up the wall to the interior living space and integrated it with the outdoor living space, so that the beauty of the surrounding landscape is brought inside."
BLACK FOREST YEAR-ROUND RETREAT
BEFORE:

BEFORE:

"After receiving a cancer diagnosis, the homeowner re-evaluated his priorities and concluded that spending time with family and friends was of the utmost importance," Hystad says. "That was a commitment he made—creating something that would foster the ability to enjoy the outdoors with his family and children."
After learning more about the homeowners' affinities—they loved the sound of water, and their kids loved to craft homemade pizzas, for example—Hystad went about completely recreating the space.
The two-story outdoor living haven includes a fire pit by the pizza oven down below, with ample seating walls and the sounds of a two-story waterfall cascading from the upper level to the lower level.
The custom water features include a water garden where the family cannot only grow their own herbs but use them as ingredients in their homemade pizzas.
On the upper deck, another exposed fire pit allows the family to stay warm while they stargaze. Hystad designed a roof to anchor the entire space, which boasts a mosaic ridge glass skylight. "When you look straight up, everywhere is glass. You watch snow, clouds, rain, and light is always filtering in."
MODERN ZEN
BEFORE:

BEFORE:

In contrast to many of the rustic Colorado homes Hystad has worked with, the homeowners of this retreat in the Broadmoor wanted a style that erred on the side of modern and Asian. "Mountains usually go hand-in-hand with triangular shapes and gables, and modern speaks more to flat lines and roofs." This was a great challenge for Hystad—one that he thrived on.
"I took a flat roof and created an art-inspired skylight, which took the experience from flat to three-dimensional."
In additional to a full outdoor kitchen with a barbecue, the design also includes a water feature that creates more privacy from the view of the road. "It serves as a visual backdrop instead of their eye going to the street—it gives them something else to look at, and what says Zen more than the tranquility of water?"
Speaking of water, the property also sits on a private lake, which Hystad calls "the gem of the property." They got rid of the basic fire pit that was previously by the water and replaced it with a large wood-burning fire pit. Hystad and his team used boulders native to the property, half-burying them so they act not only as backdrop but also as bench seating.
When describing all of his Mega Decks projects, Hystad uses the word "dynamic," and by that he means that each space is designed to interact with the priorities of the homeowners as well as the weather patterns. "Most people in Colorado use their outdoor spaces around 10 times a year because of the snow in the winter and spring, and the wind in the summer. I want people to be able to be outside year-round and feel right at home, with a live theater surrounding them. The best part of living in Colorado is our gorgeous landscape."
Season 3 of Mega Decks is slated to air September, 2017.SaveSaveSaveSaveSaveSave
SaveSave
SaveSave