An Interior Designer's Very Personal Reconstruction
Ashley Campbell transforms a vacant house into a lively, welcoming home for her and three young sons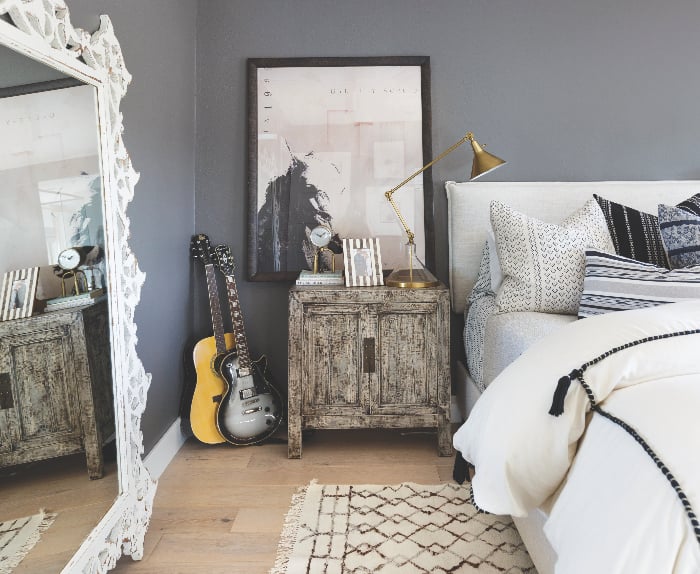 BEFORE
Tucked away in the quiet Hampden neighborhood close to southeast Denver's Bible Park, this approximately 3,000 foot, 1973 tri-level sat empty for over a year, until interior designer Ashley Campbell recognized its potential. This was a time of personal upheaval for Campbell, and she saw parallels in the home and her situation—both needing some TLC and restoration of spirit.
It had great elements, including a pool and a sunken fire pit, but there was much to be done. Campbell not only worked her usual interior design magic, but also did much of the physical labor, from knocking down walls to installing French Oak hardwood floors throughout. "I wanted to get my hands dirty," she says. "It was a labor of love for the whole family." In the end, they restored each other.
Son's Bedroom A comfy reading nook beckons, with a Bernhardt chair upholstered in custom Pendleton fabric, custom draperies with fabric from Fancy Tiger, a Currey & Company side table, a West Elm rug and artwork found at Target.
AFTER
After roughly a year of renovations fraught with delays and surprises—which among other things included discovering a leak that had caused mold behind the walls, which then led to finding a colony of mice—Campbell filled the four-bedroom, three-bath home with tribal patterns, layers of textures, high contrasts of dark and light, and some feminine touches to offset having 13-, 11- and 7-year-old boys in the house.
She chose durable, family-friendly materials to accommodate their daily grind. "I tried to create something comfortable and inviting, a sanctuary. But it's definitely harder to be your own client," she notes. "I love how comfortable our house feels," says her oldest son. "We each have our own rooms to spread out in, but it still feels cozy. It's so nice to have my friends over.
They think it's the coolest house they've ever seen." Campbell adds, "The house is an amalgamation of everything I love."
SUNKEN ROOM & FIREPLACE
AFTER

This unusual room was added on in the late 1970s. It leads to an expansive deck and overlooks the play-friendly yard. New carpeting is by Shaw, ceiling lights are from Triple Seven Home, the pillows are from Coral & Tusk, and the pink chair is a custom-painted antique. Campbell's 7-year-old "loves that we can roast s'mores and read books by the fire in the sunken fire pit. Our house feels really safe and warm."
BEFORE

LIVING ROOM NOOK
AFTER

With the kitchen above, the large living room on the lower level allowed for the creation of a unique nook used for casual dining, putting together puzzles and playing board games. The Lee Industries banquette and eye-catching Phillips Collection dining chair embrace a 36-inch round Safavieh table. Seat-belt chairs, also from the Phillips Collection, are visible above. The artwork is from Walker Fine Art, and pillows were sourced on Etsy.
BEFORE

DINING ROOM
AFTER

Walls chopped up the first floor into a narrow entry, a tiny kitchen and two smallish rooms. Campbell sledgehammered them into oblivion to create a large dining room and open kitchen. The Clubcu dining table, Arteriors side chairs with Thibaut custom fabric and Made Goods host/hostess chairs all rest on a Surya rug. The buffet is by Interlude Home. The modern chandelier is from Arteriors, the vases come from Kalalou, and the custom draperies are made with Schumacher fabric. The oversized artwork is a custom-framed print from Ikea, which "gets more compliments than anything else in the house," Campbell says.
BEFORE

LIVING ROOM
AFTER

Dark paneling, dark brick and wall-to-wall carpeting gave way to new paint and fixtures, hardwood floors, and a more functional configuration. Sitting alongside the existing fireplace insert—"I like leaving bits of original charm," Campbell says—is a rocking chair from CB2, art from Leftbank Art, Target vases, a sculpture found at Arteriors, antique kachina dolls and pillows from HomeGoods.
BEFORE

MASTER BATH
AFTER

As you enter the bright, airy master bath, your eye goes immediately to artwork found at Accessory Warehouse and a plush Turkish towel from Coyuchi. The Marazzi field floor tile leads past the Home Decorators Collection vanity, with a sink by MTI Baths, to a large walk- in closet. Anthropologie draperies round out the look.
BEFORE

SUNKEN ROOM ADDITION
AFTER

This nook provides another quiet spot—as long as one of the boys isn't playing the drums! Behind the door is a new bathroom in what used to be a garden shed. The floating shelves are by Roost, and the three- dimensional art is from Gold Leaf Design's Wall Play collection. The end table is from Target, the pillows are from Coral & Tusk, and the striking headdress is from Blaxsand.
STAIRS/HALLWAY
AFTER

Bright-white paint and French Oak flooring—offset by patterned stair tiles from Clé— replaced faux-brick veneer and wall-to-wall carpeting. The flush-mount light is from Visual Comfort, the pots are from Kalalou, and the artwork is by Brian Andreas.
DESIGN DETAILS
INTERIOR DESIGNER Ashley Campbell, Ashley Campbell Interior Design