An Award-Winning Outdoor Oasis
Designscapes Colorado's Evergreen project received the honor for HGTV's Ultimate Outdoor Awards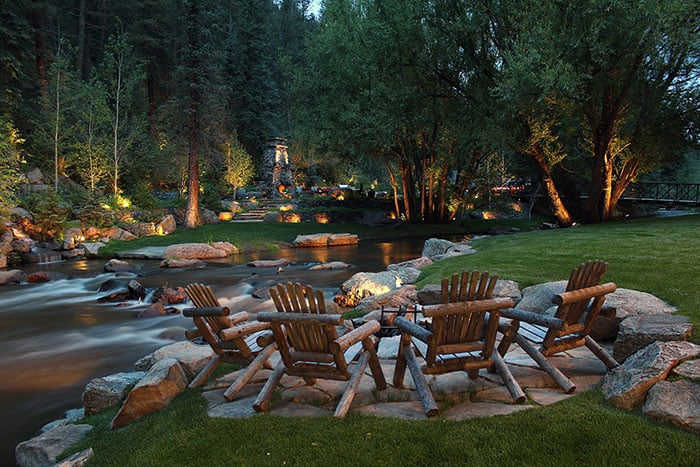 A Colorado landscape design firm was recognized by HGTV for excellence in outdoor design. The 2019 Ultimate Outdoor Awards showcases stunning landscape designs from across the country. These remarkable spaces won the hearts (and votes) of the HGTV audience and editors.
Phil Steinhauer, Owner of and Landscape Architect at Designscapes Colorado and a 2019 Circle of Excellence winner, and team competed in HGTV's Ultimate Outdoor Awards. "A Tranquil Retreat in the Woods," their project submission featuring a home's beautiful outdoor living spaces in Evergreen, is the Editor's Pick for the Outdoor Oasis category.
From an in-ground hot tub and stone fire pit, to a serene pond and gorgeous views, this space is the ultimate natural refuge.
Take a tour of the award-winning project.

Photo by David Lauer Photography
A pond ringed with grasses and fir trees presents perfect meditative calm.

Photo by Designscapes Colorado
Grasses along the edge of the pond make a soft, lovely transition to the stone patios beyond.

Photo by Designscapes Colorado
An in-ground hot tub overlooks the creek for an extra dose of relaxation. The tub and surrounding patio have the feel of a secluded forest pond, so they're beautiful even when not in use.

Photo by David Lauer Photography
Landscape designers set up this home's outdoor areas as a series of outdoor rooms, each with their own personality and purpose. Here, the fire pit gets a dose of color from several bright container gardens.

Photo by David Lauer Photography
A bridge provides a path over the creek; the metal railing's slim lines keeps it from feeling too imposing.

Photo by David Lauer Photography
A wide driveway curves its way up to this luxe cabin's front steps. Native trees and plants soften the approach with lovely shades of green.