A Mountain Modern Estate on Roaring Fork Riverfront
This two-home property—a contemporary main home and rustic luxury cabin—are to die for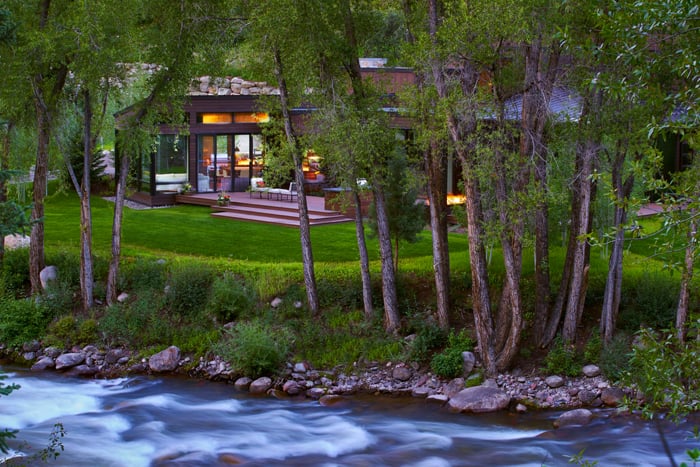 At the end of a private access driveway, on five acres of historic Roaring Fork riverfront just up the road from Aspen, you'll find this gorgeous mountain-modern property, Waterstone Way.
The newly completed, $16.9 million estate sits on land owned since the 1970s by well-known developer and entrepreneur Nick Coates—who helped influence the real estate landscape in the Aspen area—and is the last to be located this close to the river.
Waterstone Way Estates is comprised of two custom-designed dwellings—the contemporary main home and, down river, a slightly more rustic luxury cabin—both of which are completely above-grade, maximizing each room's view. Each home also has its own caretaker unit on the upper bench.
"It's such a beautiful, private area," says Kim Coates, who serves as the home's triple threat: developer, listing broker, and one of the homeowners (along with her siblings). "The broad river bench gets a lot of sun. You usually can only get either the mountains or the river; you have to sacrifice one for the other, but this home maximizes both settings and stays at a great climate all year. It truly is irreplaceable."
The main home is 'mountain contemporary,' says Coates, with clean lines, high ceilings, and glass doors that completely disappear "so you're walking right out to the river from almost every room." It includes two large master suites, cedar heart siding, walnut floors and doors, floor-to-ceiling Lowen glass doors, a three-car garage, and expansive red balau decks.
Farther down river sits the cabin, with three guest suites, white oak floors, reclaimed barn wood siding, beautiful interior trusses, and a pond with a waterfall. "The cabin has a similar feel inside in terms of color scheme and a contemporary feel," Coates adds. "The three very distinct suites are almost like pods off of the main living area. It's a cozier space, about 3,200 square feet. When people walk into the cabin, they feel like they can just stay there forever."
Take a look at the gorgeous estate below.
THE MAIN HOME:


THE CABIN:
DESIGN DETAILS
ARCHITECTURE: Jamie Brewster, Brewster McLeod Architects; Gretchen Greenwood, Gretchen Greenwood & Associates
INTERIOR DESIGN: Joe McGuire, Joe McGuire Design
FURNISHINGS: Cathers Home
​LANDSCAPING: Shannon Murphy, 970-927-2889
BUILDER​: Structural Associates