A Denver Home a Decade in the Making
Almost 10 years ago, this couple got cold feet—and now they're so happy they did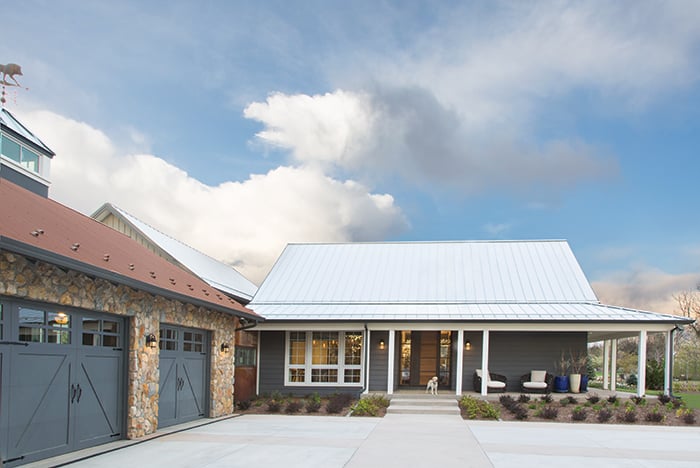 The night before breaking ground on an ostentatious, 15,000-square-foot mansion in Greenwood Village, a husband and wife canceled the project. It was a bold move for these parents of four, but they knew "it did not feel right." A lot had gone into planning the house, and this hard stop in 2009 would lead to a scaled-down reset. Two major things would change for the 2.0 version of the home: It would account for the kids only as guests, as they'd be off to college, and each space would be planned to actually be used in daily life.
A modern farmhouse was born, finished just a year ago, and designed and built by the same team as the original version. The exterior, accented by deep-sloping roofs, pays homage to Scandinavian architecture but is set around landscaping that softens its sharp edges. Inside, interior designer Ashley Campbell married the almost dueling visions of the couple, who have been married for more than three decades. "He prefers a modern aesthetic with Asian influence," Campbell says, "while she is a traditionalist, bordering on French country at times." Both travel a lot and have acquired meaningful art along the way. Both appreciate classic Americana, with a dash of a Ralph Lauren look. The finished home blends modern floral prints and clean lines on the furnishings, a touch of leather, accent colors, and custom pieces that fit each space with precision.
"He prefers a modern aesthetic with an Asian influence, while she is a traditionalist, bordering on French country at times." — Ashley Campbell
Creating purposeful spaces was paramount. A mudroom doubles as office space for the wife. A spectacular kitchen includes a thoughtfully planned breakfast nook. The blue library has a dual function: to house a literary collection categorized by genre and alphabetized, and also to entertain when only two couples dine on a casual evening. A double-sided fireplace separates a master bedroom from the wife's sitting nook, a place where she can read without disturbing her partner.
Downsizing gave this couple the gift of clarity and simplicity. "We made this the home we want to be in for the next 30 years, and for that alone taking a break was the right decision," the husband shares. Blending their styles made it uniquely them.
The eclectic living room is all about creating an inviting place to gather. Fluffy pillows soften two Massoud leather chairs. An Arteriors chandelier provides soft light. Indian chest piece is by Blaxsand. Rustica Hardware doors tie together the living room and the blue library room.
"We made this the home we want to be in for the next 30 years, and for that alone taking a break was the right decision." — Homeowner
The blue library is one of the owners' most treasured spaces. A large collection of books is stored in perfect alphabetical order, and the space is painted in Benjamin Moore Newburyport Blue. At times, the space doubles as a dining area that can accommodate two couples around its Lorts table.
Bright and airy, the kitchen is outfitted with William Ohs custom cabinets, designed by Anna Gustason. The custom showstopping hood, designed by Gustason in collaboration with Ashley Campbell, was created by Raw Urth Designs. The quaint nook includes slipcovered dining chairs from Lee Industries and a bench covered in tartan from Moon fabrics.
A Thos. Moser bed that the owners brought along from their previous home dominates the master bedroom. An ornate bench, with wooden legs from Noir and custom fabric from Fortuny, shares blue hues with the Surya rug.
The view from the bed is a double-sided fireplace, wrapped in etched basalt stone by Materials Marketing. Barn doors by Rustica Hardware in a custom blue separate the sleeping area from a sitting room. A Visual Comfort & Co. lamp provides perfect light for the wife's comfy reading chair.
Modern farmhouse meets aesthetic function in the Clubcu antique buffet, outfitted with a large trough sink and doubling as a vanity. The mirror with hanging hooks is from Four Hands, as is the cotton-print rug.
Scout the dog keeps watch over the modern farmhouse entry. The owners brought the porch chairs from a stint in Brazil. Slate-blue garage doors complement blue James Hardie board siding on the main house.
DESIGN DETAILS:
INTERIOR DESIGN Ashley Campbell  ARCHITECTURE Cherie Goff, AIA HMH Architecture & Interiors CONSTRUCTION Boa Construction Inc. LANDSCAPE ARCHITECTURE Karla Dakin KITCHEN CABINETRY Anna Gustason, William OhsSaveSaveSaveSaveSaveSaveSaveSaveSaveSaveSaveSaveSaveSaveSaveSaveSaveSave
SaveSave