Which Outdoor-Living Lifestyle Fits You the Most?
Are you all about privacy, kid-friendly features, or entertaining large crowds? Here, find design inspiration for every way of life.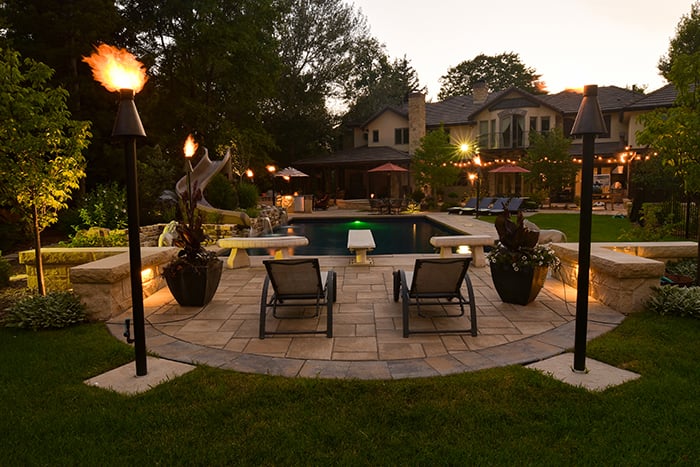 You're getting ready to plan your new, renovated, or updated outdoor living space—there are many considerations; however, the most important step is to answer these questions: How do you live, and how will you use the space?
Your individual lifestyle should determine the style, features, plantings, and amenities that are planned into the design of your outdoor living space. If you do not carefully evaluate your lifestyle before designing your outdoor living space, then you will not get the most bang for your buck—and the resulting design will not be enjoyed to the max.
There are three primary lifestyles that outdoor spaces typically support—and once you know yours, you can begin to make your design wish list and work with a professional to bring your vision to life.
The Private Lifestyle
For these single homeowners or couples looking for personalized and secluded spaces for their own enjoyment, privacy is key. Cozy gardens and hearths are perfect for this type of lifestyle.
This intimate sitting area is ideal for relaxing with a glass of wine. Red sandstone steppers with thyme planted between them creates a serene, cottage-inspired ambiance.
This fire pit, custom-built in to the brick wall of a covered patio, is surrounded by comfortable seating—the perfect spot for individuals or couples to relax and retreat from cool Colorado evenings.
An ipe wood deck surrounds a small lap pool in this secluded, private area for the homeowner and a few guests.
For homeowners who value peace and quiet, a simple outdoor dining setup works wonders, with privacy provided by different layers and textures of plantings.
A cozy nook, complete with a focal-point fireplace, provides the perfect space to be enjoyed by the homeowner and a few guests.
The Family Lifestyle
For these homeowners, it is paramount to include outdoor features that support activities for children and the family as a whole.
This completely renovated backyard and patio functions superbly for family activities like swimming, hot-tubbing, and outdoor cooking, and it even provides lawn space for kids to run and play ball.
In this backyard, a grand veranda opens up to square steppers for family overflow, and the large lawn is great for playing sports like volleyball and baseball.
The Social Lifestyle
These homeowners always have dinner parties and barbecues on their calendar—and they love to host. Their outdoor spaces must revolve around entertaining.
Entertaining is always better with multiple gathering areas. In this outdoor living space, three spots—the arbor area, the open patio, and the circular fire pit with seating—provide guests with multiple options for hanging out.
Patio spaces that provide enough space for different types of seating—tables, chairs, and outdoor sofas—are a great way to bring family and friends together.
Pools are a great way to get the summer party started. They can be the primary element of an outdoor living space, or they can be off to the side of the main seating areas—but they are always a big hit for guests of all ages.
Many households will have a combination of these three main lifestyles, but it is still vital to thoughtfully consider what is most important to you as you plan your spaces—so that you can get the most out of your design during Colorado's 300 days of sunshine.
Dave Graham is the owner of Phase One Landscapes, a landscape design firm based in Denver, Colorado. View their profile or contact Dave at 303.750.6060.
Content for this article provided by Phase One Landscapes.