The World's Largest Private Whisky Collection to Go to Auction
Denver-based collector's Scotch whisky collection is largest ever to go to auction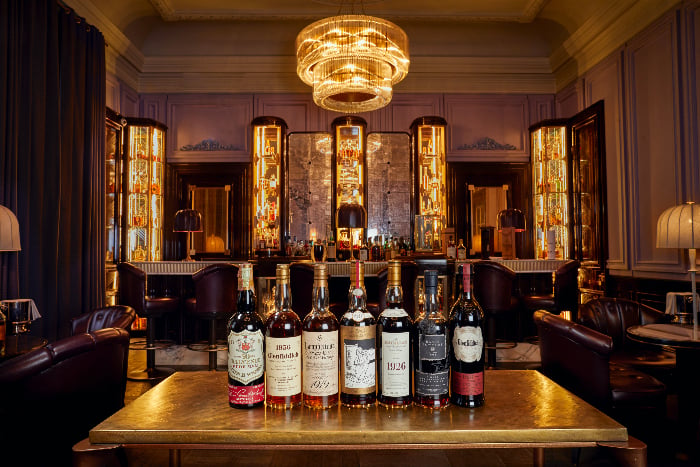 The largest private collection of whisky ever to go to auction has been unveiled. By value and volume, the collection is the most significant to ever go on public sale and is described as "The Perfect Collection."
The collection was built by the late Mr. Richard Gooding—a collector from Colorado. Mr. Gooding spent decades in pursuit of creating "The Perfect Collection" of whisky, leaving no stone unturned by travelling regularly to Scotland with his pilot in search of special bottles at auctions and distilleries.


Bottles L-R Ardbeg 1967 Signatory Vintage 30 Year Old / Dark Oloroso Butt #578, Glenfiddich 1937 Rare Collection 64 Year Old, Springbank 1919 50 Year Old, The Macallan 1926 Valerio Adami 60 Year Old, The Macallan 1926 Fine and Rare 60 Year Old 75cl / US Import, Glenfiddich 1936 Peter J Russell, The Balvenie 1937 Pure Malt 50 Year Old 75cl / Milroy's of Soho, Bowmore 1967 Largiemeanoch 12 Year Old. Photo by Peter Dibdin Photography.
Mr. Gooding's collection consists of over 3,900 bottles of primarily single malt Scotch whisky and will be sold next year. The Collection is comprised of some of the most coveted, valuable and rare bottles from distilleries including The Macallan, Bowmore and Springbank, some of which are individually valued at over $1 million.
The eclectic library of whiskies also consists of a number of bottlings from some of Scotland's lost distilleries, including Old Orkney from Stromness Distillery and Dallas Dhu, some of which have never been seen before at auction.

Mr. Richard Gooding
Until recently, the Collection has been housed in Mr. Gooding's "Pub"—a dedicated room located in his family home in Colorado. Each bottle in Mr. Gooding's collection will go on sale next year over two separate auctions.
"It was clear to us as a family that collecting Scotch was one of Richard's greatest passions—an endeavour that spanned over two decades. Richard truly loved and was proud of his collection and enjoyed sharing it with friends and fellow Scotch lovers in his 'pub' at home," says Nancy Gooding, wife of the late Mr. Gooding.
The Perfect Collection by Mr Richard Gooding will go live on Whisky Auctioneer from February 7-17 and April 10-20, 2020.