The Winter Park Express is Back
All aboard the traffic-dodging ski train to the high country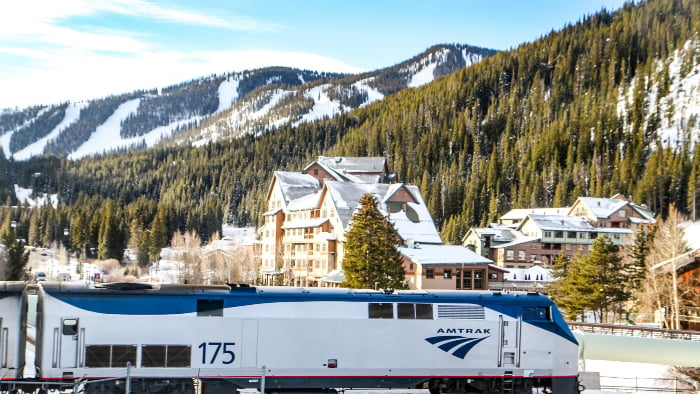 Skip the dreaded ski traffic and get comfortable in a seat on the Winter Park Express this season.
The ride begins at Denver Union Station, the renovated train station in the heart of the city. The station is the city's transportation hub with direct rail access to and from Denver International Airport, making it possible to touch down from anywhere and ride the rails all the way to the pristine slopes at Winter Park Resort.
The double-decker Amtrak Superliner train leaves Union Station and heads north and west as it climbs toward the Rocky Mountains, offering views of the famous Flatirons above Boulder and the surrounding plains. The train rides through the Moffat Tunnel, cutting through the Continental Divide some 50 miles from Denver. From there, it's a short ride to Winter Park.
The two-level Amtrak "Superliner Sightseer" has windows that start at the floor and wrap up to the ceiling and offers snacks and soft drinks as well as beer and wine.
After the two-hour trip, passengers arrive on a heated platform and walk 100 ft. to the nearest ski lift.
According to VisitDenver, "the original Ski Train ran continuously from 1940-2009 and was brought back temporarily for a weekend in 2015 to celebrate Winter Park's 75th anniversary. Tickets sold out quickly, which renewed interest in resurrecting the concept under a new partnership arrangement through Amtrak, Union Pacific and the resort."
For the 2020 season, the Denver to Winter Park ski train will run January 10 – March 29, 2020, on Fridays, Saturdays and Sundays only. The train departs Union Station at 7 am, arrives at Winter Park at 9 am. After a day on the slopes, head to the train which departs Winter Park at 4:30 pm and arrives back at Union Station at 6:40 pm.
Ticket prices range from $29 to $59 one way (children 2-12 ride for half price with a ticketed adult), enabling passengers to spend a day, weekend or longer at the resort. Purchase tickets directly from Amtrak.