Supermodel Miranda Kerr's New Furniture Line
Renowned for her impeccable style, Kerr created a chic collection for the home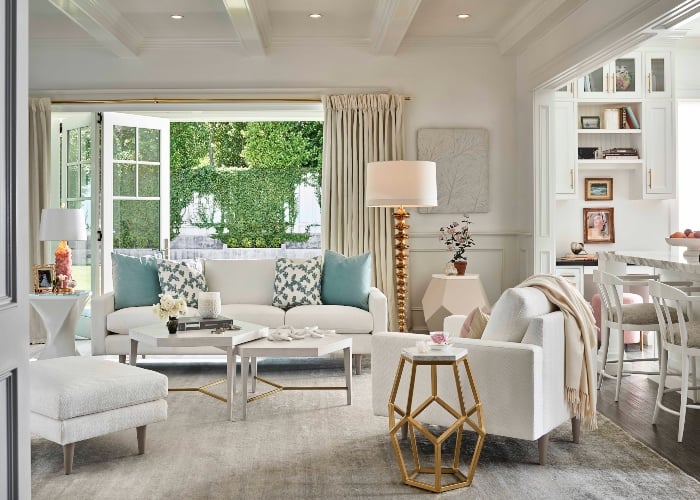 From the runway to the boardroom and a collaboration with an international furniture company, supermodel Miranda Kerr is a global style icon.

Miranda Kerr in the entryway with her Runway Console and dog, Teddy
In addition to modeling, Miranda is a successful businesswoman and entrepreneur as the Founder and CEO of KORA Organics, a certified organic skincare line now sold worldwide.
Now in partnership with Universal Furniture, Miranda has designed an elegant furniture collection that captures her ideals of tranquility, authenticity, and beauty into timeless yet practical home furnishings.
Love.Joy.Bliss. features nearly 50 furnishings for the living room, dining room, kitchen, bedroom and office.
"For our retailer partners, Miranda Kerr truly represents the type of customer we are working to connect to their stores—a 36-year-old mother who has a passion for creating beautiful and functional spaces," said Universal Furniture Director of Marketing Neil MacKenzie.

Sydney Bunching Cocktail Tables – These two geometrically shaped cocktail tables nestle together (or perform apart) in white wood with soft-gold finished metal stretchers
"As someone who loves the sanctuary of home, it has always been a dream of mine to create my own collection of furniture."
— Miranda Kerr
The contemporary collection features clean lines, geometric shapes, feminine touches, soft pastel colors and nubby fabrics. Luxurious touches include mother-of-pearl inlays, soft-gold bases and lacquer finishes. Inspired by fashion and nature, the pieces are timeless, beautiful and functional for everyday life.

Runway Console designed for media, with geometric 3-dimensional door fronts in taupe lacquer with a soft-gold finished base
The collection name is more than a moniker. It's an intention. Love, joy and bliss are what it's designed to bring about in your own living space. The ideas is that not only does it look aesthetically pleasing but that it also promotes a warm, positive, loving energy in the home.