Staying Home Has Never Looked So Good
These 7 bathroom revamps will leave you inspired.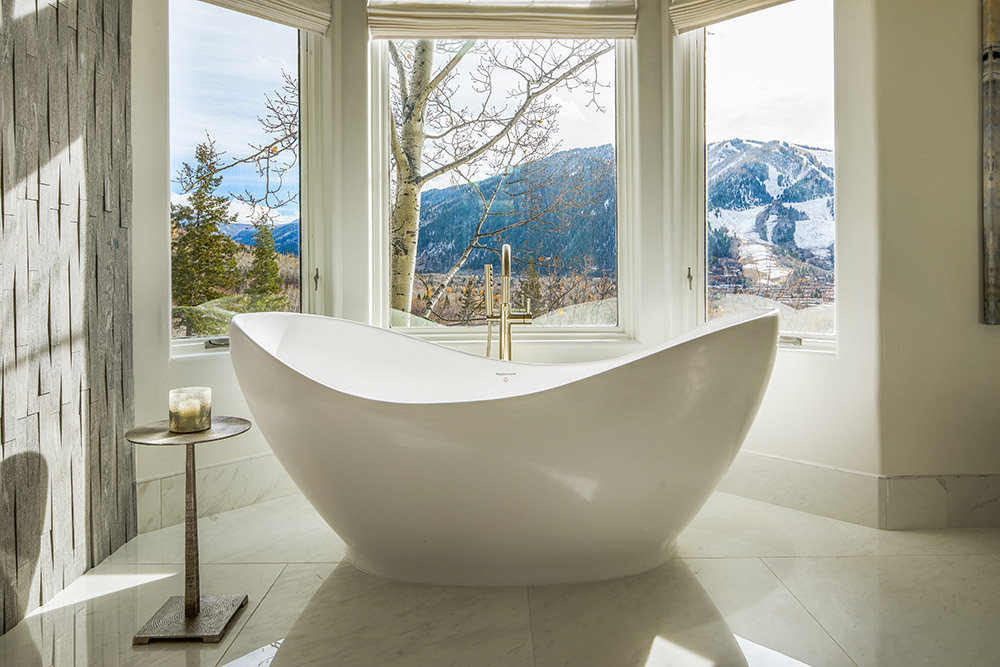 "Stay at home!" "Wash your hands!" Sure, we are all doing our best to follow these Covid-19 guidelines, but who says doing so has to be mundane? As we all find ourselves spending more time in our homes and relentlessly pursuing hand hygiene, now is the perfect time to make sure the spaces around you bring you joy—specifically those bathrooms and powder rooms.
Giving your bathroom a fresh look doesn't necessarily have to be daunting or overwhelming. A fresh coat of paint, some wallcovering, or fixtures can bring new light and energy to your space. Or, if you are feeling extra adventurous during this quarantine, rip everything out and start from scratch. Whatever approach you take, let your mind wander and curate your dream space! Because, trust us, washing your hands in a newly renovated space will feel more like a retreat than a rule.
Add a textured wallcovering
Updating your powder room can be as simple as adding a colored or textural wallcovering to your space. In this family's powder room, we decided to utilize shiplap and textural grass cloth to provide more dimension and layers. We updated the lighting, selected a transitional mirror, and added a fresh vanity to complete the space.
DESIGN DETAILS:
Sconce: Arteriors Marie Sconce
Shiplap: WindsorONE
Wallcovering: Phillip Jeffries Maldives Weaves – Island Vibes
Mirror: Mirror Image Home
Faucet: Kohler Purist Wall Mount
Sink: Kohler Vox Rectangle Vessel Sink
Vanity: Restoration Hardware Reclaimed Russian Oak Single Washstand
Give your space a fresh facelift
BEFORE:
AFTER:
If you want to give your master bathroom a fresh update on a budget, consider painting your existing cabinets. Updated knobs, new tile, new lighting, and a fresh coat of paint can truly transform a space. Here we balanced out a unique patterned floor tile with simplistic oversized beveled subway tile to keep a classic look.
DESIGN DETAILS:
Floor Tile: Decorativ
Materials A.K.D.O Nomad
Wall Tile: Marazzi Hawthorne
Cabinet Paint: Sherwin Williams Foothills
Countertop: Caesarstone Pure White
Mirrors: Seura Mirrors
Combine styles
Combining different styles into one space can always make a big impact. In this bathroom we balanced out rustic textures like the reclaimed wood on the ceiling with bright and fresh white shiplap on the walls. Both of these were combined with transitional elements like the smooth travertine flooring, the sleek cabinetry, and the glitzy chandelier.
DESIGN DETAILS:
Flooring: Materials Marketing Vintage Travertine Antico
Sink: Kohler Vox Vessel
Faucet: Kohler Artifacts
Tub: Kohler Imperator
Mirrors: Seura Mirrors
Rug: Surya Tahoe
Ottoman: CR Laine
Chandelier: Currey and Company Fantine Chandelier
Mix textures and materials
Want a powder room to impress your guests? Combining different textures and materials can do just that. In this powder room we contrasted the bright white shiplap with a natural live-edge countertop. Fun fact: the wood countertop was actually salvaged from a tree that was cut down on the property, making it a fun talking point.
DESIGN DETAILS:
Shiplap: WindsorONE
Sconces: Restoration Hardware Edison Milk Glass Sconce
Mirror: Pottery Barn Eastwood Round Mirror
Sink: Kohler Conical Bell Sink
Newport Brass: Jacobean
Go for a dramatic makeover
BEFORE:
AFTER:
If the layout and size of your bathroom works well, save the headache and your budget and just give it an overhaul. In this space the plumbing locations and walls were left as-is. Replacing all of the finishes, vanities, lighting, and wallcovering fully updated the space. Squaring off the rounded deck mount tub was a way to modernize it without fully ripping it out.
DESIGN DETAILS:
Floor Tile: Ann Sacks Calligraphy
Wall Tile: Atlas Concorde Marvel moon Onyx
Solid Surface: Difiniti Quartz Evoke – Crestola
Mirrors: Seura Mirrors
Sconces: Visual Comfort Clout Small Sconce
Have fun with tile and patterns
Sometimes a powder room design can be as simple as adding floor-to-ceiling tile on the vanity wall and pairing it with a patterned floor. Floating vanities are always a great way to make a bathroom feel more current.
DESIGN DETAILS:
Flooring: Bedrosians Enchante Charm
Wall Tile: Crossville Hamptons White Matte
Light: Progress Lighting Alexa
Mirror: Mirror Image Home
Give it a complete overhaul
BEFORE:
AFTER:
Sometimes the best solution for a master bathroom renovation is to rip everything out and start new. This is exactly what was done in this master bathroom. The deck-mounted tub was replaced with an artistic freestanding tub and all finishes, lighting, vanities, and plumbing were replaced. A multitude of textures and materials were incorporated into the space, all while keeping a bright, fresh, and neutral feel. A mixture of metals was used for an added pop, and large format marble look tile was used on the floor to balance everything out.
DESIGN DETAILS:
Sconce: Arteriors
Mirrors: Seura Mirrors
Countertop: Bedrosians Sequel Quartz Statuario Quartz
Floor Tile: Fiandre Premium White Honed
Shower Walls: Fiandre Premium White Polished
Stone Wall: Dal Tile Jet Setter Dusk
Vanity Wall: Ann Sacks Selvaggio Honed
Plumbing: Brizo Odin
Loving our home has never been more critical than in times like these. We hope these images leave you feeling inspired to reclaim, reinvigorate, and redesign your space. From a simple "do-it-yourself" approach or a grand-sweeping renovation, find what works for you.
Kimberly Timmons-Beutner is the principal interior designer of Kimberly Timmons Interiors (KTI), a brain trust of motivated, talented designers with a collaborative, versatile approach to delivering top-quality design that is always unique. View their profile or contact Kimberly at 303.904.8244.
Content for this article provided by Kimberly Timmons Interiors.