Sitting Pretty in Chautauqua
A bright and airy Boulder home masters the indoor-outdoor connection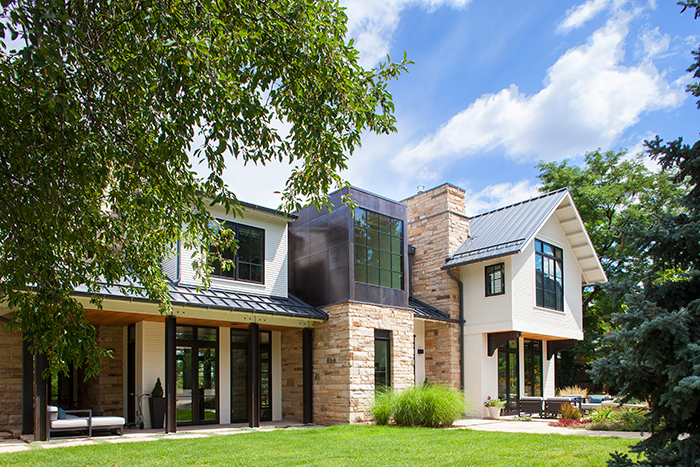 ​This Boulder home is elevated in every sense of the word. Perched on Rose Hill overlooking Boulder's Flatirons, incredible views abound, and its architectural style references "modern farmhouse" with next-level sophistication. But the house on this hill wasn't always a showstopper.
"While the lot is truly unique, the previous home was stuck in the 50s," says architect Dale Hubbard of Surround Architecture. "We tried to save it, but it wasn't situated the way it needed to be to capture the great Flatiron views to the east."
Hubbard, along with Seth Murphy of S.L. Murphy Construction, created a brand-new sight to be seen: a home surrounded by lush outdoor living spaces, which are accessed on both the east and west sides of the house and allow streams of natural light to flood the interiors.
The home's exterior features steel rain-screen siding, two-and-a-half-inch lap siding, and a blend of local sandstone. "The steel roof and its standing seam add tremendous character to a house of this genre," Hubbard says.
A sandstone fireplace anchors the great room to the north. The dual-sided nature of the home allows for access to patios from the east and west.
Large glass windows and French doors frame a vibrant landscape, designed by Luke Sanzone of Marpa Landscape Architecture & Construction. "To the south there is a view of the first Flatiron, which creates such a nice backdrop to the home," Hubbard adds.
An oak floor and articulated beam ceiling reinforce the open architecture of the dining and kitchen space. "The general tone of the home's color palette isn't too loud," says Hubbard. "The cleanliness of the architecture itself lends more flexibility in the addition of furniture and artwork."
A large island takes center stage in the open, airy kitchen.
Bifold doors open to the backyard, and there are seats on the patio, perfect for dining al fresco.
An industrial window brings western views into the stairwell, and a poplar ceiling adds an element of texture and visual interest.
"The study has the most color of any of the rooms," says Hubbard. Built-in shelves marry form with function.
This soaring master bedroom is simple and understated, punctuated by the roof gable's painted-white wooden trusses and steel tensions rods. "All the steel components in the home's interior are blackened," Hubbard says, "which gives the space an industrial aesthetic and maintains much of the steel's character and depth, as opposed to painting it."
"I think it's nice to have master bathrooms on the eastern side of the house for morning light, which is beautiful year-round," says Hubbard. "It's a good way to start the day."
French out-swing doors open to low covered porches and a pool in the backyard. The use of stone patios acts as a base on which the structure sits, allowing the free flow of thought from indoor to outdoor.
DESIGN DETAILS:
ARCHITECTURE & INTERIOR DESIGN Dale Hubbard, Surround Architecture CONSTRUCTION Seth Murphy, S.L. Murphy Construction LANDSCAPE ARCHITECTURE Luke Sanzone, Marpa Landscape Architecture & Construction MASTER BATH TUB Ravello, Victoria + Albert TILE Djinn in Statuary Carrer, New Ravenna DINING LIGHT FIXTURE Caboche, Foscarini STAIRWELL LIGHT FIXTURE Heracleum, Mooi