Simple Ways to Amp up Your Home's Curb Appeal
Tips from the pros on how to make a lasting first impression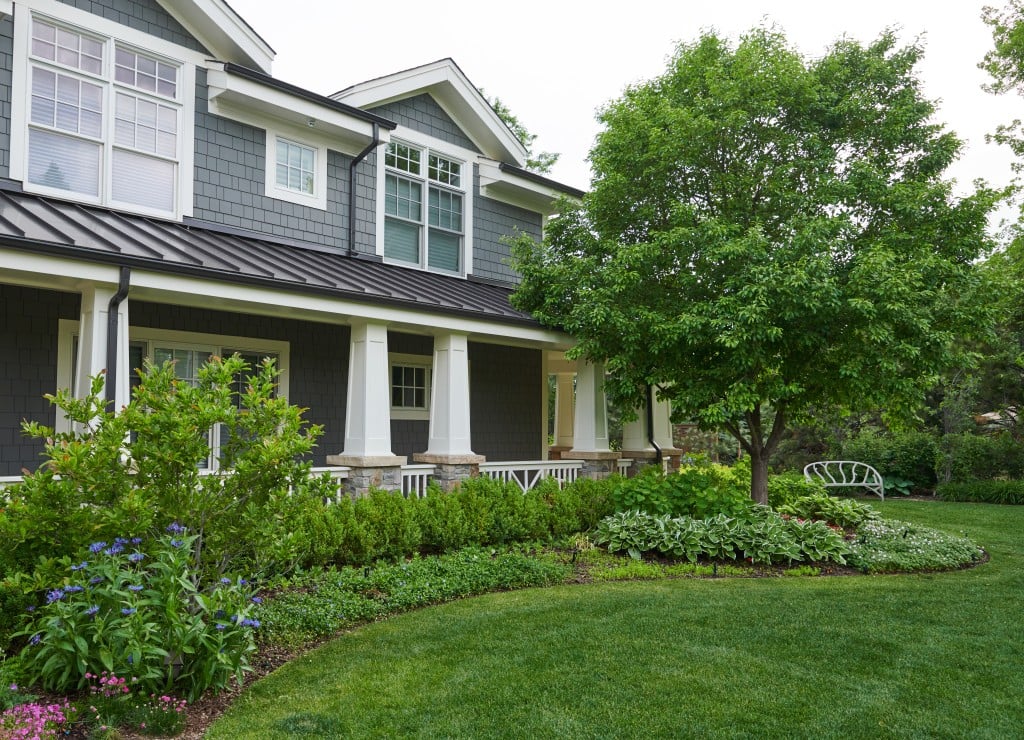 As they say, first impressions are the most lasting impressions, and this is especially true when it comes to your home's curb appeal. Whether you're thinking of putting your house on the market or just want to give your outdoor space a facelift, spring is the perfect time to freshen up. Here are a few tips to help you get started.
Focus on the front entry
If you have bushes and shrubs that are overgrown, make sure to trim them up so they look neat and tidy. Getting rid of dead or overgrown branches will open up the front entry and make it more welcoming.
Make sure your front stoop is in good condition. If your cement has cracks or is crumbling in areas, you may want to apply a brick or stone overlay.
Add in a few pots of varying sizes and shapes filled with colorful plants and flowers to add personality and draw attention to the front entry.
Make sure your front door is in good shape. If it's looking a bit dull or you just want to add a new pop of color, give it a fresh coat of paint.
Give your yard a good cleanup
Cut back perennials and trim shrubs that may have sustained damage over the winter. Replace any old shrubs that are overgrown and unsightly. Sometimes removing older elements is better than leaving raggedly looking, half-healthy shrubs in.
Freshen up the mulch or rock in your garden areas. Small or shredded bark is a good choice- it holds down better and looks more attractive than large bark. We like to use a fir fiber on our projects that is a combination of chip and shredded mulch. If you have a thick layer of old mulch, remove some of it and top-dress the area with new mulch. Skip the fabric and lay mulch directly on the dirt. If rocks as covered with debris and leaves, remove the top inch or two and freshen up your garden beds with new rock.
Replace any old, rusty edging with new rolled-edge steel edging. It has no sharp edges and is safe for kids and pets. We don't recommend plastic edging as it does not hold up well in Colorado's hot summer sun. If you prefer not to have edging, give your garden areas a nice, clean shovel edge.
Whip your lawn into shape by aerating and fertilizing it with a high nitrogen fertilizer that will help it green up fast.
Add lighting
Adding a few LED lights to trees or shrubs or uplighting the front door is a nice way to add evening ambiance to your outdoor areas and is a fairly inexpensive way to add a lot of value. And if you like the look, add solar lights along the sidewalk that leads to your front door.
Clean the cobwebs and debris from your front porch light and make sure to replace burned-out bulbs. Or better yet, add some style with an updated fixture.
Additional ways to add value in today's market
When your house is on the market, it is important for people to be able to visualize themselves living in your space. Freshen up your outdoor living space and make it warm and inviting, so that people can just picture themselves entertaining outdoors on the patio or enjoying family time in the yard.
Buy a pre-made fire pit and arrange comfy chairs and side tables around it. String up playful patio lights. Add new chairs, or freshen up with new cushions or throw pillows in bright colors.
Phil Steinhauer is Owner of and a Landscape Architect for Designscapes Colorado, a landscape architecture and design firm based in Centennial, CO. View their profile or contact them at 303.721.9003.
Content for this article provided by Designscapes Colorado.