Paradise Found
Architect Scott Lindenau fashions a home that frames the sky and mirrors the mountains, for the woman who knew what she wanted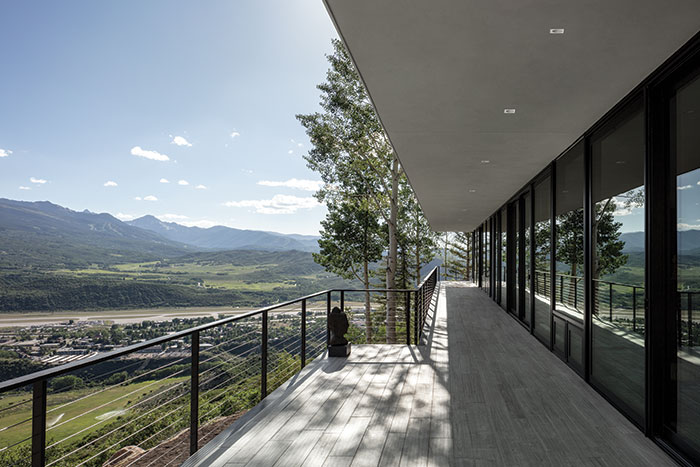 There is a bewitching enclave where stars appear to shine brighter and leaves shimmer golden among sky-scraping summits. Starwood, 10 minutes outside of Aspen, basks in the eloquence of nature. It's easy to be captivated.
There are a couple of ways to arrive there. One is by private jet. Or, if you know exactly what you want, you may ask a lodestar architect known for taking the high ground to build you the home of your dreams right at the spot where you think a home should be. And that is exactly what happened to Karen Brooks, a classically trained pianist from eastern Long Island with a passion for Buddhas and a mind of her own. It was here where she touched ground and had a vision—and joy followed.

Miami-based interior designer Alejandro Perez worked with Aspen's Studio B Architects to use Japanese charred wood throughout the home, here shown inset above custom cabinets made of black pine veneers, designed by Miami-based Hausscape.
To turn her vision and 5 acres of untrammeled terrain into a home, Brooks enlisted local firm Studio B Architecture + Interiors to draw up concepts. Simplicity over flamboyance was her goal.
Deftly attuned to the challenges of building on a precipice while honoring the landscape, Studio B founder Scott Lindenau met the brief with a 5,700-square-foot residence in a streamlined rectilinear design, remarkable for its restraint. The panoramic, earthbound structure is a sanctuary for Brooks, three rescue cats, two dogs, two horses and 23 Buddhas.
Despite the difficulties involved—a stringent permitting process, building on a slope with a sharp gradient and wildfire concerns, among others—the home took an impressive 15 months to complete.

Brahma the cat surveys his surroundings. The Dragnet Lounge Chair is custom-made in Snow White by Filipino designer Kenneth Cobonpue.
"Decision-making governs the schedule," Lindenau explains. "Karen made decisions quickly. She knew exactly what she wanted at every turn."
Brooks is an investment advisor for TPG Capital, one of the world's largest private-equity investment firms. She is a canny conversationalist who shifts easily among the technical aspects of classical music, preserving Japanese cedar, Asian affairs, and the pivotal move that led her to a position working for Condoleezza Rice at the White House and, eventually, to Starwood.

The Indonesian drawing of a puppeteer storyteller, handwoven red rug and bronze Buddha by the window are all from the owner's collection. The Buddha dates back to the Angkor Empire (present-day Cambodia). Shiva the cat strides on heated ceramic wood planks that are both energy-efficient and
"After my senior year at Princeton, I got a fellowship to teach in Indonesia. Then came a fellowship from Cornell to learn Mandarin in China, which led to an opportunity to work for Madeleine Albright, and then for Dr. Rice," she says.

The Steinway piano, from owner Karen Brooks' collection, lords over the space, which looks into a steel-framed covered terrace used for entertaining. The statue in the glass case is from Laos. The sustainable, double-glazed doors serve up the mountains by day and the stars by night.
Brooks' abiding affair with the mountain village began in the summer of 1991. "That's when my roommate and I rented a car and drove to Colorado." On a subsequent trip in 2015, while hiking Sunnyside Trail with her border collie, Jaya, Brooks stopped to take in the views and immediately knew the ground on which she stood would be home one day. "I had all my bars on my phone," she says. "So I sent my realtor—Andrew Ernemann,  born and raised in Aspen—this crazy text: 'Do people live here? There must be a house somewhere.'"
"Meet me at the trail tomorrow," he texted back.

"Hausscape specializes in super-modern design from Italian and German manufacturers," Brooks says. "I call the cabinet above the stove my Ferrari cabinet." Hausscape featured Italian firm Valcucine in its kitchen design, and Caesarstone custom-made the countertops. The kitchen stools are from Brooks' collection. A catering kitchen hides behind the working kitchen.
Then came an introduction to Lindenau, whose discerning approach to assimilating the environment aligned with Brooks' conservationist sensibilities. To bring in the outside without superseding it, Lindenau fashioned a wall of sliding glass the length of the home that serves up preternatural views of Aspen and beyond by day. By night, it's about meteor showers, constellations and the twinkles of creation, while Brooks plays sonatas on her Steinway.
"Nature is the real art here," she observes. "For me, it was always about: 'How do we honor this?'"

The doors slide into the wall and disappear, the better to serve up the landscape. "By design, there are no other doors," Brooks says. "I chose shou sugi ban for the wall next to the porcelain tub. Starwood is not Asia, but Japanese cedar integrates beautifully with the eyes of the aspens; they are both earthy and elegant."
Besides her vision, Brooks brought with her a museum-worthy collection of Buddhas that informed the design decisions. When it came to the interiors, she knew she wanted a minimalist aesthetic she learned to appreciate while working in Southeast Asia. Having lived in Florida, she tapped Miami-based designers Alejandro Perez of A.P.I.D. and Reinier Boulart of Hausscape to execute it. "As you can see, everything is out of sight," she says. "My color scheme is neutral, with light touches of Hermès orange here and there. But that's about it for color for me."

Perched on a cliff at 8,800 feet, the terrace delivers views of Aspen and beyond.
Brooks' passion for ecology shines through the material selections throughout the home. The Japanese shou sugi ban is an example—an ancient technique that involves charring cedar with fire and yields an exquisitely organic charcoal finish. She chose it in four places: on the exterior, in the master bathroom and guest powder room, and above the dining-room cabinets. "It's already burned," she explains, "so it's fire-retardant."
Although the overall design is a study in minimalist geometry, there is nothing timorous about it. In the open living area, as in the rest of the house, the ravishing views are an invitation to marvel. Equally difficult to ignore is the Steinway's reflection on the expanse of double-glazed glass by dusk.

The 8-foot hanging balcony faces west toward Snowmass and connects the home to the outdoors. "The X was supposed to be on the inside," Brooks says. "But there comes this moment when you appreciate the majesty of what's in front of you. So we changed the plans to leave it open."
When asked about her strong views on everything from conservation to fabric selection and chair placement, Brooks laughs. "Strong opinions run in the family. My mother didn't raise any wallflowers."
DESIGN DETAILS
ARCHITECTS Scott Lindenau, Principal; Kevin Heath, Project Architect; Jason Ward, Senior Project Designer Studio B Architecture + Interiors INTERIOR DESIGNERS Alejandro Perez, A.P.I.D.; Reinier Boulart, Hausscape LANDSCAPE ARCHITECT Shaun Hornburg STRUCTURAL ENGINEER Jack Albright, Albright & Associates BUILDER Greg Woods, G.F. Woods Construction