Old World, New World, All Anuschka
Denver's ultrachic floral queen and boutique owner renovates a Cherry Hills home, filling it with modern bohemian style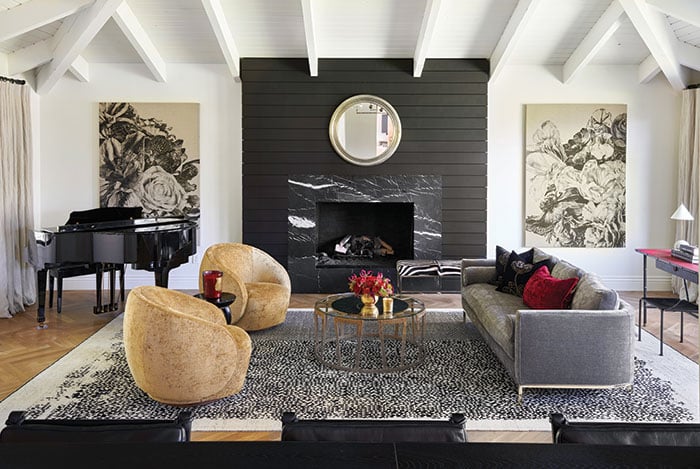 She's like Beyoncé, Pink, Rihanna or Adele in that she needs only one name: She is Anuschka. German-born to Czech parents, she is a former Ford model, who bounced around in Paris, Miami and New York before landing in Denver to settle down and eventually open BLOOM, high-end European flower/retail shops in Cherry Creek North and Union Station.
Anuschka travels the world—Morocco, India, Holland, France and Germany—to curate sophisticated home-design and jewelry collections for her stores. Her taste is renowned in Denver, so when word hit the streets that she was renovating a 1970s home in Cherry Hills Village, it was an immediate must-see.

A nontraditional entryway features two beaded African chairs and a custom-designed entry table, all from Bloom by Anuschka. A vintage Balinese bench and a Balinese sugar-gear table add to the ethnic feeling of the room. A Ralph Lauren light fixture hangs above, while Mexican tile adorns the floor
Anuschka and her husband, Zach Pashel, bought the 6,000-square-foot home in 2015, when it was "a dated, brown house with a shaggy, blue rug," she remembers. "It took Zach and me two visits to get our vision." Sitting on a lush 1-acre parcel, the house was appealing to the couple for its good bones, wooden beams, brick walls and overall substance. "We knew we could make it what we wanted, so we gutted the house, knowing it was going to be a lot of work," she says. Why not just tear it down and start fresh? "I don't believe in just scraping something to build something new. It's not where I'm from." Classic Anuschka.

A life-sized ceramic sculpture offers fruit to houseguests. Made by Zach's mother, Joyce Pashel, the artwork is actually a silhouette of the ceramicist herself.

Kelly Wearstler wallpaper makes a statement in the master, with a Carolyn Morris custom-designed bed by Cisco Brothers. The bedding and throw are from Brass Bed in Denver, and the throw pillows are from Bloom. The red ottoman is upholstered in a Turkish rug found on one of Anuschka's travels. The floor rug is Eliko.
Enlisting the help of architect Carlos Alvarez and interior designer Carolyn Morris, the team embarked on a year-long journey to polish this rough diamond. "I couldn't fight the 1970s, so we embraced the curved walls and staircase," she says. "We brought in a Mexican-tile theme to add an ethnic feel. I love diverse cultures and worldly elements, like handmade rugs and textiles. I wanted to mix modern with bohemian." Anuschka also gives major credit to her mom for rounding out the mix by working tirelessly to create pillows and curtains that can be found throughout the house.

Chairs from Design Within Reach flank a 12-foot Belgian oak dining table from Schwung Home. The light fixture is also from Schwung Home, while the antique wooden table in the background is a vintage Syrian game table and a Pashel family heirloom. The black-and-white photo is from Mark Sink
The result is an urban home that is extremely livable yet refined. Every tray, tapestry or table has a backstory from Anuschka's travels or friends or family around the globe. "I'm not in a hurry to put things in this house just to fill it. It has to have character. I've been here two years, and I'm still working on it," she says. "Layers happen over time."

A white sofa sectional and an upholstered coffee table, both by Cisco Brothers, provide comfort for a crowd. The vintage wooden chair was purchased at a flea market almost 30 years ago, and the Wassily vintage leather chair was designed by Marcel Breuer in 1925. The two standing lamps are from Central Station, and the pillows and throws are from Bloom

In the nook, a knock-off Saarinen dining table, chairs by Schwung and a hanging light by Bobo Intriguing Objects
Anuschka's Home-Design Highlights
1. I never thought I'd have a black kitchen, but I fell in love with a BLACK GRANITE SINK, and that inspired the whole look of the room. I was a little bit intimidated—and worried about regretting it later—but then Carolyn and I found a way to brighten it up and to break up the black.

Anuschka's mother-of-pearl inlay doors peek out on the left side of this photo and open from closet to bath. A vintage Turkish rug sits under a Matti Berglund painting. Tub and plumbing fixtures are Waterworks, and the brass sconces are Schoolhouse Electric
2. My MATTI BERGLUND OIL PAINTING in the upstairs landing. When I started carrying Matti's paintings in my store, every single one sold before I could take it home. When I finally commissioned this one, I said, "It's mine!" It's called She Knows Best in Her Heart.
3. Our CUSTOM-MADE CISCO BED. I was inspired by a similar bed in a book, so Carolyn drew it for me, and then we gave the design to Francisco Pinedo of Cisco to make it for us in L.A. It's covered in John Derian midnight-blue velvet and looks like a spaceship. It has traditional lines and ideas, but it's super sexy and comfy. I picked out a bedside table for Zach by Julian Chichester that looks like a woman's breast. They complement each other perfectly.
4. THE ENTRYWAY. The original house had an indoor-outdoor entryway space with a funky brick fountain in the middle that I knew would eventually become a catch-all for bikes, leaves, hockey equipment and golf clubs. It needed to be changed, so we enclosed the whole thing, painted the brick white, put Mexican tile on the floor and added a long, black marble table with brass inlay from India. It's Old World meets New World. That's what the whole house is about.
5. My RALPH LAUREN LIGHT FIXTURE in the entryway. It's the Rivington Chandelier in Bronze from Visual Comfort. I looked for a long time, but I just couldn't find anything for that space. Then, I saw the shape of this fixture and it actually matched the Mexican tile on the floor! My other favorite light fixture is our kitchen-table chandelier by Bobo Intriguing Objects. It's big, black and whimsical and very unexpected.
6. MEREDITH FENIAK'S TWO PAINTINGS in my living room. She custom-made those pieces specifically for those spaces. Meredith used black paint on linen to show all my favorite flowers from my shop—they are made to look like a BLOOM gift arrangement. One is spring and summer (rose, anemone, tulip, sweet peas, peonies), and the other is fall and winter (rose, Gloriosa lily, vanda orchid, amaryllis).
7. KELLY WEARSTLER SWIVEL CHAIR Sin our living room. I love the golden velvet and modern shape of these chairs—they remind me of European furniture. We entertain in the living room and my son plays the piano, so swivel chairs made sense. Conversation can happen everywhere and anywhere in that room.

Stairs lines with several Turkish vintage runners from on of Anuschka's favorite Turkish-rug vendors in North Carolina. The bull painting is by Lioba Amann, a German artist and friend of Anuschka's mother
8. The staircase's TURKISH RUNNERS. The original staircase had 3-foot-wide slats, so I needed 65 feet of runner. I went to a Turkish-rug guy in North Carolina, and I combed through 1,000 Turkish runners before selecting these. I found an Afghani guy to cut them and hand-stitch them on both sides, and then I found a Turkish guy in Denver who installed the runner on each individual stair. The woman who made one of the carpets put her name on it: Fatime Gulende. It probably took her years to make this runner, so I put the piece with her name on the top staircase. It's my thank-you to her.

A Moroccan flat-weave runner from Bloom brightens up the kitchen, with built-in cabinetry and islands by Aspen Leaf Kitchens. The gold table lamp is Kelly Wearstler by Visual Comfort, and the cactus painting in the background is by Meredith Feniak
9. OUR MASTER-BEDROOM CLOSET DOORS. I really wanted a finished, elegant closet out of a magazine, but that wasn't in our budget. When I saw these doors that I brought back from India in my garage, I knew they'd be a perfect fit. They are mother-of-pearl inlay on a black background. No matter what the closet itself looks like, these doors always look pretty.
It took Anuschka and Zach Pashel two visits to the original 1972 Cherry Hills Village home before they found inspiration in what it could be. "Zach told me to give it a chance," says Anuschka. "So I did." The finished product is a modern bohemian home that is sophisticated and worldly, yet practical for an active family and its pooches
10. A 12-FOOT DINING-ROOM TABLE. It was made in Belgium of oak wood with French-metal legs—it's robust and strong. We use this table for games, beading, sewing and entertaining large groups. It's both a work table and a dining table. I never had enough space for my friends and houseguests, and now I do.
DESIGN DETAILS
ARCHITECTURE Alvarez Morris INTERIOR DESIGN Anuschka Pashel, BLOOM by Anuschka, Carolyn Morris, Alvarez Morris CABINETRY Aspen Leaf Kitchens Ltd LANDSCAPE Richard Valdez