Hot Trends in Kitchen Cabinetry
3 Options to Maximize Your Kitchen Storage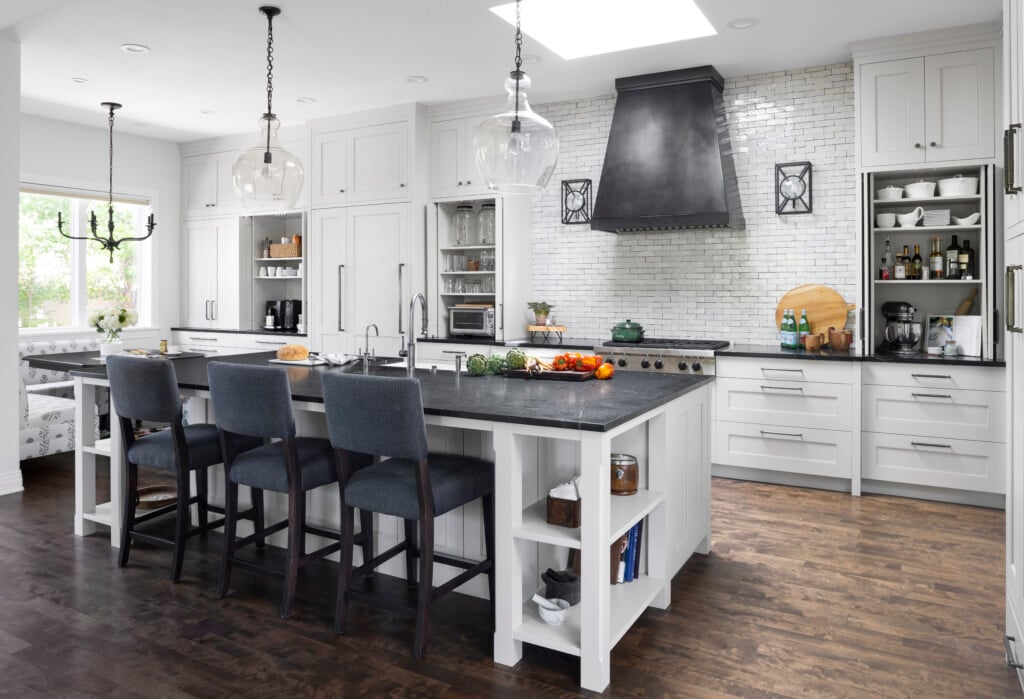 Sponsored Content
Cabinetry is the bones of your kitchen. It is what shapes the design and dictates how a homeowner will interact with the space. As kitchen designers, we spend most of our time during the design phase looking at the storage needs of our clients and how to choose cabinets that will fit those needs within the desired layout.
In-Cabinet Storage Solutions
One clever option we tend to favor for our clients is flexible peg dividers in lower cabinet drawers. This allows for any type of layout within the drawers, and keeps plateware from rattling around when drawers are opened and closed.
Another new development from Hafele is the Magic Corner. This does away with the trusty old Lazy Susan and allows for corner cabinets to be fully utilized for storage. Loading and unloading these shelves is much more convenient, and the heavy duty hinges will hold up to everyday wear and tear better than the Lazy Susan ever could.
Pocket Door Appliance Garage
Appliance garages aren't new in the kitchen world; hiding smaller appliances has always been an attractive way to keep countertops uncluttered. Typically, we'd see toasters, coffee makers, and microwaves hidden behind a pull up door at countertop height. While they are out of sight, they are still taking up valuable countertop space.
By opting for built ins and hiding them behind a pocket door, these appliances are truly out of sight and mind until needed. We also chose to install two Sub Zero Fridge/Freezer drawers underneath the microwave and coffee maker to have drink accessories easily at hand.
Spicy Storage
For many, having a dedicated spice rack built into their cabinetry is a must-have when remodeling their kitchen. We make sure to include a dedicated space for this in every one of our kitchen designs, but getting creative with spice storage can make for a standout feature of your new kitchen.
Here, we hid the spices behind a backsplash matching slab of Michelangelo Marble with a recess cut into the stone to give the user somewhere to grab onto. Unusual, fun, and immensely functional, this is one of our favorite designs to date.
Morgan MacKay is the Director of Marketing for Kitchen Distributors, which offers award-winning kitchen designs throughout the Rocky Mountains. View their profile or contact them at 303-795-0665.
Content for this article provided by Kitchen Distributors.