Kathy Brown's Favorite Things
The co-CEO and partner of Karsh Hagan marketing firm shares her must-haves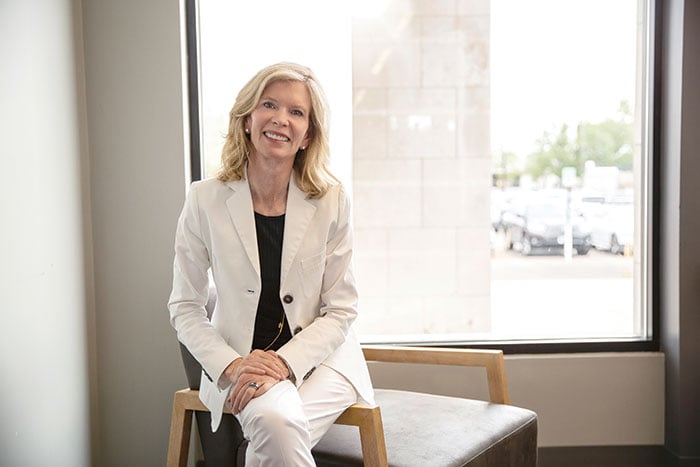 This Denver influencer, entrepreneur, community leader, advocate for women and girls, co-CEO and partner of Karsh Hagan marketing firm, wife, and proud mom shares her favorite things.
1. FAVORITE ACCESSORY I've come a long way from sneaking a bottle of Santa Margherita Pinot Grigio into a restaurant (I would purchase a glass of wine, empty it in the bathroom and then fill up my glass with my own selection), but I still occasionally bring my own stash to events. My friend Melinda gave me a wine cooler/container that resembles a purse and makes this sneaky endeavor a cinch. Primeware Wine Clutch Bag in Stripe, $24.95; amazon.com
2. FURNITURE LINE/STORE My friend Kim Davis just partnered with Old Glory Style on South Broadway to create amazing pillows, fabrics, refurbished chairs and more. It's New American, which is very much my style. I also really like Calico in Cherry Creek North. They are so reasonable and allow you to reupholster existing pieces. I'm a fan of their Ralph Lauren fabrics. oldglorystyle.com, calicocorners.com
3. CULTURAL SPACE The Colorado Ballet first danced at The Ellie Caulkins Opera House in 2006, and the company is still performing at this beautiful venue. The Nutcracker is at The Ellie for the whole month of December. It's magical. denvercenter.org
4. COLORADO ARCHITECTURE I love Colorado's historic buildings. I'm fascinated with The Brown Palace, The Navarre and all the stories of the past. Wandering through the Governor's Mansion is like walking through time. The Hotel Jerome in Aspen is a landmark we couldn't live without, and The Broadmoor recently underwent a beautiful renovation. All these buildings speak to the rich Western heritage of our state.
5. WORKOUT SHOES I love my APLs (Athletic Propulsion Labs). I have three pairs: in gray, cream and black. They are super-comfy, and I can throw them in the washing machine after a hike with the dogs. I always look for them on sale, because they are pricey. APL Women's TechLoom Wave, $225; athleticpropulsionlabs.com, shopbop.com
6. RETAIL STORE It's not about the store for me—it's all about the service. I like to ask the store personnel what pieces they would cherish, because they are more familiar with the inventory. I find this one of the best ways to discover new brands and looks. I go to Katie Klein at Neiman Marcus, Laurie O'Connell at Perch in Denver and Vail, and Terri Garbarini and her crew at Garbarini in Cherry Creek. neimanmarcus.com, perchvail.com, garbarinishop.com
7. BEAUTY PRODUCT I'm obsessed with finding the perfect lipstick. No doubt I currently have 20 different "lips" in my purse, all with the purpose of looking natural. My new favorite is the Bobbi Brown Extra Lip Tint. I purchase them by the dozen and hand them out to friends. All six shades are fabulous. $24; at Nordstrom, nordstrom.com
8. LUGGAGE A friend of mine once gave me an amazing black Louis Vuitton Armand Backpack—and it has seen the world. I still use it for travel, and both my girls have borrowed it for their adventures, as well. $4,400; Louis Vuitton, Cherry Creek Mall, louisvuitton.com