Take Your Closet From Drab to Drop-Dead Gorgeous
Combat closet envy with these tips from the pros at California Closets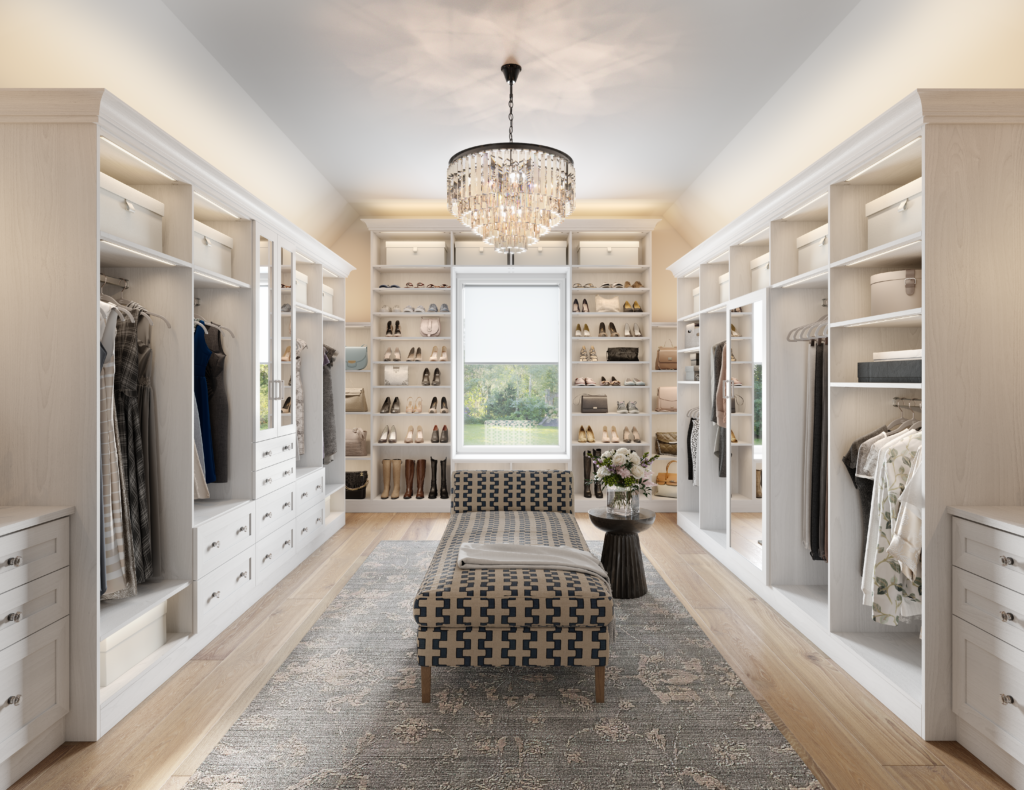 Sponsored Content
Do you dream of having a glamorous, boutique-style closet like the ones you see on home design shows, in your social media feed and in articles featuring celebrity homes? Well, by incorporating a few simple items, creating a gorgeous, chic closet is easier than you think. Whether you're hoping to revamp what you already have or are designing a brand new space, your dream closet is not only achievable, but you can get that boutique style feel without breaking the bank.
Here are 8 style tips that will not only make your closet beautiful, but will maximize its functionality.
Invest in velvet hangers
Velvet hangers add a luxurious feel and can be found in many colors. Having all your hangers match adds a special touch to your space; and the best part is they are easy to find and aren't that expensive.
Create a dedicated space for shoes
Stacking your shoes on adjustable or slanted shelves will not only help you see what you have but make the space look and feel like you're shopping in your favorite shoe store. If you have the space, I recommend displaying all of your shoes. But if not, set out 20-30 pairs of your favorites and store the rest in clear shoe boxes. You'll be so much happier once you can see all of the options displayed and enjoy finding them easily.
Make sure to include a decorative mirror
We all want to make sure we look good when we head out the door. Add a full length mirror with room for a 360 degree view to make your closet feel like a high-end dressing room.
Add an accent rug
Whether you have hardwood floors, carpet or tile, adding an accent rug can make your space feel cozy and high end. Pick something that matches your style, whether that's a bright, colorful kilim, a luxurious flokati shag or a calming contemporary with muted tones.
Personalize your space with wallpaper
Wallpaper has come a long way in the past few years and is one of my absolute favorite ways to add pizzazz to any room. You can add it all the way around or just on an accent wall. There are so many options; it's easy to find something to fit any style and budget.
Be sure to include comfy seating
Having the luxury to sit down and put your shoes on is something so simple, yet it can transform your space to a place you truly want to hang out in. Depending on the size of your closet, consider adding an ottoman, chair or bench. Find something comfortable and glam where you can sit and just admire your beautiful belongings. A seating option will also provide a place to pack a suitcase or lay out an outfit for the next day.
Illuminate your space with fabulous lighting
There are so many fun lighting options available. From a striking standing lamp to a beautiful chandelier to custom recessed lighting; almost anything is better than builder-grade lighting.
Give yourself a little breathing room
When styling your boutique-style closet, give yourself and your clothes space to breathe. The last thing you want to do is create a beautiful new closet and then cram everything you own into it. Consider switching out your clothes seasonally. This will allow you to see only your in-season clothes and create some visual space so all your clothes and accessories aren't competing for attention.
Splurge on a few custom touches.
Create the perfect boutique-style closet by sprinkling in a few glamorous custom touches, whether that's a floor-to-ceiling velvet curtain, a to-die-for jewelry display, a custom hat rack or a full length chaise lounge. Visit your favorite clothing store or boutique to draw inspiration from their high end dressing rooms.
When it comes to creating the closet of your dreams, don't settle for a run-of-the-mill storage space. After all, this is the place you begin and end each day- why not transform it from functional to fabulous? By incorporating a few (or all) of these ideas you can quickly and easily create a high-end experience in your own home.
Lora Covington is a designer with California Closets. Specializing in customized closets, storage and organizational materials, California Closets has been delivering design solutions for clients for over four decades. View their profile or contact California Closets directly at 303.754.0415 to set up an appointment.
Content for this article is provided by California Closets.