Denver Derby: The Purpose Behind the Party
A tragic accident fuels a tight-knit group to award meaningful college scholarships in honor of their fun-loving friend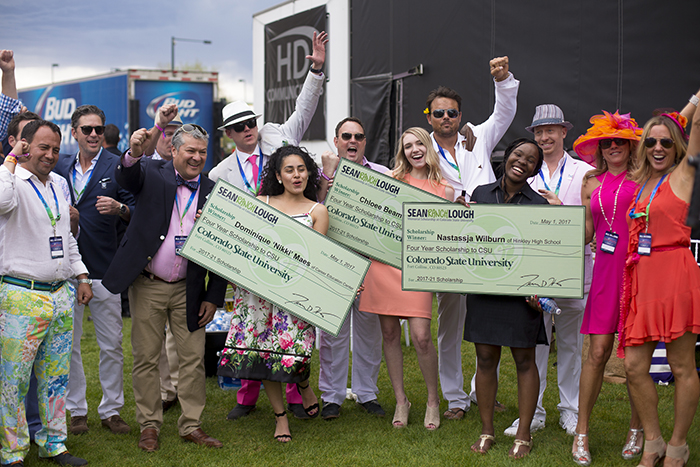 ​You might know it as Denver's biggest bash with tons of fun outfits and one-of-a-kind hats; you might even know that's it's the largest derby-themed event in the nation, second to the actual Kentucky Derby. But do you know the purpose behind the Denver DerbyParty?
Sean Lough was a dear friend, brother and son who tragically passed away in 2001 as a result of a mountain biking accident. At Sean's wake, his good friends Scott Anderson and Terrance Hunt realized they wanted to do something in his honor.
"He had a lot of promise, a lot of friends, a bright future—all cut short by this biking accident," says Hunt. They decided on a scholarship fund for Colorado State University, where all three men completed their undergraduate education. Thus was born the Sean 'Ranch' Lough Foundation, a scholarship given to individuals exemplifying the qualities Sean had, including a high GPA, an economic need and, most of all, a hearty personality and a love for life.
How would they raise the funds necessary for such an extraordinary task? After organizing a few fundraising events, the group decided on an event in the spring. Hunt drew inspiration from what might've been a fond memory of Sean. "The month before he passed away, I was supposed to meet him at the Kentucky Derby," he says. "He ended up not being able to make it, and that would have been the last time I ever saw him."
"The first DerbyParty started in a friend's backyard, with a suggested donation of $20, Kentucky-fried chicken, and a few kegs donated by Coors," Hunt adds. The event began to double in attendance every year after that. "We outgrew the Washington Park Boat House, Denver Botanic Gardens, and the streets of Downtown Denver to eventually take on the Denver Center of the Performing Arts complex, where the event is now held," says Anderson.
"He had a great group of friends who have rallied around his name and this cause," Anderson adds, "which has allowed us to be successful."
Ron Martinez, chairperson for the Sean 'Ranch' Lough Foundation scholarship, remembers those early parties well. "It was such a grassroots organization," he says. "We'd literally take the cash we received at the Washington Park Boat House and run to buy fried chicken for party attendees."
In 2002, the Denver DerbyParty's inaugural year, the group was able to write its first scholarship check payable to CSU. The next year the foundation became official, and since that first shindig the Sean 'Ranch' Lough Foundation has awarded 55 Colorado high school students with either full or partial scholarships to attend CSU and make their scholastic dreams come true.
But these aren't just your average overachieving students. "Honestly," Martinez reflects, "these kids are truly remarkable. I don't know how they do it." In addition to earning impressive grades, the foundation looks for underprivileged students who otherwise might not be able to afford the cumulative cost of college attendance: room, board, tuition, and books.
"There have been many years when we've been able to offer full scholarships," he says, "and other times we help bridge the gap where other financial resources have fallen short—scholastic and athletic scholarships, first-generation student assistance, etc."
Not only are many students slated to be first-time college graduates (meaning neither of their parents graduated college), but many also come from extreme hardship. "A few contenders this year don't have any living parents," Martinez says. "One student had to take care of her mother who has early-onset Alzheimer's; another survived a gunshot wound only to lose his best friend to one. These kids have overcome so much and have decided to work extraordinarily hard."
Each year, Martinez and others on the scholarship committee, as well as a representative from CSU, interview around a dozen finalists—whittled down from hundreds of applicants—who've demonstrated scholastic excellence and financial need. "We want to hear their stories," he says. "We interview each student and get to know them really well over the course of the process. Each story is so powerful and each student so fantastic—it makes the decision process quite difficult. And of course, we always have Sean in our minds, wondering, What would Sean do? Who would he choose?"
The final scholarship winners—ranging from one student to around four, depending on the pool of funds—are notified around mid-April in the presence of their principal, teachers, family and friends. When the day of the Denver DerbyParty arrives, they are presented on stage with their winnings, as Sean Lough's mother Diane—an educator herself—looks on with pride.
"Diane loves this party that honors her son," Martinez says. "She squeezes each one of those kids tight." A party with a purpose, indeed.