Crispy Seared Barramundi With Pea and Watermelon Radish Salad
Refresh your average white fish dish with one of Footers Catering's favorite salads and dressings.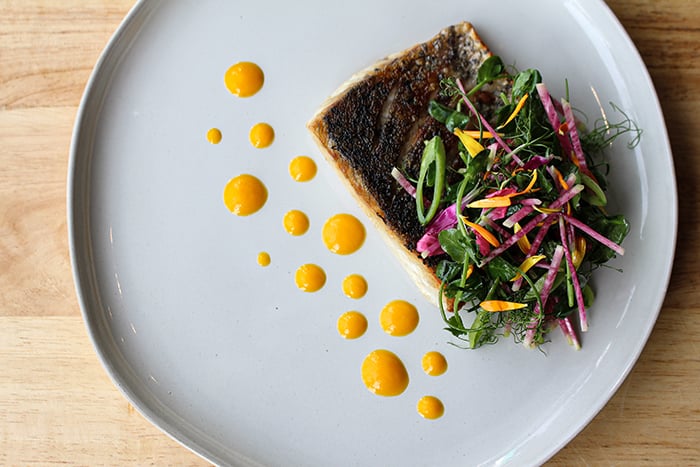 The year 2020 is going to be bright and flavorful, and your food should match. Refresh your average white fish dish with one of Footers Catering's favorite salads and dressings.
INGREDIENTS
16 oz Barramundi, skin-on (4 x 4oz portions)
2 oz Sugar Snap Peas, thin cut on hard bias
1 ea Watermelon Radish, peeled and julienne
1 oz Pea Shoots
2 Tbsp MCT Oil
1 Tbsp Grapeseed Oil
1 oz Carrot Turmeric Vinaigrette, prepare ahead of time (see recipe below)
Salt and Pepper to taste
PREPRATIONS
Prepare the fish by filleting into equal portions of 4 oz. Gently score the skin to promote even cooking and a crispy, beautiful skin.
In a hot, non-stick sauté pan, liberally coat the bottom of the pan with a layer of 50/50 grapeseed oil to MCT oil. Sear skin-side down to begin and season underside with salt and pepper. Flip the fish when the skin has fully released from the pan and is completely crispy. Finish in the pan until internal temperature of the fish has reached 145 degrees F. Set the fish aside to rest while you prepare your salad.
In a small bowl, toss the pea shoots, bias-cut sugar snap peas and watermelon radish with enough MCT oil to coat mixture evenly.
Place the fish skin-side up on a plate and garnish with pea and radish salad. In a squeeze bottle or piping bag, add carrot turmeric vinaigrette to the plate in an avant-garde fashion.
CHEF'S NOTES:
MCT oil has a much lower smoking point than grapeseed oil and the mixture will allow for the fats to not denature at a higher cooking temperature required to sear the fish skin until crispy.
This recipe method can also be applied to skin-on airline chicken breast, but should be finished in the oven until the chicken breast reaches an internal temperature of 165 degrees F.
Carrot Turmeric Sauce
16 oz yield
Prep time: 10 minutes
Cook time: 10 minutes
INGREDIENTS
8 oz Carrots – peeled, medium dice
1.5 oz Shallot, rough chop
1 oz Garlic Clove, whole
2 oz Candied Ginger, rough chop
2 oz Honey, raw
5 oz Rice Wine Vinegar, unseasoned
.5 oz Sesame Oil
.5 oz Fresh Turmeric, peeled
16 oz Grapeseed Oil
Salt and Pepper to season
DIRECTIONS
In a 4 qt pot with cold, salt water, add cut carrots and bring to a boil. Strain thoroughly carrots through a chinois. In a blender, combine all ingredients until vinaigrette is smooth and a bright yellow/orange hue. Store properly in refrigerator for up to 7 days or in the freezer for up to 3 months.
This is one of the first recipes Footers Executive Chef, Heather Carr, ever developed. It is a simple but incredibly versatile sauce that has many applications. Her favorite is to dress it with fresh arugula and dandelion greens served with chioggia beets and pickled brown mustard seeds.
Heather Carr is the Executive Chef at Footers Catering, Denver's premier full-service catering company serving the metro area, the Front Range, and the mountain regions. View their website or contact them at 303.762.1410.
Content provided by Footers Catering.