Big Ideas for Small Spaces
Yes, you can create a resort-style outdoor retreat in a compact backyard!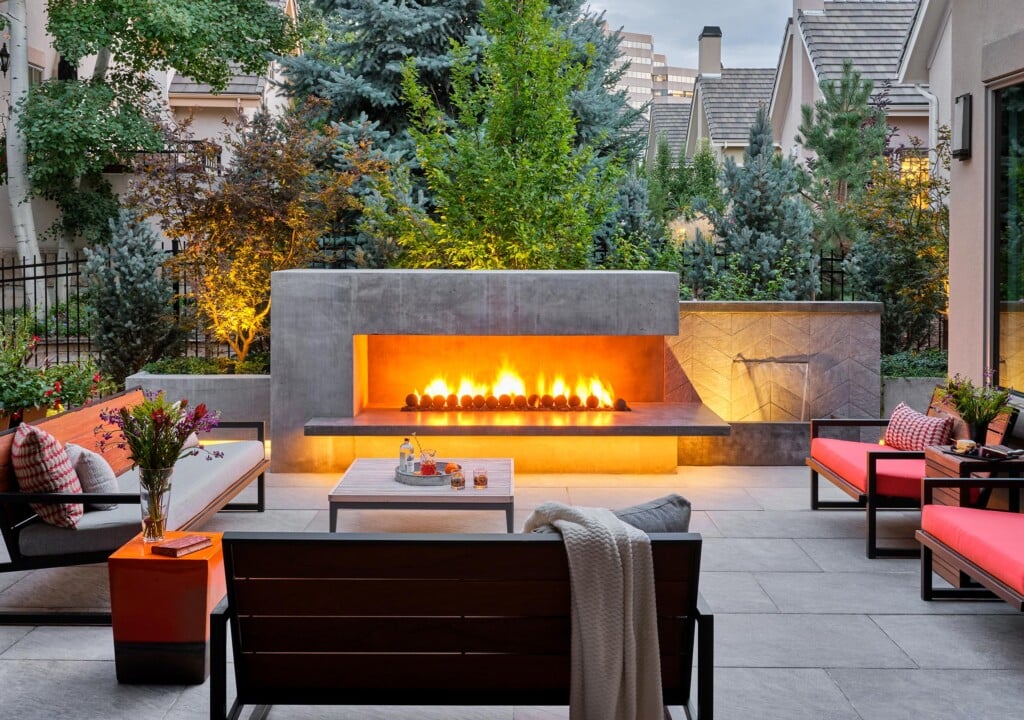 Sponsored Content
Many of Denver's historic neighborhoods have smaller lot sizes that can seem constricting. Additionally, many new-build communities are offering homes designed to live large in less space. With an expert design-build team, you can maximize your landscape's potential far beyond what you might expect.
The projects shown in these photos are in Washington Park, Park Hill and Hilltop in Denver, plus a new-build townhouse project in Centennial. They exemplify how multiple zones for entertainment and relaxation can be created in a compact yard. Proportion, scale and layout were carefully considered in each of these projects. Consistency of color and materials makes a small space feel less crowded and cluttered.
One of the biggest challenges for building complex projects in tight outdoor spaces is accessibility.
For large scale structures and elements, a crane may be required to lift pieces over the home. For pools and spas, large machinery is often required to excavate the land. Additionally, pools built to the edge of lots lines will require relocating the utilities. Technical issues must be addressed in the planning stage, not during construction.
The best approach is to view the backyard or patio as the primary space that has multiple spaces within it.
The next step is to create the most efficient flow between the grilling/cooking, dining, lounging, and activity areas (pool, spa, lawn, veggie garden). The most critical determining factor is how you will use the space. Activity areas can compete with cooking areas. Cooking areas should be close to dining areas. Lounge areas are a good buffer between cooking/dining and activity areas.
The layout of any large structure or feature needs to relate to the house and line up with architectural elements.
One option is to center the main focal point on the doors. Primary access out of the house needs to be considered for grill placement and the placement of the pool. Lounge areas have more liberty for placement given that tucked-away nooks can create the perfect retreat.
If you have a compact property, there may be more options than you realize for multi-functional outdoor living spaces.
Design vision and creativity must be paired with realistic solutions for overcoming accessibility and technical challenges. Working with a company that offers both design and construction services provides the big-picture approach needed for success. Seek out landscape firms that have strong experience executing complex projects in tight spaces. The least expensive proposal or bid could cost more than you expect. Ask to see photos of completed projects and ask tough questions about the challenges of the project.
Small Space Trends
To help make the most of your outside entertaining areas, follow these trends:
Consider installing a space-saving 'spool'–a spa incorporated into the pool

Minimize the materials palette

Combine water and fire features

Employ built-in seating between or around key areas
With the right planning and creativity, you can transform your small outdoor space into a resort-style retreat with multiple options for relaxing and entertaining.
Todd Diesburg is a Senior Designer at Lifescape Colorado with over 20 years of experience in residential landscape design. For more than 47 years, Lifescape Colorado has been Colorado's trusted source for landscape architecture, construction and property care. View their profile or contact Lifescape Colorado at 303-831-8310 or info@lifescapecolorado.com.
Content for this article provided by Lifescape Colorado.