An English Country Manor in Denver
2018 Home of the Year Finalist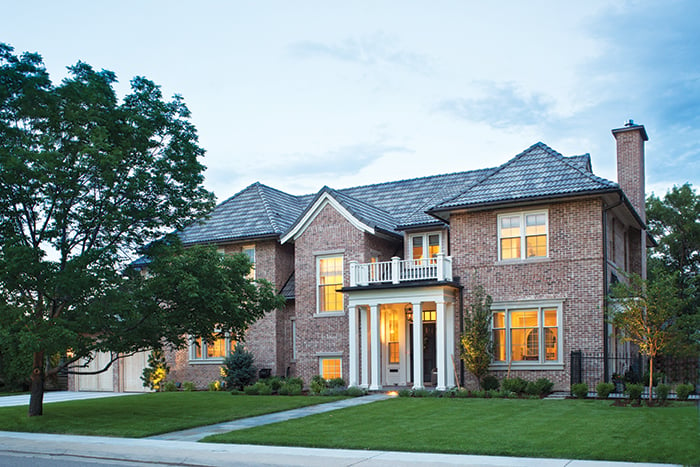 For two maxed-out physicians with a pair of active young boys and a 70-pound Portuguese water dog, building a house could have been a too-many-decisions-for-this-lifetime proposition. But this 40-something Denver couple made a conscious choice to embrace their good fortune. "We have enough stress in our lives, so we decided early on that we were going to enjoy the process, stay on budget and not fight," says the homeowner. "Believe it or not, this actually strengthened our relationship."
The 5,100-square-foot new build in Hilltop is a contemporary spin on a traditional English country home, says John Mattingly—owner of the architecture, interior design and construction firm Chalet—who pored over photos of homes in London to achieve its austere look. The lime-washed brick exterior is meant to resemble a historic house where the stucco was removed to expose what was underneath, he explains. "We wanted to tell the story that the structure was once more polished but was de-formalized to make it look rustic."
Mattingly divided the interior into thirds to make the generous size more manageable, with the kitchen/great room, living room and dining area comprising three equal parts, all of which empty to an expansive backyard. "I really wanted an open floor plan," says the homeowner. "It's like the house has two big arms that hug the backyard. No matter where you are, you can spill outside."
And that's exactly what the couple's 11- and 12-year-old boys do most weekends, playing football or soccer or just goofing around while mom prepares snacks in the adjoining kitchen. In colder months, the boys have the run of a kid-friendly basement, outfitted with an official Sport Court room for hockey, lacrosse or basketball.
"We love Hilltop because we're six blocks from our boys' school and seven blocks from my parents," says the homeowner, who relocated her family from their cozy Park Hill home to the new abode in September 2016. "It's so easy here." Ease is also what attracted the couple to Chalet for the design and build of their home. "We started out with a blank sheet of paper, but the process was extremely collaborative," she says. "We loved John's enthusiasm and his perfectionism. He really takes care of things."
As for Mattingly, he likens the challenge of this design process to a well-played tennis match. "It's not fun to play against someone who's not at your level, but [the homeowner] hit the ball back as hard as I hit it to her," he says. "It was an awesome match."
The entryway features Palecek Adrift Coco Wall Decor over the Mosquito bench from Arteriors and a rug from Artisan Rug Gallery. The custom Roman shades are in Romo Saros Porcelain fabric, made by Summit Drapery Design.
​
Two Thomas O'Brien Longacre table lamps from Visual Comfort & Co. rest atop Hickory Chair's Ceylon console table from Hoff Miller. The Noir Ming benches from Ivystone are upholstered in Galbraith & Paul fabric in Reed Mocha on Natural Linen. The oil painting is Little Riverby Joanne Kerrihard from William Havu Gallery.
An HW Home sofa and ash burl cocktail table sit atop an area rug from Artisan Rug Gallery. Two wall sconces from Visual Comfort & Co. frame Tom Lieber's Midnight Dropoil painting from Robischon Gallery. The antique console tables under the window are from Djuna, and the custom throw pillows and drapery are from Summit Drapery Design. The Pinegrove table lamps are from Currey & Company.
Ana Maria Hernando's Flores Para La Nusta II lithograph from Robischon Gallery hangs above a wood chair from Palacek Georgio, upholstered in Mark Alexander Bryant Fennel. The Octavia ottomans are from HW Home.
The Aberdeen dining table is from Hickory Chair, and the chairs, also from Hickory Chair, are upholstered in Arya from Rose Tarlow. The Afghanistani rug is from Artisan Rug Gallery, and the chandelier is from Cyan Design. The wall covering is Extra Fine Arrowroot in Dove/Harbor Blue from Phillip Jeffries, and the draperies are Scala Damask from Rose Tarlow.
"I like that the dining room isn't foreign to the rest of the house. You have to pass through it to get to other rooms." — John Mattingly, Architectural Designer
The bright kitchen features custom cabinetry designed by Chalet's John Mattingly and built by Distinctive Designs. The custom pewter hood over the Wolf range is by Raw Urth Designs, and the cabinet pulls are from Rocky Mountain Hardware. A Thomas O'Brien Hicks pendant from Visual Comfort & Co. hangs over the sink, while a Vendome chandelier from the same collection lights the island. A custom Roman shade in Romo Saros Porcelain fabric is by Summit Drapery Design. The runner is from Artisan Rug Gallery.
Gary Komarin's Cake, White on Blue acrylic painting on paper from Robischon Gallery is placed above a console table from Crate & Barrel. The kitchen table and chairs are from ABC Carpet & Home in New York City.
A Delano desk from Currey & Company and cafe chair from Napa Home & Garden are placed on an area rug from Artisan Rug Gallery. The two Hollywood chairs are from Hickory Chair, and the lamp is from Serena & Lily. The wooden shelf unit is from HW Home, and the custom Roman shades are Casita A fabric by Galbraith & Paul, made by Summit Drapery Design.
Cafe chairs from Napa Home & Garden surround a Restoration Hardware dining table.
DESIGN DETAILS: 
ARCHITECT/BUILDER/INTERIOR DESIGNER John Mattingly, Architectural Design; Regan Mattingly, Interior Design; Chalet  ART CONSULTANT Ann Benson Reidy + Associates KITCHEN CABINETRY Distinctive Designs of Colorado, 303-424-0055 LANDSCAPE DESIGN Elevate by Design LANDSCAPE INSTALLATION Designs by Sundown