An Eco-Friendly Home in the Foothills of Boulder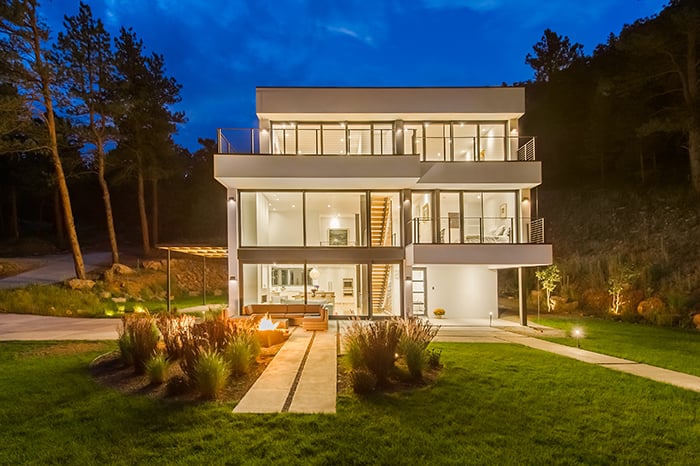 Nestled on nearly 15 acres of gorgeous Colorado landscape, this Boulder home is smart both in style and in its eco-friendliness.
Inspired by the clean, modern design style of architect Richard Meier, the home is a creation of architect Michael Schock and pays homage to its site by incorporating stellar views at every turn—including south-facing mountains, majestic rock outcroppings, and artistic landscaping. Private hiking trails and a nearby waterfall invite homeowners and guests to explore the playground in the backyard.
On this property, green surroundings come with green living, too. The setting was carefully selected to offer unobstructed southern solar exposure to maximize light and maintain a lower carbon footprint. A Savant Smart Home system allows residents to control lighting, temperature, and music settings from a smart phone anywhere in the world.
An additional dwelling unit, built in synchronicity with the main home's design, employs a green roof that's a sight for sore eyes.
Take a tour below.
228 Lion Point will be featured on the Boulder Green Home Tour September, 30, 2017. Learn more about this property here.