An Architect's Zen Retreat in 964 Square Feet
Inside the Denver pied-à-terre of architects Sarah Broughton and John Rowland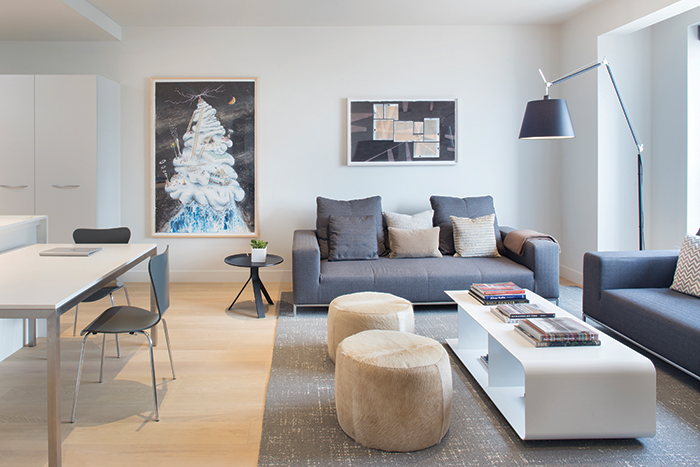 WHAT:
964-square-foot one-bedroom pied-à-terre
WHERE:
20th floor of the Denver Four Seasons Hotel & Residences
WHO:
Rowland + Broughton Architects
DESIGN OBJECTIVE:
Architects John Rowland and Sarah Broughton, partners in business and life, keep a landing pad in Denver to accommodate the five to seven days a month they spend commuting between their busy offices in Aspen and Denver. The apartment doesn't exactly sit empty when they're not there; they let the proverbial revolving door spin with colleagues and close friends who need a place to stay when in the city. After buying and selling one unit in the Four Seasons Private Residences, they rented another for a few years until 2016, when they took advantage of momentarily low prices while the building was refinanced to buy this one-bedroom on the 20th floor. "Everything was like 40 percent off!" Broughton says. And they remodeled this one to fit their own style. Being the experts they are, they transformed the space from the developer's specs into an architect's Zen retreat quicker than you can
say "Be Here Now."
THE EXECUTION:
"When we bought this place, it was all in broker's beige," says Rowland. The couple sought to create the feel of an open living space with new lighting and brightened-up finishes, redirecting the flow of the rooms with the thoughtful placement of art, television and furnishings. "The first thing we did was paint all the walls (Benjamin Moore's China White) and millwork (the same color in a matte lacquer finish), and we replaced all the lighting," says Broughton. And they put in new wax-finished wood floors throughout, including in the bathrooms ("because no one likes that shiver of cold you get from bare feet on a cold stone-tile floor," Rowland says). From this 20th-floor aerie, they enjoy a spectacular west-facing view of the mountains in both the living room and the bedroom. The result is an airy, calming respite from the urban environment in the middle of downtown. "It's a retreat," says Broughton, "but it's also a place where we can work from and be strategic."
"The first thing we did was paint everything white." — Sarah Broughton
When it came time to furnish, the couple wasted no time. "I don't like to mess around with this stuff," Rowland says. "We made a trip to Room & Board, blitzed and bought in one hour," Broughton adds. "John wanted to get back to Aspen to watch the football game." Their rapid-fire decisions reflect their well-honed taste and practical sense of style. They ended up with a mix of furniture: some custom-made, some "high to low" purchases (Artemide, Room & Board, Target) and a few pieces of their own.
"We could have spent another three months trying to find the perfect custom furniture, waiting for something to be finished in Italy. But you know what? Time is precious, and we don't get attached to stuff. I'd rather be focusing that energy on other clients." Broughton agrees: "We're very aware of time. We are busy developing and running a company, we're very social, we like to re-create, so we like our house to be a calm respite where everything has its place. Not in an OCD way—we're not like that—but less is more." And if these particular walls could talk, they would talk more about art, less about furniture.
THE ART:
"We think art makes a home," says Broughton, "and we just try to create a backdrop for it." The goal here was to maximize the walls in every room to accommodate an ever-changing display of pieces that the pair, in their mid-40s, have picked up all over—Cuba, Art Basel, Venice Biennale, Mexico, Paris and elsewhere. "We're young collectors," she says, "so a lot of our works are on paper. But also as architects, paper is our medium, so we're drawn to that. We appreciate the hand."
KITCHEN:
Existing millwork was refinished and painted Benjamin Moore's China White; the countertops and waterfall island surface are Aura 15 faux marble by Dekton. For the flooring, they went with Arrigoni Woods' natural wax-finished European oak throughout. "We like to try things out ourselves before using them with clients," Broughton says. They have the unfinished, matte look the couple wanted, but "they have been tricky to maintain," she says. Custom-designed stainless steel replaced the developer-installed glass tile backsplash; the stove hood and appliances are by Miele.
POWDER ROOM:
Laufen's IlBagnoAlessi One freestanding pedestal sink sets a striking tone. Broughton picked up the embroidered hand towels on a trip to Mexico City.
BEDROOM:
Nightstands and bed with under-drawers, both manufactured by BenchCraft in Fort Collins, are hallmarks of Rowland + Broughton's space-efficient designs and loyalty to local makers. The R + B headboard was built by Hempt's Furniture in Denver. Draperies are from Denver-based Tatterdemalion. Louis Poulsen table lamps and three ink drawings by Cody Hudson flank the bed. The pendant light, made of recycled cardboard with steel frame, is from Seattle lighting designers Graypants.
MASTER BATHROOM:
The couple refitted the shower stall and vanity countertop with Dekton faux marble and replaced one wall of the shower with floor-to-ceiling glass. A photograph of Sean Penn (as the perpetually stoned Jeff Spicoli from Fast Times at Ridgemont High), wryly printed on acid tabs, holds its own over the towel rack.
LIVING ROOM:
Extra-deep Cielo sofas and a wall of art—a drawing on paper by Los Angeles artist Mark Licari at left and a watercolor by Los Carpinteros—along with a Tolomeo Mega Floor Lamp by Artemide, form the major brushstrokes of the living room. The Cooper cocktail table in powder-coated steel and Lind cowhide ottomans are Room & Board, and the  area rug is made of Flor's Tuxedo Pocket carpet tiles in Grey.