A Matter of Taste
This Cherry Hills remodel shows the beauty of remaining neutral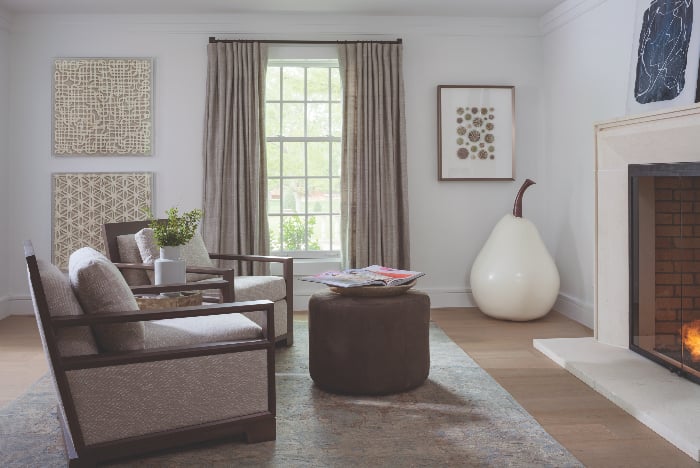 BEFORE
The homeowners of this Neocolonial in Englewood's Cherry Hills neighborhood appreciated the home's generous lot size (2.42 acres), classic brick exterior and asymmetrical rooflines. But the interiors had a checkered past: black-and-white marble floors in a harlequin pattern, a showy spiral staircase and multiple dated features.
To bring their desired minimalist aesthetic to life, they enlisted Emily Lindemann, director of interior design at Ruggles Mabe Studio in Denver. "From the beginning," the clients say, "we discovered a mutual love of neutrals."

Living Room The once dark and claustrophobic living room is now a clean, sleek space where the homeowners can relax. With walls removed, the living room's sight lines now lead straight into the open kitchen. The custom sofa in gray boucle fabric is by Minotti. The RH coffee table provides a simple, rounded silhouette that complements a settled seating arrangement, in line with the rest of the home's design.
AFTER
Getting rid of a spiral staircase that makes a grand entrance, as well as a grand statement, might seem like a remodeling blunder—unless the aim is to trade the stairs' curves for usable living space. "The original staircase took a lot of room," Lindemann explains. By eliminating it, the team was able to add a bedroom on the second floor, flip the master suite to greet the views and build a gym on the upper level. "If a feature is not functional, then it is irrelevant," Lindemann says.
Her purist approach to design led to a high-impact transformation and tailored interiors that are easily navigable and that fulfill their intended use. Although the walls and most of the furnishings present a neutral palette, all spaces throughout the home look much brighter than they did before.
To achieve this effect, Lindemann opted for subtle taupes and grays with pink undertones and natural materials in matte finishes. "Warm wood tones are inherently welcoming, and they mask scratches well, which was important to the clients because they have a pet," she says. Another dramatic transformation came from tall ceilings and windows, which were left bare to open up the space and optimize natural light.
FOYER
AFTER

AFTER

A group of Visual Comfort candelabra shine ambient lighting on a reimagined foyer that replaced a large spiral staircase. The console is by RH, and the rug is by Madison Lily. The art is from the clients' collection. High ceilings and tall windows lend a sense of arrival to the new space and invite abundant natural light into the home.
BEFORE

BEFORE

"Except when we travel, we rarely leave the house. Emily built us a home we never want to leave."
— Homeowners
DINING ROOM
AFTER

The former dining area was dark and dull, a relic from another era. Lindemann and her clients shared a common vision for the space: timeless elegance. Warmth comes courtesy of neutral fabrics by Zinc Textile and Kravet. The inverted bowl chandelier is by Ironies. Two identical art pieces by Palecek bring texture and layers to the room's softer hues.
BEFORE

KITCHEN
AFTER

The newly transformed kitchen is unrecognizable from the former black and yellow design. This contemporary haven was crafted by breaking down walls and shining new light onto the space.
Pierced Metal Sphere pendants are by Regina Andrew. They illuminate white quartz countertops, whose durability and easy maintenance were important to the clients. "Except when we travel, we rarely leave the house. Emily built us a home we never want to leave," they attest.
"From the beginning, we discovered a mutual love of neutrals." — Homeowners
MASTER BATHROOM
AFTER

When it came to updating the master bathroom, the goal was to trade darkness for light and create a room with a dual purpose: an inviting area to get ready in the morning and a soothing space to unwind at the end of the day.
To achieve this, Lindemann relied on a layered composition of muted hues and lots of texture. The result feels like a spa retreat. The Perennials ottoman in performance velvet offers a sophisticated touch. Structure and warmth come from a Made Goods beaded light fixture.
BEFORE

SITTING ROOM
AFTER

Designer Emily Lindemann selected multilayered furnishings and pared down on accessories to create a serene space ideal for relaxing by the fire. She completed the transformation from dated to timeless with a careful mix of Ted Boerner chairs and the strategic placement of a cream-lacquer pear piece by Robert Kuo in the corner of the room. The area rug is by Loloi.
HALLWAY
AFTER

Mother and son enjoy a barefoot stroll on a wool and nettle runner by Organic Looms. A touch of ornamental modernism from Sonneman light fixtures shines softly on the newly built hallway.
BEFORE

DESIGN DETAILS
ARCHITECT Don Ruggles, AIA, NCARB, ICAA, ANFA; Melissa Mabe, AIA, LEED AP, NCARB Ruggles Mabe Studio INTERIOR DESIGNER Emily Lindemann Ruggles Mabe Studio BUILDER Drew Hanlon DMH Construction Management