A Home That Embraces the Gray
A semi-retired couple finds romance and beauty in an elegantly remodeled Polo Club duplex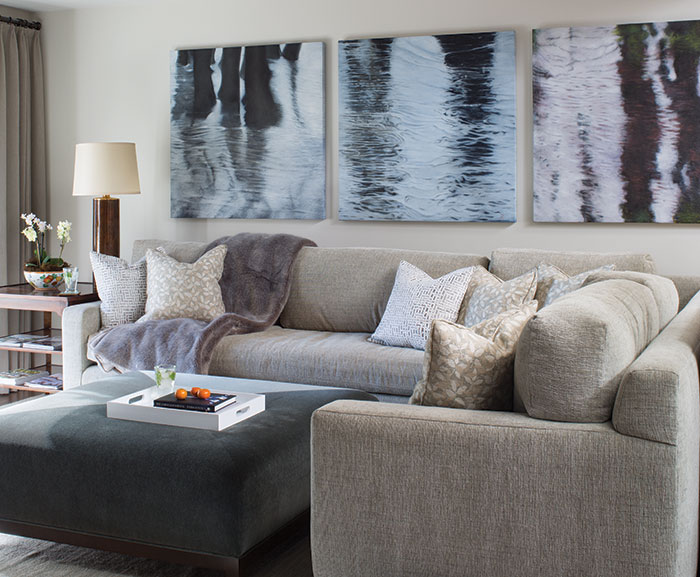 It was indeed a sign. Introduced by a mutual friend, Bonnie MacDonald and Robert Amter had been dating for almost a year when they were taking a stroll in Cherry Creek, discussing their shared love of art. Robert lamented over a missed opportunity to buy a painting three years prior; Bonnie told him she had a similar experience around the same time. They somehow figured out they were talking about the same Jerry De La Cruz painting they saw separately at Amala Hanke's art gallery (she was the matchmaker, natch). Once the couple realized it was the same piece, they configured a plan to buy it back. It took one dinner to make amends with the rightful owner, but by night's end, the deal was done.
The painting now hangs in the entryway of the Amters' newly renovated house in Polo Club, welcoming its occupants and visitors alike. The Amters, in their 70s and married for 27 years, lovingly call their home "Swan Song," after the ballad a swan sings before its demise. It might sound a bit sad, but Bonnie insists otherwise. "This is the last home that we are creating together. We wanted it to be an expression of beauty," she explains.
In late 2015, she chose interior designer Beth Armijo and contractor Nick Muller to achieve their dream of quiet grace and charm in an otherwise nondescript brick 1970s duplex. It took the team about six months to complete the mostly cosmetic makeover of the 3,000-square-foot house. "It was Tuscan goopy, with faux paint on the walls and vines in the kitchen," recalls Armijo. "We only knocked down one wall, but it felt like a complete gut. We would have meetings on-site to change things as they were literally tearing it down."
Bonnie enjoyed every step. "Remodels are a nightmare for most people, because you're working within a confined footprint. But I happen to like those challenges," she says.
Many of the older homes in the Polo Club neighborhood are frustrating to designers because the HOA won't allow exterior changes, says Armijo, who is currently renovating four other units in the area. "They're sleepers on the outside but they have great opportunity on the inside, with wonderful light and space," she says. "I love doing projects there. The owners are savvy and fun, and they know what they want."
In particular, the Amters desired a soft, ethereal color palette harking back to old-time Parisian apartments. They asked Armijo to provide a monochromatic design scheme in which to showcase their vast art collection. Fortunately, Willow, the Amters' 11-year-old standard poodle, fit the color scheme perfectly. "I have a thing about gray," says Bonnie. "I dress in gray, I have gray hair, my kitchen is gray, my poodle is gray. There's an embracing of that instead of fighting it."
For Bonnie and Robert, their remodel is a melding of their personalities. By upsizing to the new space (their former home in Bonnie Brae was surprisingly much smaller), the couple was able to slowly discover their own respites throughout the house. "Robert is more modernist, and I'm more traditionalist," says Bonnie. "It's about finding where we meet in life. This home is an expression of where we come together."
The Jerry De La Cruz painting is the pièce de résistance. For Bonnie, it was the female expression that captivated her. "My career as a depth psychologist working with women had me thinking about expressions of the feminine psyche," she says. "As for Robert, he just liked its strength."
Entry:
The Denver Upholstery custom bench is by Armijo Design Group (ADG) and sits below Jerry De La Cruz painting My Mama Wrote Me a Letter. The area rug is from Shaver-Ramsey.
Living room:
The formal living room features a custom sofa designed by ADG and made by Denver Upholstery in Pindler wool mohair fabric. The pillows are by Egg & Dart in Lori Weitzner fabric, and the coffee table was made by Ruelas Custom Woodwork in Los Angeles. The painting is by Jivan Lee of Taos, and a Barbara Barry Simple Floor Lamp from Visual Comfort sits on a hand-loomed Indian floor rug from Shaver-Ramsey.
Family room:
"I dress in gray, I have gray hair, my kitchen is gray, my poodle is gray. There's an embracing of that instead of fighting it." — Bonnie Amter, Homeowner
A triptych titled Cypress Reflection I, II and III by Colorado artist Dawn Wilde hangs above a custom sofa from Egg & Dart covered with Place fabric in Córdoba Bluff. The pillows are Lori Weitzner fabric in Verano Finch. The Denver Upholstery mohair ottoman sits on a custom-bound wool rug by Floor Coverings by CPA in the Denver Design District. The vintage Baker lamp is placed on a Ryan Schlaefer custom table. The tray ceiling is painted in Benjamin Moore Arctic Shadows 1559 for accent color, while the wall paint is Classic Gray OC-23.
Kitchen:
The stand-alone kitchen island and hanging open shelving were designed by Nehemiah General Contractors in collaboration with ADG and built by Pat Donnelly of Classic Metals. The stone countertop is Quartzite in Sea Pearl, and the brass hardware is Ashley Norton from Rio Grande Co. in Denver. The ovens and range are Gaggenau, the satin nickel hardware is Grohe, and the Kate Small Sconce is from Visual Comfort.
Library:
"If we have one addiction, it's books. We had 10,000 books when we got married and got rid of 8,000. Then we started adding again." — Bonnie Amter, Homeowner
Painted in Benjamin Moore Province Blue, the library features a custom tête-à-tête made by Denver Upholstery in Donghia velvet. The Indian elephant ladder was purchased from The J. Peterman Company, the chair is from Lee Industries, and the area rug is also Indian, from the Denver Design District.
Master bedroom:
Both the master bed and storage bench were custom-designed by ADG and made by Denver Upholstery. The blanket and duvet cover are from The Brass Bed, while the euro shams were custom-made with Mokum fabric from John Brooks. The custom side tables were made locally by Ryan Schlaefer Designs. A Jeffrey Keith painting hangs above the bed.
Master bath:
An antique Chinese roof tile purchased by the homeowner's grandparents 60 years ago sits on the bathtub in the master bathroom. The floor and bath tile is Lagos Artistic Limestone from Decorative Materials, and the sconces are from Waterworks.
DESIGN DETAILS:
INTERIOR DESIGN Beth Armijo, Armijo Design Group BUILDER Nick Muller, Nehemiah General Contractors ARCHITECTURE  Scott Parker, Nest Architectural Design
SEE ALSO:
In This Home, Everything is ArtSaveSaveSaveSaveSaveSave
A Denver Home Remodel Inspires an Art Collection
​SaveSaveA Three-Story Private Art Gallery
SaveSave
SaveSave
SaveSave