A Grown-Up Dream House
Happy childhood memories inform a lake-view family home in the Denver suburb of Bow Mar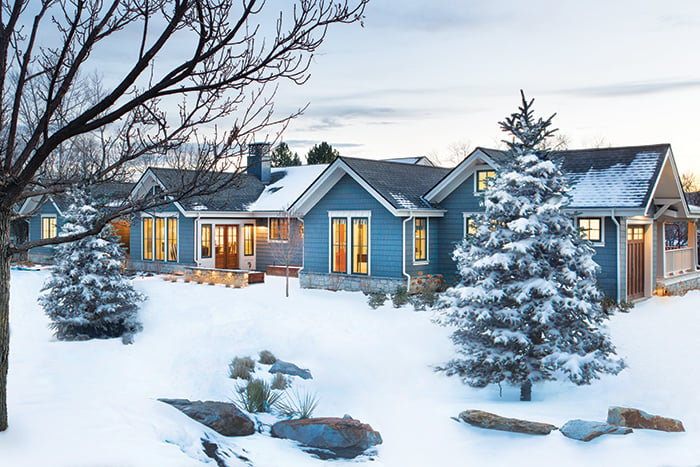 Styling by Nicole Dominic
"I started designing my dream house in second grade," admits a Denver-area mother of three girls under 6 years old. So when she and her husband, high school sweethearts now in their early 30s, bought a lot with a view of a recreational boating lake in Bow Mar, a quiet suburb southwest of Denver, those early fantasies resurfaced. "One of my main priorities," she says, "was that it be kid-friendly, with a bunch of fun things that are all really for my second-grade self."
Of course, the couple had a more grown-up agenda as well. "We wanted the house to look like it had been here for a long time, added onto through the years, with a lot of indoor-outdoor living spaces on every side," she says. "And, even though we've never been there, we both love the Cape Cod look." To help them realize the entirety of their young-at-heart yet well-considered goals, they hired a simpatico creative team: the Denver firm of Craine Architecture, working with principal Dan Craine, AIA, and project manager Brad Gassman, AIA; and Denver-based interior designer Beth Armijo, who came highly recommended by the architects and previous clients.
"The goal was a playful home," says Gassman.
"We wanted to capture a youthful feeling while also having fun with the landscape that surrounds it." Adds Armijo, "It had to be a very family-friendly place that felt ideal for these really good-spirited people." Or, as the client says she told the designer, "I wanted a horde of 7-year-olds to be able to run from one end of the house to the other with Popsicles in their hands."
High spirits aside, the owners, architects and designer alike first had one more set of down-to-earth requirements to contend with: those of the neighborhood design-review board. "The house had to match the modest scale of Bow Mar's more traditional, lower-slung ranch-style homes," notes Gassman. Fortunately, the one-acre setting, which descends gently toward the lake about a hundred yards away, provided an ideal solution. From the street, the house looks like a modest single-story structure, even though its white-framed gables and blue-gray-stained cedar shingle siding may hark back to New England more than the Rocky Mountain West. Beyond the foyer, however, the house gradually steps downhill, room by room, wing by wing, so that the lake-view master suite is almost but not quite a full floor lower than the main living areas. On every side and every level, a series of decks, patios and pathways creates a free-flowing connection between covered and open-air living spaces. "It's laid out for entertaining large groups of people and flows quite nicely," Gassman says.
Such a spirit of open, free-flowing entertaining and youthful playfulness called for relaxed, durable furnishings, fabrics and finishes. Designer Armijo worked closely with the owners and architects to select, she says, the right mix in "a casual, timeless palette of white and blue" evocative of sand and sea. The lady of the house challenged her, she says, to embrace a bit of whimsy, leading to such appealingly lighthearted touches as a formal dining room with wainscoting rising three-quarters of the way up the walls with a narrow band of wallpaper above; a secret play area connecting the daughters' bedrooms; and a well-tailored master bath with a claw-foot tub set at a jaunty diagonal between two windows.
The end result is a living space "that makes everybody feel welcome here, every time of the day or night," says the happy owner. "We feel so grateful." It seems that childhood dream homes can come true.
With its white-painted paneling from floor to gabled ceiling, the foyer mimics the home's exterior, while a smaller version of the living room's wood-and-nickel chandelier from Restoration Hardware hints at the larger-scale room to come. A clean-lined console table holds family memorabilia and a pair of wire baskets for incoming and outgoing mail.
In the living room, sofas and armchairs from Lee Industries are upholstered in durable kid-friendly fabric. A watercolor painting by Tobi Fairley sits above the wood-burning gas fireplace. Above a coffee table custom made for the space by Loveland woodworker Ryan Schlaefer hangs a chandelier of rustic wood and polished nickel from Restoration Hardware. The kitchen is open beyond a bank of cabinets that hold children's games and toys, encouraging easy mingling when the family entertains.
At once playful, versatile and practical, the kitchen is a perfect distillate of the home's spirit. A lake-view dining nook looks west across the garden to the lake and the Rockies. Bistro-style Serena & Lily barstools of rattan and woven plastic let guests visit with the homeowners while they prepare meals at the island's Wolf cooktop. Above and to the left of the sink, a bank of windows and a door all open to an indoor-outdoor "three-seasons room."
​
The homeowners decided to give the dining room a flat, rather than gabled, ceiling for a quieter, more intimate atmosphere. Keeping the room feeling bright and open are windows on three walls, including French doors to an herb-garden patio shared with the home office; the interior wall can be closed with pocket doors for more private occasions. In a lightheartedly casual touch, white-painted Shaker-style paneling covers most of the walls, with a narrow strip of geometric navy-and-white wallpaper by Romo just below the ceiling. The dining table by Grange features a retro industrial-style base of powder-coated steel and a white-oak top. The blue-and-white-striped cotton-upholstered captain chairs are by Lee Industries, and the blue cotton side chairs are from Crate & Barrel.
Positioned side by side along the hallway leading to the master suite, both daughters' bedrooms feature rustic-romantic metal-framed beds from Land of Nod and window seats with built-in bookcases and storage. The lighthearted, boldly striped wall treatments echo the nautical flags that are strung along balcony play areas reached via built-in ship's ladders. Bookcases in the upstairs spaces conceal doors that lead to a shared secret play area overlooking the hall just outside. The dollhouse in the blue-striped room is a family heirloom; it's a replica of a lakeside Iowa home that has been in their mother's family for five generations.
"One of my main priorities was that it be kid-friendly, with a bunch of fun things that are really for my second-grade self." — Homeowner
In the master bedroom, the beamed, gabled ceiling rises to 12 feet at its peak. Stonington Gray paint from Benjamin Moore enhances the peaceful ambience, complementing the Bernhardt headboard in tufted gray-blue cotton linen. The family's cocker spaniel rests on one of two tufted wing chairs from Lee Industries. A window seat with built-in storage offers views of the garden and a children's playhouse styled and painted to match the main house.
The master bathroom's vintage-style claw-foot tub, with polished nickel plumbing from Rohl, sits at an angle between two windows to maximize views across the yard toward the lake and the Rocky Mountains beyond. The fixtures on the custom double-vanity cabinetry, which was custom-fashioned from washed alder with a soft-gray walnut stain, enhance the illusion of a living space that has evolved with the passage of decades. Under-floor heating keeps the tiles of Calacatta marble comfortably warm even on the coldest days.
DESIGN DETAILS:
ARCHITECTURE Craine Architecture INTERIOR DESIGN Beth Armijo, Armijo Design Group
SEE ALSO:
When Colorado Meets Connecticut
Bow Mar Beach: A Lakefront House in Littleton
A Spacious, Modern Farmhouse in Denver
SaveSave