Water in the Landscape
Adding a water feature is a lovely way to enhance your outdoor space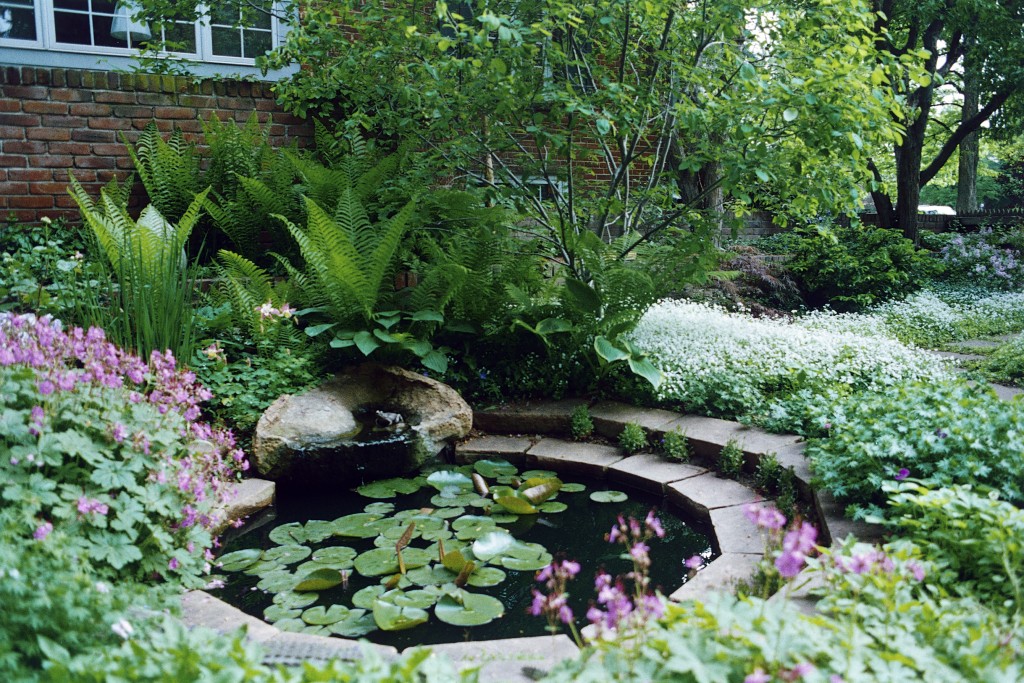 Many of us have pondered installing a water feature as we contemplate additions to our gardens. Water features come in many forms and the options are seemingly endless in style, size, and location in the landscape. There is quite a bit to consider as you are working through what wanting a water feature really means.
The good news is that there are many ways to achieve water in our landscapes. The water feature product industry has been innovative over the years with many options, and better ideas and components focused on ease of maintenance, lighting, and economical installations. Landscape architects and designers are becoming more experienced in the mechanics and aesthetic siting of this amenity as well.
We reference water features in three categories – architectural/formal, natural/ponds, and sculptures/basins.
Natural water features
Natural water features have the style of a mountain stream with moss rock boulders, waterfalls and ponds. These require a built or natural change of elevation or slope ending in a pool area that is usually at the elevation of the garden or the turf area.
This style was popular 30 years ago and was predominately the type that was installed in our landscapes. They create great sound, provide a natural mountain feel, and can support fish and water plants. The construction consists of a liner, boulders, waterfall rocks, and river rock and cobbles. The available pump/filtration systems are very effective in reducing the maintenance of this type of feature. Natural water features can also be built with a pond-less lower basin if the idea of a pool of water is of concern for safety or other reasons.
Sculptures/Basins
Sculptures/basins will be self-contained and feature a carved granite stone, a natural stone/boulder, or a pedestal that bubbles the recirculating water through a cored hole in the stone. These are the most economical way to include water in your gardens.
They can also be the most unique to conform to your taste and lifestyle. The sculpture can be chosen to work with other hardscape elements in color and form, or simply be a piece that you are attracted to. A purchase plastic basin, usually about 4' in diameter is set into the ground which houses the pump and is covered with a rounded river rock, or black beach pebbles. A custom basin can also be built with masonry and pool plaster or liner.
This approach provides a soothing bubbling/trickling sound, is easy to install and very low maintenance. It also has the advantage of a small footprint in the garden, especially valuable in the small space landscapes that many of us have.
Architectural or Formal
Architectural water features are normally built into walls with weirs (waterfall ledges) extending from a wall or built up with stone or brick to match the building walls. These are the most expensive option as the basin and walls are constructed with block or concrete, and faced with a stone or stucco material. The weirs, plumbing, and filtration systems are also more sophisticated than basins or natural features.
This type of feature can be incorporated into patio spaces and entry courtyards to provide an architectural extension of the building. As a wall element or a surround on a patio space, architectural water features provide a unique way to bring the building into the landscape while using the welcoming sounds and sight of water.
Don't be afraid to get a bit whimsical with your ideas – this one uses an antique well hand pump to recirculate water into a lower basin
And a couple more tips:
Lighting is important when pondering your water element. Underwater lights will illuminate the basin water giving a soft glow to the area. Spotlights on the waterfalls will give you a visual of the sound that you are hearing. Many weirs can be purchased with lighting integrated into the fall ledge which travels down the cascade of water as it lands in the lower basin.
The sound of water can mitigate traffic noise in urban settings, and focus our attention inward into the space that we are in. Whatever style or form you decide to add, a water feature will provide you with the enjoyment of water and create the relaxing ambiance that you are looking for in your outdoor living spaces.
Dave Graham is one of the owners of Phase One Landscapes, a landscape design firm that has designed and built hundreds of landscapes over the last 30 years in the Denver neighborhoods of the Greater Denver Metro area. View their profile or contact Dave at 303.750.6060.
Content for this article provided by Phase One Landscapes.