The Placemat Maven: Sandy Chilewich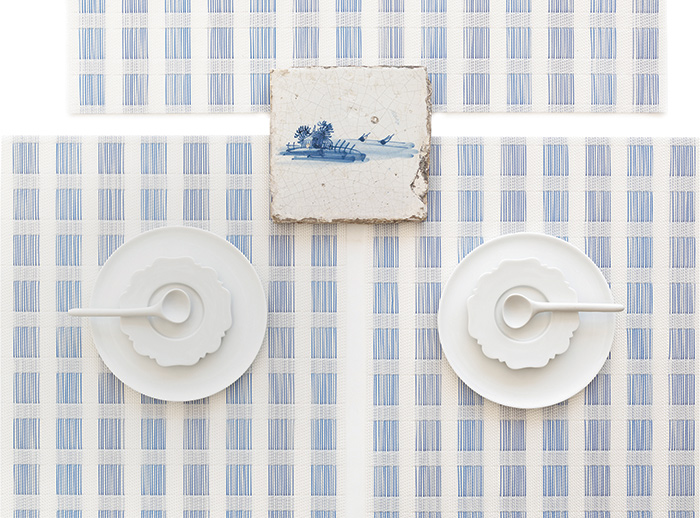 At 65, dynamic designer and textile magnate Sandy Chilewich shows no signs of slowing down. In the past three months, she's added seven of her designs to the permanent collection at the Cooper Hewitt, Smithsonian Design Museum; invented a new runner that holds fluorescent plexiglass; and custom-designed ribbon-weave placemats for 400 guests at the White House's Nordic state dinner. "That was totally thrilling," says the New York native, speaking from her bustling Midtown studio.
This is just the most recent string in a series of successes: Chilewich made her fortune by selling Hue, the hosiery company she co-created in 1978 and grew into a $40 million business. In 1997, she patented an innovative tabletop product, the RayBowl, a metal frame covered with lingerie-inspired stretch netting, which the Museum of Modern Art sold at a brisk clip.

[Portrait by Megan Senior; courtesy Chilewich]
Three years later, Chilewich and her architect husband, Joe Sultan, created her eponymous company, which produces more than 1.6 million sturdy, stylish woven placemats annually. Using the same proprietary blend of phthalate-free vinyl and polyester extruded yarn, Chilewich also sells floor coverings and fills custom orders for hotels and restaurants. This month she's reintroducing her beloved line of zipper and tote bags and a new set of asymmetrical placemats called On Edge.
She spoke to us about learning from her failures, mixing art and commerce, and the nearly Zen state of delight she finds in setting a table.
In hindsight, was there a moment or drawing that was the beginning of all this?
I don't think life works like that, with a defining moment. There are many steps along the way. The one thing that I always did through every chapter of my life is creative stuff—artwork, making things with my hands.
In my 20s I thought maybe I was a fine artist. One gallerist looked at my work very seriously and said what felt like a dagger in my heart: "Your work is really commercial—have you ever thought of commercial art?" I walked down 57th Street crying. I realize in retrospect that that was the beginning of a change. Part of it was I really liked the idea of multiples and reaching a lot of people. I'm a hybrid of design and commerce. And that's what I've done ever since.

Beloved by architects and interior designers, Chilewich textiles lend themselves to modern window treatments, bringing a pop of color to this kitchen.
When did you realize Chilewich would be successful?
When I found the material that became the basis for Chilewich's products, I realized very shortly: This is a business. It will give me all the design satisfaction and has real growth potential. That was around 2000. I knew it six months in because I couldn't see an ending. What I see all the time is people think they have a great idea; but you don't make it on one idea— it's very rare. You have to have a family of ideas.
Please tell me about your taste in furniture.
What I love and admire the most is when people do very personal juxtapositions: colors, materials, old and new, found and bought. That's what gets me excited. I've done that in my life. You do that much better when you don't have any money. You're much more creative then. Once you have money, you end up buying the real thing and you lose some creativity.
Which home-goods designers do you love?
Italian ceramicist Rina Menardi is my go-to person for every trade show and photo shoot. I have her work in my weekend house—a lot of black serving pieces in very organic shapes. I also have around 15 small bowls in 15 different colors. I love a pop.
Seletti, particularly their Hybrid Aglaura drinking glasses. I use them in the home—not every day, but I think I should for scotch every night. I love what it does when you put prints next to a textile or a surface. I'd never seen that before.
What are your design inspirations?
For me, it's really materials, and they can be anything—sponge, pavement, the corner of something. I think inspiration has to do more with how you're feeling at that moment and what you're open to. I can look at the same book for 20 years and keep seeing new things.
I look at the catalog for Radical Lace & Subversive Knitting a lot. I have a lot of fashion books: Alexander McQueen, Valentino, Lanvin, Christian Lacroix, [Issey] Miyake, Chanel. They're people who did very complex, lush fabrics. Lucienne Day was one of my favorite textile designers from the 1950s, and I love Bauhaus.

Chilewich's signature simplicity comes through in her delicate weaves and minimalist tableware.
Where do you go when you need to create new designs?
I go into my head and into my books. I also look at my cubbies of fabric samples we've handwoven. I look at what we've already done and things we weren't able to do but decide to keep trying. I look inward. I don't go outside myself. I have a pretty amazing group here, and they come up with a lot of ideas.
Your products are incredibly durable, and many can be used both indoors and out. Do you think about designing for interiors versus exteriors?
I really don't. Almost all of our stuff is indoor-outdoor. I have clear criteria: I'd never make something that's not durable and cleanable. Usually if you follow those criteria, the product can go anywhere. It has to be easy to take care of. I occasionally use linen napkins in the country because I find it therapeutic to iron, and once a month I do a pile.

Although her products are sold around the world, Chilewich's boutique in Manhattan's Flatiron neighborhood allows for direct interactions with customers and lets her showcase new products on a small scale.
Tell us about your favorite space in either your office or your apartment…
My office prop room is my favorite place. It's like heroin for me. It's heavenly. I'm very happy if I can close the door and set tables. I have thousands of items: pastry packaging, glass, silver dishes, stuff that you need for photo shoots. Most of the objects have stories in them; they're amazing objects I've found along the way. I know every one of them. If something's missing, I know it. After all these years, I don't think one thing's been lost, which is an amazing testament to the people who work for me. I'll say, "You know the black spoon with the red dot?" and everyone knows them all.
Which are your most popular products?
We make 40,000 placemats a week, and the Basket Weave and Bamboo are top sellers, but our floor coverings are very successful too.
What motivates you to keep working?
I genuinely love what I do. I don't think any action would give me more pleasure than to do what I do. I'm always amazed at people not loving what they do.
What new products are coming up?
We're going to introduce bags, totes and little zip bags. There are two sizes of totes and five sizes of cosmetic and zip bags, and we'll do six colors in the totes and nine colors in the zips. We made them once before, and we must get three to four calls a week from women who are desperate, having used them for 10 to 15 years.
Please finish this sentence: No kitchen/dining table/bedroom is complete without…
Something personal. Anything that's a personal voice that tells a story of some sort. We all have plenty of things that don't, but when they do, they really resonate and come alive. Only you can have that experience. It could be anything—your grandmother's velvet handbag on your table. When we go somewhere and something touches us visually, it's usually because someone does something that's very personal.
Chilewich products are available at chilewich.com and home stores throughout colorado including crate & barrel, design within reach, macy's and sur la table.