Open The Door & Say Ahhh
This Colorado designer creates elegant spaces that make you want to tuck in and relax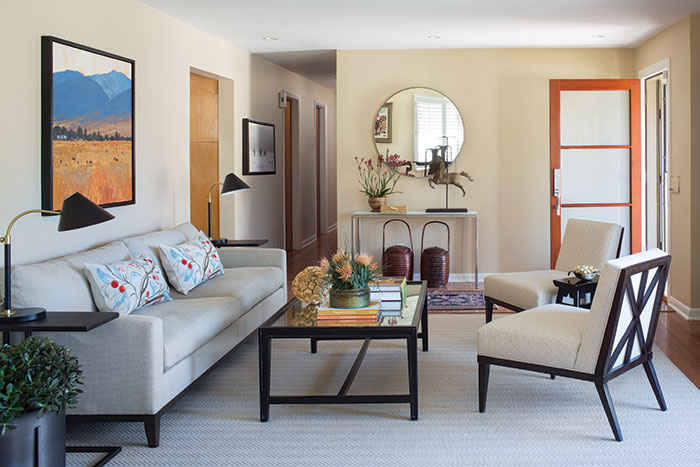 I have been drawn to the work of Colorado interior designer Nadia Watts from the first time images of her designs appeared in my inbox. Her rooms have graced our pages on numerous occasions, and what I love most about Watts' spaces is that they manage the difficult trick of being strong and delicate at the same time. They also offer a bit of "ahhh." As in, "Ahhh I'd like to sit there right now and read a book."
Watts reworked this ranch in Hilltop and met the challenge of creating a welcoming atmosphere, even though the house had no actual entry. She skillfully arranged the mirror, furniture and accessories to create a vignette to define this space.
"I love combining textures—wood, upholstery and metals—and the complexity that it creates in a room." —Nadia Watts
1. FOCAL POINT "Because you come right in from the front door, that wall with the painting needed to be a focal point. The layout of the furniture needed to flow, but we needed that wall to ground the space. So we put the sofa against it, with side tables and lamps, and then placed the painting above, so when you come in you say 'wow' right away. The painting is by Duke Beardsley. I was at his studio working on another project, and I was in search of a landscape. He had this there, and I said, 'I need to take this with me.' The color palette was perfect for this room, and it leads into the other colors of the house."

Landscape painting by Colorado artist Duke Beardsley. Sofa and chairs are from Kravet, and pillows are Adam & Viktoria. Noir coffee table rests atop a jute-and-wool rug form Floor Coverings by CPA
2. FLOW "Normally I start with the spacing and furniture layout and the flow of space: how you enter the room, how you enter it from other spaces, how the room is going to be used. Then I start layering in, incorporating pieces and making sure they connect with the rooms they're adjacent to, so when people come into the space, it feels nice and comfortable. They don't have to know why it feels nice and comfortable, but it should just feel nice right away. That's where I feel like the thoughtfulness of the materials used and the touches of color come in."

Dining table and chairs are Room & Board. Large container with cherry blossoms is from CAI, and table vases are from John Brooks Inc. "I love when plants infuse structure in a space; rooms need to have living elements," Watts says
LOCAL SHOPPING
FURNITURE: Kravet, because of their customer service and follow-through.
UNIQUE PIECES: CAI Designs
ART: Go local. I love Duke Beardsley's work. For other local art, attend events like the Coors Western Art Exhibit or First Friday Art Walks, and visit galleries like Michael Warren Contemporary, Visions West Contemporary, William Havu and Robischon.