Kitchens Internationale
A look into our new favorite kitchen-design book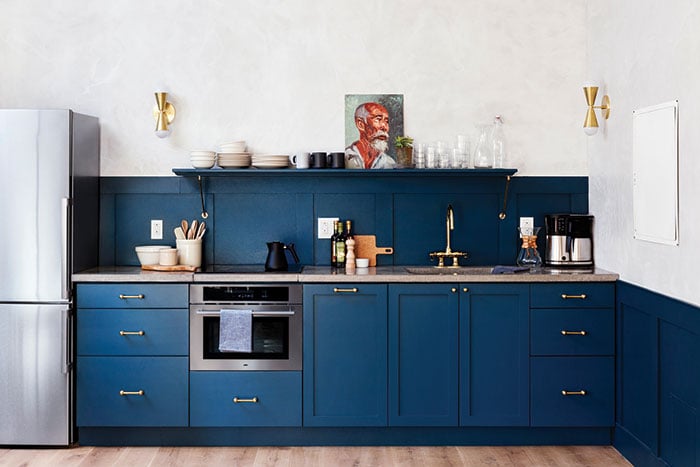 There are dozens of words one might consider when describing a desired kitchen style: modern, traditional, sleek, playful, rustic, minimalist, maximalist, luxurious, colorful or compact.
These represent a mere slice of the concepts within the 251 pages of Kitchen Living (Gestalten, 2019). There are more than 70 kitchens here—each one belonging to someone whose work revolves around food. Combined, they offer a major dash of global inspiration—from a Georgian townhouse in London to a waterside house in Sydney to understated luxury overlooking Vienna's Eighth District. There's even a California cottage garage that's been transformed into a food-styling sanctuary.

Gestalten, 2019
Whether your goal is sustainability (a kitchen space made of corn or specially treated sustainable cork) or high style (a dark Saint Laurent marble breakfast bar ), Kitchen Living's message is best described in a quote from food writer Mina Holland's introduction: "If home is where the heart is, the kitchen is the aorta." It's a place that should fuse functionality, style and whatever warms your beating heart.
Here we present an amuse-bouche.
HELLO, PINK

Kitchen Living, Gestalten 2019 [Photo by Karin Foberg/House of Pictures]
A retro, DIY kitchen with spray-painted, secondhand doors, belonging to a Swedish carpenter and his wife, in their 1930s Malmo apartment.
AT EASE

Kitchen Living, Gestalten 2019 [Photo by Felix Forest]
Architect Jonathan Richards designed this well-used, livable kitchen remodel—featuring teal-stained cabinets, gray dolomite counters and a splash of art—in his own 1890s Sydney home.
SCANDINAVIAN CHIC

Kitchen Living, Gestalten 2019 [Photo by Uno Form]
Traditional joinery and function are paramount in this suburban Copenhagen kitchen from architectural firm Uno Form.
STEEL CITY

Kitchen Living, Gestalten 2019 [Photo by Charles Helleu]
Designed by Festen Architecture, this sleek and sturdy stainless-steel Abimis kitchen overlooks Paris' 10th arrondissement.
HOME AWAY FROM HOME

Heidi's Bridge, Kitchen Living
Jersey Ice Cream Co.'s first hotel project, in a 19th-century Philadelphia building, features a modern farmhouse aesthetic, allowing guests to cook in a space that feels more like a home than a hotel.
DOWN TO EARTH

Kitchen Living, Gestalten 2019 [Photo by Rubin Ortiz]
A 17th-century estate, located in the Yucatan Peninsula and restored by Muñoz Arquitectos. The organic, minimal, Mayan-inspired kitchen showcases earthy ceramics and rough stone walls.