Inside the Home of the Masterminds Behind Boulder's Cured
The couple behind the hip cheese and charcuterie transforms a small ranch into the most popular home in the neighborhood.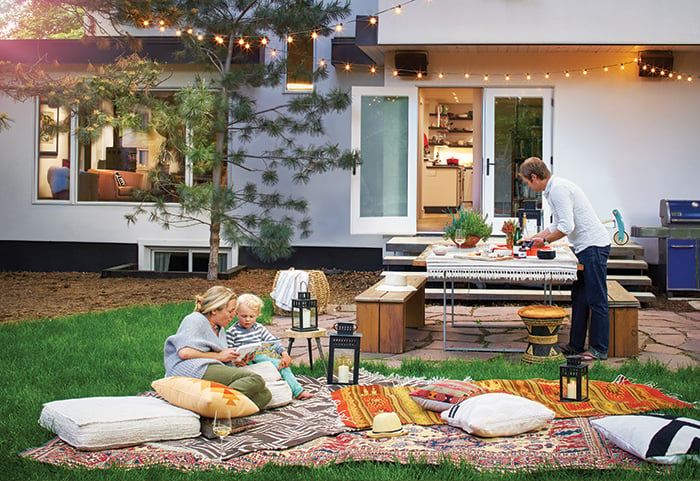 No matter what, everybody always ends up in the kitchen," says Coral Frischkorn of the North Boulder home she shares with her husband, Will, and son, Holden. No one would fault a visitor for homesteading in the Frischkorn kitchen because Coral and Will are a welcoming, food-fixated twosome as well as the masterminds behind Cured, a hip cheese and charcuterie on Pearl Street in Boulder, and Cured West, a café eight blocks away.
Serving both friends who are customers and customers who become friends creates a lot of cross-traffic. Even though the couple work long hours and have a wee one afoot, they still enjoy entertaining at home three to four nights a week. So when it came time to renovate their North Boulder home, the focus of design was all about bringing together family and friends, as well as expanding their own family. (They are expecting their second child at the end of September.)
"We wanted to create an open space for living and entertaining that felt spacious but still comfortable and intimate," explains Will.
So three years ago, after the business was up and revving, the Frischkorns tasked Jacques Juilland, owner of Boulder-based Habilis DesignBuild, with the job of transforming their one-story 1950s ranch house into a 2,800-square-foot home with an open floor plan. "We both loved Jacques' aesthetic and his eye towards green design and build techniques," says Will.

Coral and Will tapped Ben Dagitz to make the custom walnut shelves and cutting board. Juilland created the concrete countertops, and the working island is from West Elm.
Though they gutted the first floor, it was important to the couple that the home retain its original footprint and incorporate as much of the original structure and features as possible. And of course, create a hub-worthy kitchen.
"The old kitchen had cabinets running up along the top," says Coral. "By ripping those out and putting in the open walnut shelves, it gives it that airy, spacious feel." Juilland kept the lower cabinets but updated them with custom front panels and a modern concrete countertop.
In the midst of the renovation, the floods of 2013 wiped out most of the family's belongings, which were stowed in the basement. Fortunately, a few of the appliances survived and are still in use, including the Jenn-Air oven and GE Profile refrigerator.
Other items, like their collection of cookbooks and furnishings, will take time to replace, especially because the Frischkorns are extremely selective when it comes to acquisition. Will and Coral credit this to their experience of living abroad when Will was a professional cyclist with Garmin-Transitions cycling team in Gerona, Spain.

The open space connects the living room to the dining room. A Restoration Hardware pendant hangs above the dining table and chairs from Design Within Reach.
"The biggest thing that living in Europe taught us was how to live in a small space. We loved filling it with few things, but things that really struck us at the time," explains Will. "Even though we have a little more space now, it's still a small home, and we really try to be thoughtful about what comes into it."
When the Frischkorns find something they love for Cured, it usually ends up at home as well. After deciding to sell their favorite Zalto stemware from Austria in the shop, they bought the Zalto wineglasses for everyday use at home. "Wine tastes better out of a nice glass, and there's no reason not to use them," says Will.
Their search for a beautiful inventory of cutting boards led the Frischkorns to Etsy seller Ben Dagitz. When they discovered that Dagitz happened to make custom furniture and was based in the Denver area, they commissioned him to build shelving for Cured. That, of course, led to more Dagitz design at home, including the kitchen's walnut shelves, a picnic table for the backyard and the bed frame in the master bedroom.

Come fall, a Hwam Classic 7 stove turns out amazing pizzas while also keeping guests cozy. A basket from Cedar & Hyde next to a Restoration Hardware sofa holds extra throws. The mustard leather chairs are from West Elm, and the artwork is by Hilton Leech.
Dagitz's custom bed frame, along with other elements such as reclaimed wood that became the flooring for the entire home, had already been acquired before Juilland came on board. The architect incorporated them into his plan and designed a structure to wrap around the bed frame, effectively creating an island that both divides and connects the master bedroom and bath.

A metal pendant by Cisco hangs in the stairwell, along with a collage of Matisse cutouts created by Coral's mother, artist Susan X Billings. The walls are painted in Farrow & Ball's Strong White, and the custom metal railing is by the local welding firm Joan of Arc.  

A pair of sconces from Schoolhouse Electric frame the custom bed. Handwoven pillows from The Citizenry contrast with gray sheets from Restoration Hardware.

Juilland designed the island that connects the master bath and bedroom, as well as the large his-and-hers concrete sink. Gilded pig bookends and colorful Heath Ceramics vases add a lighthearted touch.
A magazine tear sheet that Coral had long saved is the inspiration behind the two-tone walls that encircle the master bedroom and bath. Painted in Purbeck Stone by Farrow & Ball, the bottom rail provides unexpected warmth to the modern interior.
"Making a modern but not hard or cold home was our top priority," says Will.
And as any visitor to the Frischkorn home will attest, with wineglass in hand, mission clearly accomplished.

Like father, like son. Holden's bike stands ready to roll next to Will's HESS skateboard. 
DESIGN DETAILS:
ARCHITECTURE Jacques Juilland, Habilis DesignBuild  
SEE ALSO:
The Chipotle Founder's Sleek, Modern Masterpiece in Denver
​A Cookbook Author's Aspen Home
​SaveSave10 Ooh-La-La Kitchens
SaveSaveSaveSaveSaveSave
SaveSave
SaveSave