In Her Element: Sarah Parmar
Meet the Director of Conservation at Colorado Open Lands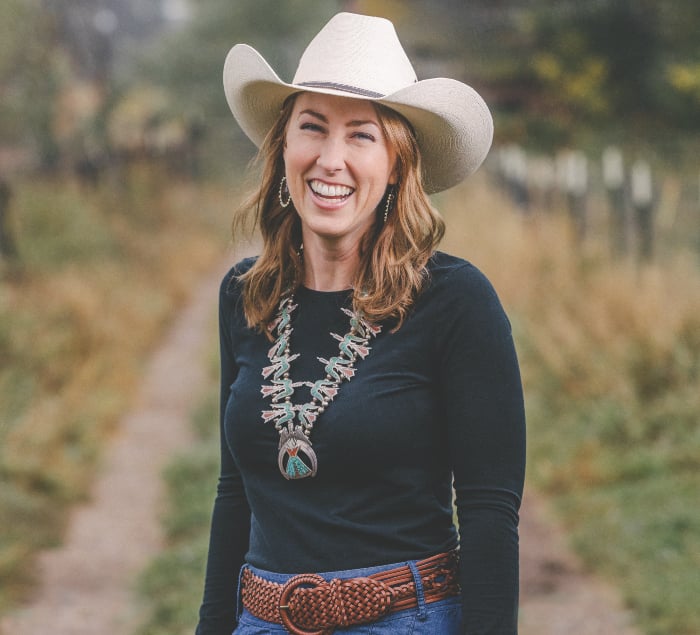 Photo by Julia Vandenoever
The director of conservation at Colorado Open Lands is a badass, blue-eyed, single mom with turquoise-inlaid cowboy boots and a white cowboy hat. She also happens to be a sixth- generation rancher. "We didn't have electricity until I was about 6 years old," says Sarah Parmar of the 20,000-acre Arizona cattle ranch she grew up on.
"I have so many memories of sitting on the back porch in rocking chairs and watching the stars. The sky was so dark, and we would listen to the toads. That was our entertainment."
An only child, Parmar began feeding the horses and chickens and milking cows from an early age. "I was never treated differently by my dad because I was a daughter and not a son. He had full confidence in everything I did." Parmar credits her inherent passion for nature to his unwavering dedication to the land: "My dad never wanted to be anything but a cattle rancher."
After graduating with a master's in agricultural economics from The University of Arizona, Parmar earned a Fulbright scholarship to work in Kenya, but ultimately decided that her connection to the land and communities in the southwestern United States made her best-suited to championing conservation.
As conservation director of Colorado Open Lands, a nonprofit organization that works to preserve the state's open spaces, Parmar helps shape what lands we protect, how we protect them and how we engage with communities to help them realize their vision. "It's not all or nothing," she says. "It's not that Colorado grows and loses everything or we protect everything and shut the gates and no more people can come. It's really all about how we save the best parts of our state."
Her current initiative connects the older generation of ranchers and farmers who have donated their property to Colorado Open Lands with an emerging generation of young people interested in reconnecting with the land and growing sustainable food. "Whenever I do anything outside with my son—we have a tiny, little garden in our backyard—I'm reminded that the simplest things can create the most awe and connection.